Pharmacovigilance Fresher Job Vacancies in Pune | Fortrea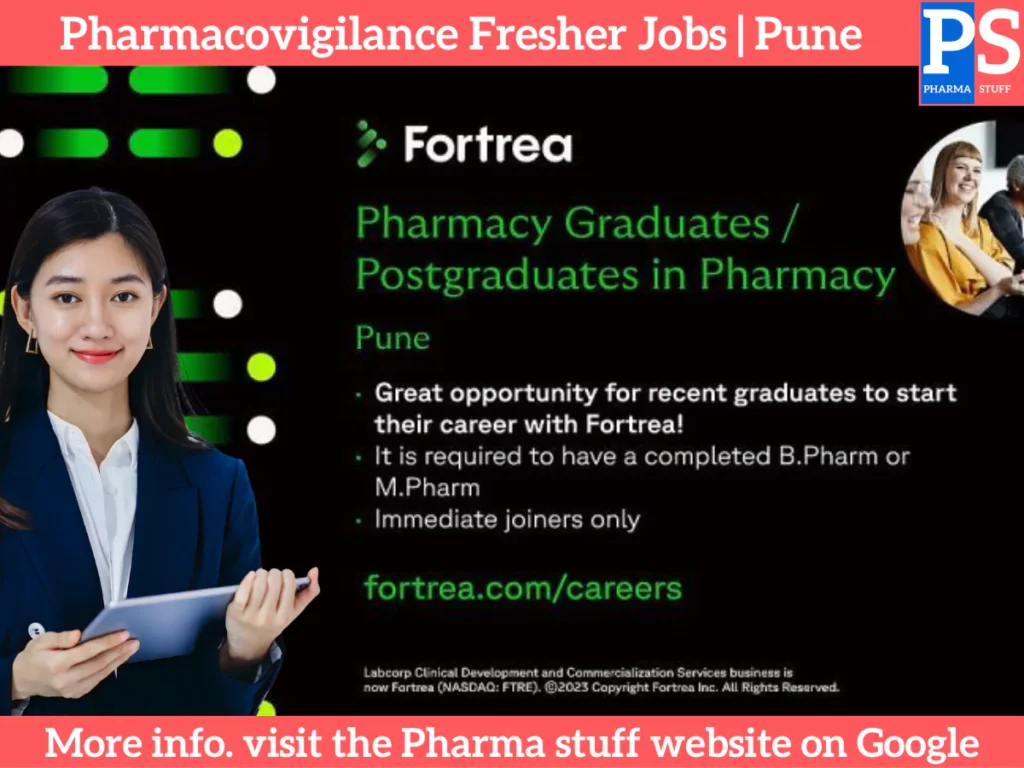 Are you a recent graduate with a degree in Pharmacovigilance, eager to kickstart your career in a dynamic and transformative environment? Look no further! Fortrea, a global leader in the Contract Research Organization (CRO) industry, is offering an exciting opportunity for freshers in Pune. Join us as a Pharmacovigilance-Case Processor on a 6-month contract basis, and become a part of our dedicated team that is reshaping the landscape of drug and device development worldwide.
Table of job Contents
Vacancies List
Position Title: Pharmacovigilance-Case Processor (Fresher)
Company Name: Fortrea
Salary: Competitive for freshers
Company Address: Pune, India
Detailed Job Description
Role: Pharmacovigilance-Case Processor
Industry Type: Healthcare/Pharmaceuticals
Department: Safety Science
Employment Type: Full-Time (6-month contract)
Role Category: Pharmacovigilance
Education
UG: B.Pharm/M.Pharm (Completed)
Key Skills
Pharmacovigilance
Case Processing
Adverse Event Reporting
Data Entry
MedDRA
Regulatory Compliance
Safety Information
Clinical Trials
Quality Management
Job Description
As a Pharmacovigilance-Case Processor at Fortrea, you will play a critical role in ensuring the safety of pharmaceutical products and the well-being of patients. Your responsibilities will include, but are not limited to:
Case Intake and Triage:
Receiving and assessing safety information or reports from various sources, including clinical trials.
Adverse Event Processing:
Data entry of safety data into adverse event tracking systems.
Writing patient narratives and accurately coding adverse events using MedDRA.
Assisting in the listedness assessment against appropriate labels for marketed products (if applicable).
Generating queries and collecting missing or discrepant information in consultation with medical staff.
Submission of expedited Serious Adverse Event (SAE) reports to clients, regulatory authorities, ethics committees, investigators, 3rd party vendors, partners, and Fortrea project personnel as required, within agreed timelines.
Regulatory Compliance:
Processing and submitting expedited and periodic reports to worldwide regulatory agencies or other recipients, ensuring compliance with regulatory timelines.
Database Reconciliation:
Assisting in the reconciliation of databases as required.
Quality Management:
Working within the Quality Management System framework, including Standard Operating Procedures (SOP) and departmental Work Instructions (WIs).
Documentation:
Maintaining supporting files/documentation regarding adverse event reporting requirements in all countries (if applicable).
Supporting the upload/archival of case/study/project documentation.
Collaboration:
Building and maintaining good relationships across functional units to ensure effective communication and cooperation.
Compliance:
Supporting compliance with governing regulatory requirements and other responsibilities as assigned by management.
Join the Fortrea Team
Fortrea is a global CRO with a passion for scientific rigor and extensive clinical development experience. We are on a mission to revolutionize drug and device development, delivering life-changing therapies to patients in need. We are actively seeking motivated problem-solvers and creative thinkers who share our commitment to overcoming barriers in clinical trials.
As part of our exceptional team, you will work in a collaborative workspace where personal growth is nurtured, enabling you to make a meaningful global impact. Join us in shaping the future of healthcare.
Equal Opportunity Employer
Fortrea is proud to be an Equal Opportunity Employer. We strive for diversity and inclusion in the workforce and do not tolerate harassment or discrimination of any kind. Employment decisions are based on business needs and individual qualifications, without discrimination based upon race, religion, color, national origin, gender, family or parental status, marital status, sexual orientation, gender identity, age, veteran status, disability, genetic information, or any other legally protected characteristic. We encourage all to apply.
HOW TO APPLY
Click on apply online button below for more detailed information