Clinical Research Associate Job Openings – Thailand – Navitas Lifesciences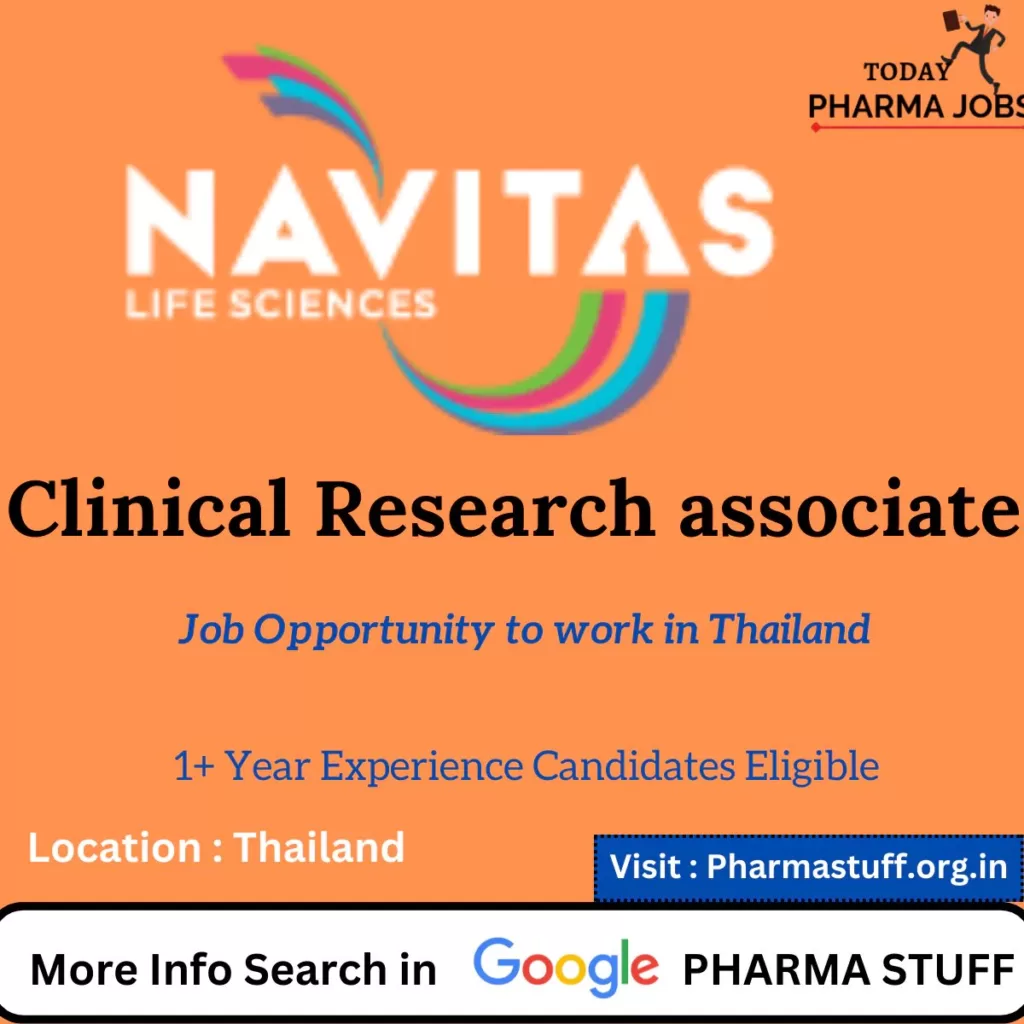 Are you looking for the new job opportunity as Clinical Research Associate (CRA)?. The great opportunity to Work with Navitas Lifesciences
Job Description
Navitas Lifesciences looking for a Clinical Research Associate. The successful candidate will:

Work in accordance with ICH E6 principles and with applicable SOPs (either Navitas Life Sciences or Sponsor's SOPs) as well as local regulatory requirements
Carry out a review of study synopsis
Be involved in Site selection
Prepare Site feasibility questionnaire, conduct the feasibility and reporting to PM
Prepare, conduct and report based on site selection visits
Negotiate and obtain Investigator agreement on site budget, payment to the sites
Develop/Local adaptation of study specific documents (ICF, CRF prints, Study logs), translations of the documents
Procure essential documents from sites, their QC and filing in a timely manner and update project tracker or send the documents to PA for filing in a timely manner
Maintenance of TMF and Site-specific file
Scan and upload documents into shared drive
Transmit documentation into project files
Prepare regulatory dossier, regulatory submission, and follow-up.
Prepare EC dossier, EC submissions, and follow-up
Co-ordinate arrangements for investigators meetings, act as a host for required meetings
Develop meeting materials along with required presentations for investigators meetings
Site initiation visit planning, preparation, conduct, report and follow-up of pending issues
Co-ordinate the IP request between sites and pharmacist/vendor/sponsor
Planning, prepare, conduct, report, and follow-up on pending issues as a result of site monitoring visit
Carry out Remote Monitoring, Central Monitoring, and Risk Based Monitoring related activities
Carry out an accompanied visit as a part of mentoring a new CRA
Interact with DM for data transfer and query resolution
Interact with MW for CSR appendices
Prepare project status reports
Prepare and participate in meetings and the documentation of meeting minutes
Provide oversight to project (maintaining quality and timelines of deliverables)
Participate in client QA assessments
Reconciliation Filing of project correspondence
Site close-out visit planning, preparation, conduct, report
Maintenance of Investigator database and a QC of the database
Archival of study documentation Participation in other department initiatives/activities
Desirable Skills and Experience :

Experience in Clinical Monitoring is required
Work Experience : If you have at least 1+ year of onsite monitoring experience in Thailand, apply for the position in our Clinical Operations team. Should be familiar with Thai
For further information, contact Santhanalakshmi.S@navitaslifesciences.com with your updated resume if you are a candidate with a work permit in Thailand.