The Job opening is for the post of Pharmacist under the National Urban Health Mission (NUHM) program. The District Health and Family Welfare Samiti & Office of the Chief Medical Officer of Health, Murshidabad, is inviting applications to recruit eight Contractual posts under the National Health Mission (NHM) through the District Level Selection Committee-NHM, Murshidabad.
As per approval issued by the Mission Director, National Health Mission, the District Health and Family Welfare Samity & Office of the Chief Medical Officer of Health, Murshidabad, is inviting applications for recruitment of different Contractual posts under the National Health Mission (NHM) through District Level Selection Committee-NHM, Murshidabad. Eligible candidates may apply only through online application.
Post: Pharmacist – NUHM (National Urban Health Mission)
Name of the Programme: NUHM
Number of Post & Category: The number of posts is Eight (8) only (UR-04, ST-01, SC-02, OBC-A-Ol)
Place of posting:  Vacancy status of various UPHCs across all ULBs under Murshidabad District as follows:
Berhampore – 01
Domkal- 02
Dhuliyan – 02
Jangipur-01
Jiaganj-Azimganj – 1
Murshidabad-01
Remuneration: Consolidated remuneration of Rs. 22000.00 (Rupees Twenty-Two Thousand) per month

Age as on 1 January 2023: Maximum age limit- 40 years (Age relaxation allowable as per Government norms)

Age relaxation will be given to SC/ ST/ OBC/ PWD/ Ex-Serviceman applicants per Government guidelines. The upper age is relaxable by 5 years for SC/ST applicants, 3 years for OBC applicants, and 10 years for PWD applicants.

Educational Qualification & Essential Criteria Minimum Qualification :

The candidate should have Two years Diploma in Pharmacy (D- Pharma) (ALLOPATHIC) recognized by the Government of West Bengal and registered as an "A" category Pharmacist under West Bengal Pharmacy Council.

Weightage will be given for the higher qualification.

The candidates must have proficiency in Bengali and must have

Efficiency in computers including MS Office and Internet.

The applicants must be a permanent resident of West Bengal.
Job chart :
To maintain records of all drugs, equipment and other consumables of U-PHC along with proper inventory mechanisms.
Dispensing drugs to patients in U-PHC.
To participate in UHND and special outreach camps.
To assist Medical Officers in providing OPD services.
To place an indent for the refilling of drugs and other consumables of U- PHC in regular intervals.
Pharmacists should be careful when indenting drugs and consumables for U-PHC so that adequate buffer stocks are maintained in anticipation of a sudden health emergency and outbreak.
To ensure the Community Health Workers (FTS, HHW & ASHA) under the U-PHC have adequate drug stocks/ kits.
Organize and participate in the different national health programmes.
To attend different meetings, seminars/workshops
Any other work assigned by the Medical Officer
Scale of Scoring

Mode of Selection: Total: 100 Marks

A. Max Marks: 85 (Proportionate marking)

1. D-Pharma 65
2. B-Pharma 75
3. M-Pharma 85
B. Computer Test 15 (Qualifying Marks – Minimum 50%)
GENERAL INSTRUCTIONS FOR CANDIDATES
Please visit the official website of the Health & Family Welfare Department of the Government of West Bengal, i.e. wbhealth.gov.in. On your left side of the Home page, under E-Governance, go to "Online Recruitment" and click "Online Recruitment", from where the Home page of Online Recruitment will open. Then for the specific post, start filling up the application form; the first step is 'continue registration', and finally ', continue after registration' form fill up.
Only online applications will be accepted.
Be extremely careful in filling up the Application Form.
Online applications will start from 14.04.2023 at 11 AM.
Last date of Registration: 23.04.2023 up to noon. midnight
Last date of Application fees: 23.04.2023 up to noon. Midnight.
Last date of Final Submission: 25.04.2023 up to noon. Midnight.
No Application will be allowed to be submitted after 25.04.2023.
Date of verification of documents — will be published from time to time on the website
Date of interview — will be published from time to time on the website
Candidates should apply only one time for one post online. Duplicate submissions of applications online in the same post will not be accepted.
Candidates should note that improperly filled-up and incomplete applications will be rejected.
Read instructions carefully about photographs, signatures etc.
Candidates must strictly follow the instructions given in this general instructions guidelines and on the wbhealth.gov.in website. Candidates not complying with the instructions shall be summarily disqualified.
Candidates must ensure that the e-mail address and Mobile Numbers provided in the Online Application Form are their own or Parents/Guardians only, as all information/ communication will be sent by DHFWS through e-mail on the registered e-mail address or SMS on the registered Mobile Number only.
The Candidate must possess qualification/s, as stated in the above table, on or before the advertisement's publication date. Suppose it is found during verification of testimonials at any stage that the candidate has acquired Qualification/s at any date after the publication date of this advertisement. In that case, their Candidature shall be summarily rejected.
The engagement period will be initially up to 31s1 March 2024. (It may/will be extended further subject to satisfactory performance in current and subsequent Financial year/s)
Working Experience will be calculated as the period from obtaining the required qualifications (for the specifically mentioned positions) till the last date of online submission. The Experience certificate period of work done should be mentioned; otherwise, it will be rejected. Only joining reports will not be treated as experience certificates.
Before final selection, shortlisted candidates belonging to the SC, ST, OBC-A, and OBC-B categories will be directed to furnish an original certificate issued by the competent authority
Online registration numbers generated at the time of online application must be retained by all applicants for future reference. The office of the undersigned is not liable to give any information regarding the online registration number in future.
After Uploading the Online Application, the Applicant must take a printout of the filled-in application. Print out of the applications with all testimonials should be submitted by the shortlisted candidates at the time of verification. The applicants must follow the website for all information/instructions about the recruitment process.
If the valid signature & photograph of the candidates is/are not uploaded at the time of online application, that application shall be rejected.
The Essential Qualifications mentioned at the minimum and mere possession of the same do not entitle a candidate to claim for selection.
Application fees of Rs. 100/- (Rupees One hundred only) or Rs.50/- (Rupees Fifty only) should be deposited online for each post following Government guidelines. The online deposition of application fees can be done through net banking or credit/debit card system through an online interface. If the payment is successful, the candidate must log in again using the application ID and Date of Birth for the final submission application and complete the process 'Continue after registration'.
No TA/DA is admissible for candidates.
Candidates are instructed to follow the website (wbhealth.gov.in & murshidabad.gov.in) regularly for any future reference, information/instructions about the recruitment process.
Age will be calculated as 01/01/2023 (1 January 2023).
Candidates will not be allowed to edit after submission of the online application.
All applicants should retain a hardcopy, printed copy of the online registration form for document verification purposes. Without registration, no candidates will be entertained for original testimonials verification by the authority.
The decision of the competent authority regarding recruitment is final. The recruitment committee reserves the right to cancel the process at any stage without assigning any reason, and the committee's decision is final.
All previous panels for Murshidabad, if any, related to these posts are currently cancelled.
Online Application is Open from Friday, 14 April 2023, until Tuesday, 25 April 2023.

The last Date for Registration is 23 April 2023.

The last Date for Payment is 23 April 2023.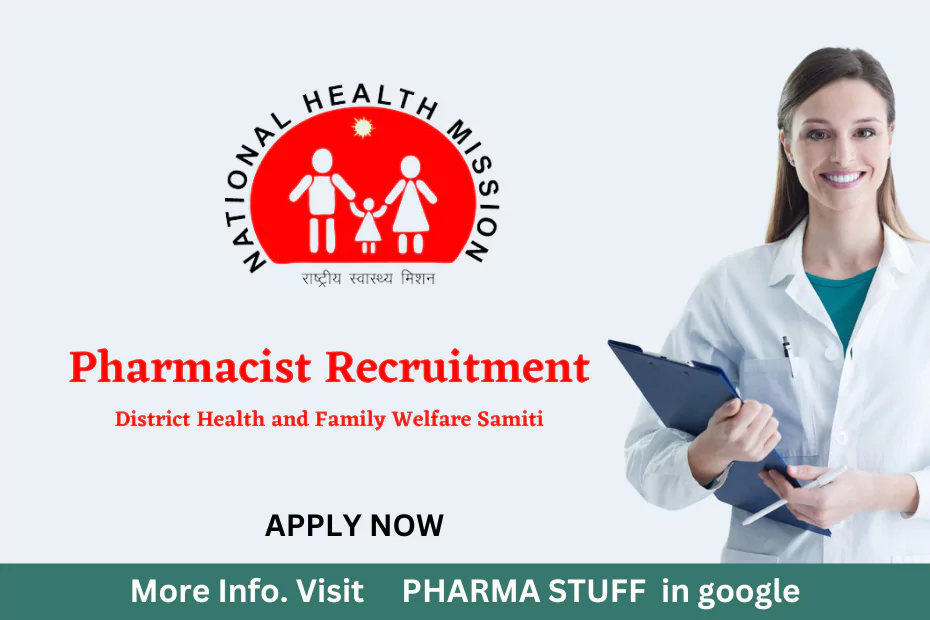 Disclaimer:

PHARMA STUFF
 provides general information only. Job seekers must verify job postings and employers before applying. We're not liable for scams or fraudulent job postings. Be cautious of any job postings asking for money. We never ask for money.