Mega Campus Drive for Freshers in Top Pharma Manufacturing Industry in Hyderabad
Indian Immunologicals Ltd (IIL), a leading biopharmaceutical company located in Gachibowli, Hyderabad, is conducting a Mega Campus Drive in Tirupathi on 18th April 2023. The company is seeking fresh graduates in Biotechnology, Microbiology, Organic Chemistry, Biochemistry, and Pharmacy for various vacancies in their organization.
The campus drive is only open for male candidates, and the selected candidates will be offered a salary of Rs. 15,000 along with accommodation and food provided by the company. Sri Sai Medicode Tirupathi is collaborating with the drive to provide more information to interested candidates.
The campus drive will take place at Krishna Teja Pharmacy College, located on Chadalavada Nagar, Renigunta Road, Tirupathi – 517 506. The event offers an excellent opportunity for freshers to showcase their skills and get hired in a top pharmaceutical manufacturing company.

Indian Immunologicals Ltd is a leading biopharmaceutical company in India that specializes in the production of vaccines and biologicals for both human and animal use. The company's state-of-the-art facilities and advanced technologies ensure that they provide the best quality products to their customers. With over 40 years of experience in the industry, IIL is committed to improving public health by providing innovative healthcare solutions.
This campus drive is an excellent opportunity for fresh graduates to start their careers in the pharmaceutical industry. Candidates who qualify for the positions will get a chance to work with a reputed company that values innovation, quality, and integrity. They will also get exposure to the latest technologies and processes in the industry, helping them build a strong foundation for their careers.
Walk-in drive information;
Date : 18-04-2023
Company name – Indian Immunologicals Ltd (IIL), Gachibowli, Hyderabad.
(If selected company will provide 15k salary wilth Accommodation and Food)
Qualification – Biotechnology, Microbiology, Organic chemistry, Biochemistry / Pharmacy.
Only Male Candidates
In Association with SRI SAI MEDICODE Tirupathi
Call for more information
1) 6305868352
2) 6305788230
18th April 2023 Campus drive Adress Details – KRISHNA TEJA PHARMACY COLLEGE, Chadalavada Nagar, Renigunta Road, TIRUPATHI – 517 506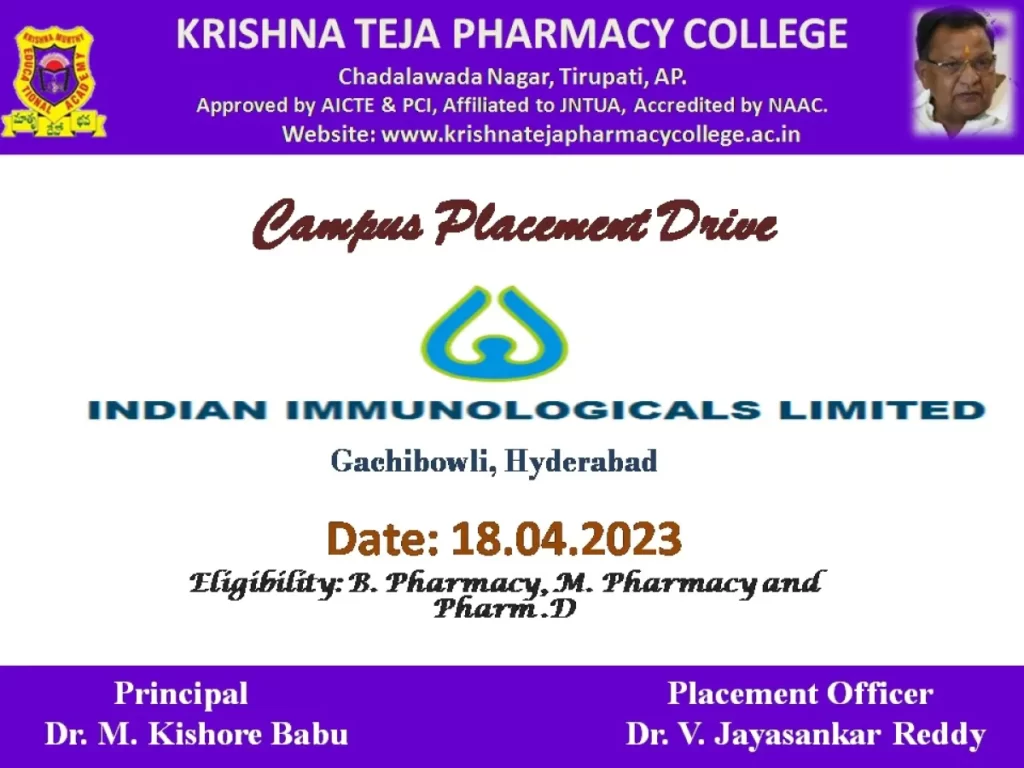 Disclaimer:

PHARMA STUFF
 provides general information only. Job seekers must verify job postings and employers before applying. We're not liable for scams or fraudulent job postings. Be cautious of any job postings asking for money. We never ask for money.