QC Officer job opportunity B Pharma / MSc Chemistry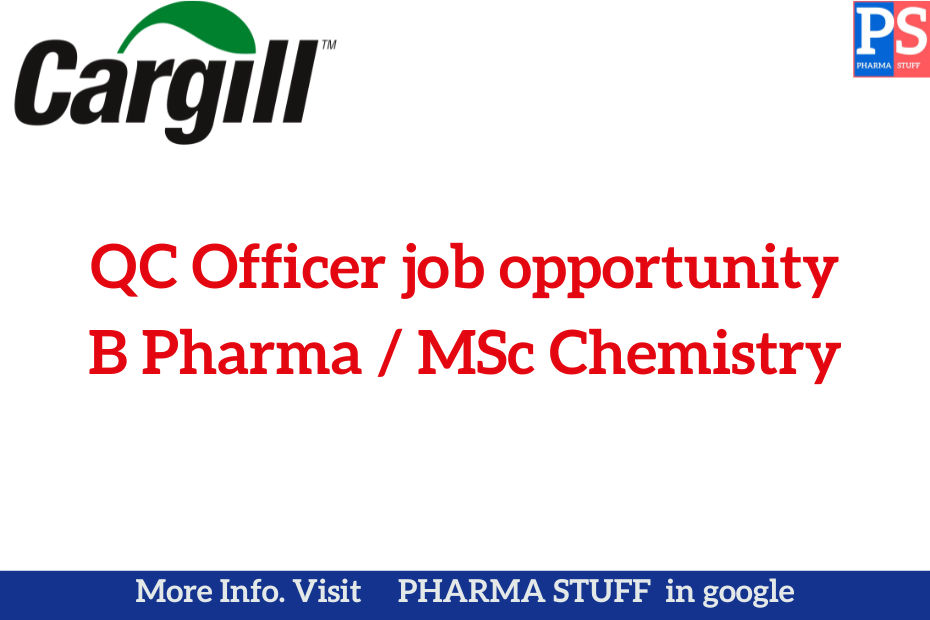 Are you looking for a challenging opportunity in the field of quality control? We have a job opening for the position of QC Officer in Bengaluru, India. As a QC Officer, you will play a vital role in ensuring the food safety quality and operational teams by conducting routine analytical and laboratory testing. If you have a strong background in laboratory instrumentation and management, along with experience in high-performance liquid chromatography and stability studies, we encourage you to apply.
Job Title: QC Officer
Location: Bengaluru, India
Job Id: 268833
Eligibility Criteria:
High school diploma, secondary education level, or equivalent
Proven working knowledge of laboratory instrumentation and management ISO 17025 accreditations or standards
Minimum of four years of related work experience
Other minimum qualifications may apply
Preferred Qualifications
B.Pharma or MSc Chemistry
Three or more years of experience in Instrumentation & High-Performance Liquid Chromatography.
Should have exposure to Stability Studies, Working Standard maintenance & Wet Chemistry.
Job Purpose and Impact
The QC Officer will complete routine analytical and laboratory testing in support of the food safety quality and operational teams. In this role, you will perform testing for routine analysis of in-process and final product testing and checking and monitoring instrumentation performance. You will conduct testing as well as document the results of tests into databases and communicate test results verbally and in writing.
Key Accountabilities
Keep laboratory supplies ready by inventorying stock, placing orders, and verifying receipt.
Assist with the evaluation and interpretation of highly complex data, identify problems with atypical test results, and consult with senior-level personnel.
Examining and evaluating data and selecting corrective steps.
Support trials and experiments under the direction of more senior team members.
Use safe laboratory practices to protect self and others, check the proper functioning of stations, routinely attend safety meetings, and perform preventive maintenance and calibration of complex standard equipment and instruments.
Handle complex clerical, administrative, technical, or customer support issues under minimal supervision, while escalating only the most complex issues to appropriate staff.
Other duties as assigned