IQVIA Centralized Monitoring Assistant Job Openings at Bangalore location
Job Type: Full-Time
Job Responsibilities:
Job Overview; Provide project-related assistance to assigned project teams.; Ensure all work is conducted in accordance with standard operating procedures, policies, good clinical practices, and applicable regulatory requirements.; Meeting quality and timeline metrics.;
Essential Functions
Complete appropriate role-specific training to perform job duties.;
Under supervision, provides study-level administrative support to the clinical study management team (examples of such tasks include, but are not limited to running system reports, preparing and distributing status reports, creating and maintaining study trackers, follow-up for outstanding issues, etc.).;
Under supervision, assist in updating and maintaining systems within project timelines/plans and driving tracking compliance in various systems to enable credible data for analysis.;
Perform the activities as per the task list delegated by CMS leads.;
Assist CMs in the preparation of i-site packs for their respective sites and countries for assigned studies, by pulling associated reports.;
Perform assigned access management-related administrative tasks to support team members with project execution, example of tasks includes, but are not limited to processing access requests, following up with relevant vendors, etc.;
Provide support to a technical solution specialist (TSS) on formulations in Excel and on the front-end part.;
Periodic review of site-level KRIs and historic site performance according to the Central Monitoring Plan
Facilitating early identification of site-level risk/issue(s) occurring during study conduct and responsible for the identification of risk
Monitor site performance and make recommendations for timely corrective actions (eg Site Telephone Contact or Triggered Onsite Monitoring Visit)
Review the effectiveness of the recommended actions and take appropriate additional actions if no effect is observedReview of the Study Central Monitoring Plan
Attend Kick-Off meetings, weekly team meetings, and client meetings, as needed or requested
Adhere to the key activities outlined in the SOW as per customer requirements
Qualifications;

Other Graduate/Post Graduate in Life Sciences or educational equivalent.
Requires a minimum of 2 years of work experience with a minimum of 6 months relevant experience.
r equivalent combination of education, training, and experience. Experience level may vary based on customer-specific requirements.
Basic knowledge of applicable research and regulatory requirements, i.e. International Conference on Harmonisation – Good Clinical Practice and relevant local laws, regulations, and guidelines.
Exposure to Microsoft Applications including but not limited to Microsoft Word, Excel, and PowerPoint.
Effective written and verbal communication skills including good command of the English language.
Effective time management skills.
Results and detail-oriented approach to work delivery and output.
Ability to establish and maintain effective working relationships with coworkers, managers, and clients.
Strong listening and phone skills.
Good data entry skills.
IQVIA is a leading global provider of advanced analytics, technology solutions, and clinical research services to the life sciences industry. We believe in pushing the boundaries of human science and data science to make the biggest impact possible – to help our customers create a healthier world. Learn more at https://jobs.iqvia.com
Bangalore, India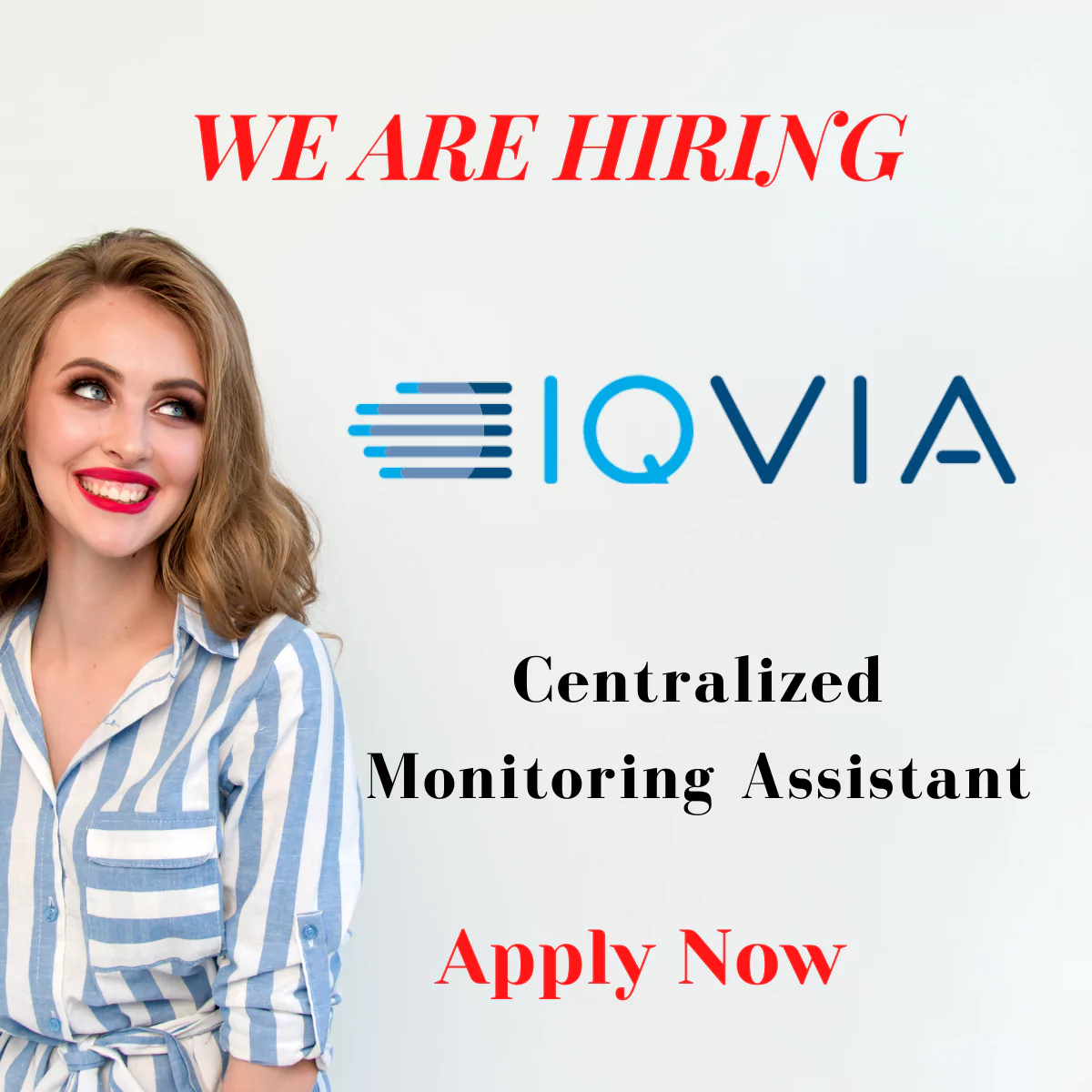 Disclaimer:

PHARMA STUFF
 provides general information only. Job seekers must verify job postings and employers before applying. We're not liable for scams or fraudulent job postings. Be cautious of any job postings asking for money. We never ask for money.