ALcon eyecare hiring notification for Pharmacovigilance Freshers (Graduation in Optometry, Pharm-D, M. Pharm, BDS, BAMS, BHMS) Candidates

Summary of Position: The role provides day-to-day case monitoring, assessment and reporting of quality and adverse event complaint records involving Alcon manufactured products and responds to complaint activities required to comply with local and international regulations, guidelines, and applicable directives. This role may be required to work in shifts


Major Accountabilities:
Case Processing:
Process case files according to Standard Operating Procedures (SOP).
Work with affiliate offices to ensure required dataset has been received/requested.
Re-assess the data, ensure accurate product selection and assign required event code(s) in the system.
Complete initial and follow-up reporting assessments as information is received (initial report, follow-up questionnaires, phone calls, investigation findings).
Respond to Manufacturing Quality Assurance (QA) requests and Health Authority inquiries
Launch required quality investigation records.
Schedule expedited and periodic regulatory reports based on local and international reporting regulations.
Perform and receive quality feedback on case management and coding.
Adherence to all corporate compliance guidelines & corporate programs.
Maintains a working knowledge of the following
Key Performance Indicators (Indicate how performance will be measured: indicators, activities…)
KPIs will be outlined in detail in the goal sheet, and will largely be around below parameters:
Meets internal and external quality standards
Review and close files within prescribed timelines
Creates high quality regulatory reports for submission on or before assigned due dates
Key Requirements/Minimum Qualifications:
Education

Minimum: Graduation in Science
Desirable: Graduation in Optometry, Pharm-D, M. Pharm, BDS, BAMS, BHMS,
Experience requirement:
Minimum: Healthcare professional with Fresher to 2 years of experience
Minimum: Optometry with 0-1 Year of experience
Desirable: 0-2 years of experience in Device Vigilance / Pharmacovigilance / Regulatory Submissions / Clinical Research / PVPI/ Medical Coding.
Languages:
Minimum: English (written and spoken)
Work hours: 1 PM to 10 PM IST
Relocation assistance: Yes
Employment Scams:
Alcon is aware of employment scams which make false use of our company name or leader's names to defraud job seekers.
Alcon does not offer any positions without interview and never asks candidates for money.
All our current job openings are displayed here on the Careers section of our website, where you can search for open positions and apply directly.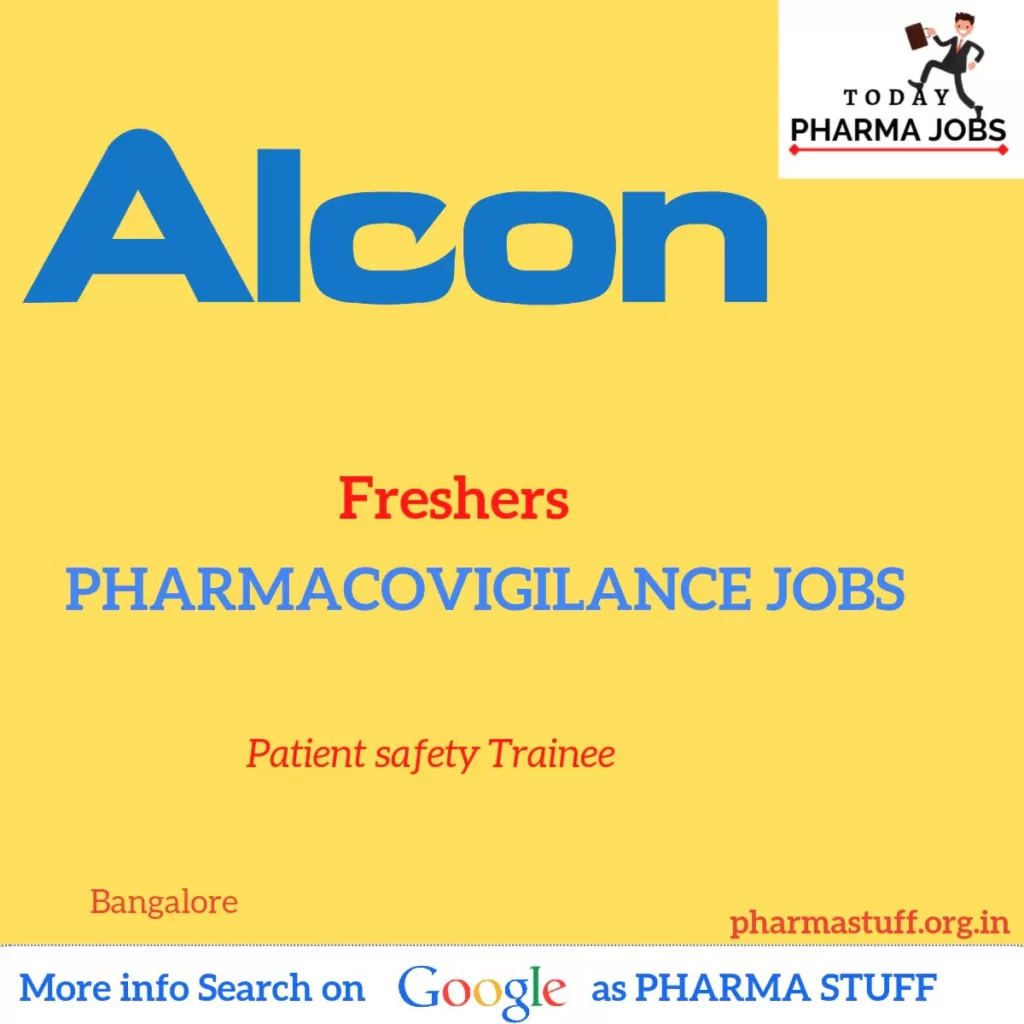 Disclaimer:

PHARMA STUFF
 provides general information only. Job seekers must verify job postings and employers before applying. We're not liable for scams or fraudulent job postings. Be cautious of any job postings asking for money. We never ask for money.