Title: Job opening for Project Associate in the Development of Theranostic Agents for Cancer Treatment
BITS-Pilani Hyderabad Campus invites applications for the post of Project Associate-I/II in a DST-PURSE funded project on the development of theranostic agents for treating oral/lung cancer and related diseases. The project involves designing novel sensitizers, developing nanoparticles, and conjugating them with folic acid and antibodies for targeted photodynamic/photothermal therapy. The ideal candidate must hold an MSc in Chemistry with expertise in organic synthesis and a basic understanding of spectroscopy. The salary ranges from INR 35,000-40,000, and the project duration is approximately 3 years.
Applications are invited from Indian citizens for the post of Project Associates-I and II in a DST-PURSE-funded project SR/PURSE-2020/20 at BITS-Pilani Hyderabad Campus.
Project Title: Development of Theranostic Agents for Photodynamic/ Photothermal Treatment of Oral/Lung Cancer and Related Diseases

Project details and Desirables:
Design of novel BODIPY, aza-BODIPY, porphyrin and chlorin-based sensitizers for imaging and PDT
Development of nanoparticles and surface functionalized systems for imaging and PTT Effective conjugation of these sensitizers and NPs with folic acid and antibodies for targeted PDT/PTT
Development of a localized delivery approach using microneedles and NPs for the targeted PDT/PTT
Demonstration of combination therapy employing PDT /PTT
Two-photon bioimaging using the developed sensitizers
No of posts: 1 (one)
Minimum qualifications:
MSc in Chemistry (mainly synthetic Organic chemistry; however, MSc in general chemistry can also apply with a minimum of 60% marks. M. Pharm (Medicinal Chemistry, ~60% Marks) with expertise in organic synthesis and a basic understanding of spectroscopy would also be eligible.
Desired experience:
The candidates should be capable of synthesizing and characterizing new molecules.
The project deals in an interfacial area between chemistry/optics and biology. Experienced students with a reasonable understanding of the subjects would be preferred.
Age: max 27 years; Joining date: As soon as possible; Position: Project associates I and II
Salary: Maximum up to INR 35,000-40,000 (approx.; consolidated for GATE/NET candidates; Non-GATE/NET candidate: as per rule)
Duration: ~ 3.0 years (Ph. D option is also open as per the institute norm)
How To Apply:
Candidates meeting the abovementioned qualifications and experience should send their CVs to dstpursebphc@gmail.com by 9 pm on 10th April 2023 (Monday).
Interviews will be conducted online (mainly google meet)/hybrid mode only for the selected candidates by April 3rd week. The selection committee's decision regarding the interview logistics and selection process for the post will be final. The selection committee reserves the right to fill or not fill the advertised post.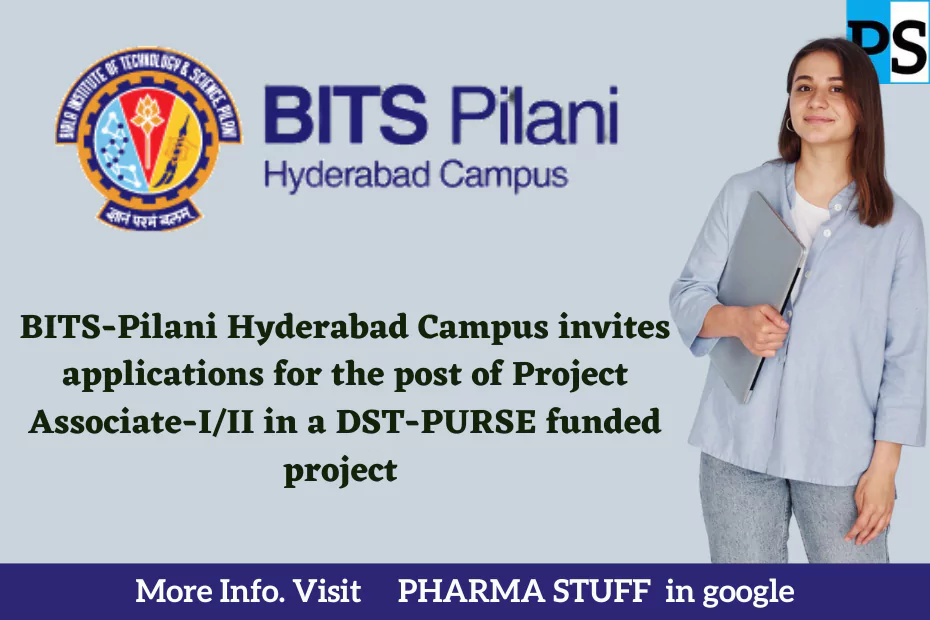 Disclaimer:

PHARMA STUFF
 provides general information only. Job seekers must verify job postings and employers before applying. We're not liable for scams or fraudulent job postings. Be cautious of any job postings asking for money. We never ask for money.