Tata Consultancy Services Recruitment Notification for Clinical data management professionals. Interested & Eligible Candidates apply Now.
Job Description

TCS is Hiring For "Clinical Data Management Professionals". Details below

Role : DM/LDM/SDTL(Study Data Team Lead)/Non CRF DM
Experience: 1-12 Years

Work Location: Mumbai / Pune / Bangalore /Hyderabad / Chennai / Delhi / NCR
Preferred Qualification:
15 years full-time education
Graduate in the relevant stream (Life Science / Pharmacy / Medicine). Domain expertise would be added advantage
For DM
Good understanding of Clinical Data Management processes and Medidata RAVE experience.
Understanding of Protocol and study documentation.
Hands-on experience working on set-up activities, third-party and SAE reconciliation, discrepancy management, and database lock.
Supporting Lead data manager in developing study metrics and study status reporting.
Well verse in creating and writing the Data Validation specification and test steps and performing UAT
For LDM
Project Management, Client Management, Stakeholder Management
Experience in managing data management deliverables. Creation/ Review of the study documents like eCRF Layout, DVR specification, Review of eCCG, DMP, and Data transfer plan. Responsible for data flow, discrepancy Management, and all other data management-related processes.
Handling third-party data reconciliation activities & Database Lock Activities
For SDTL
Maintains full understanding of protocol including study documentation
Responsible for attaining all requirements from the client for quality deliverable
Creation/Review of the study documents like eCRF Layout, DVR specification, Review of eCCG, DMP, Data transfer plan.
Handling third-party data reconciliation activities & Database Lock Activities
Non-CRF DM
The Non CRF Data Manager is responsible for identifying and defining the study specific non CRF data and handling procedures
To create and maintain the specifications, acquisition, and delivery of the non CRF data load like IXRS, PK, Laboratory, ECG etc.
To be responsible for set up and configure various data loading tools based on the transfer specifications as agreed with different external vendors
To perform reconciliation of the loaded data, identify and distribute the discrepancies to stakeholders until resolution
Proficiency in creating and maintaining Metrics, dashboard excel tools for data reporting
Strong Communication skills required as needs to interact with internal and external stakeholders
Proactively identifies and mitigates risks related to delay in delivery timeline etc.
At least 6 + years of related work experience in a clinical or pharmaceutical industry/company
Study Delivery
Provides support and training on the Clinical data management activities to TCS Data Managers for the relevant functional processes/work statements/projects – be trained and perform as a backup where required

Maintains & builds awareness of internal and external clinical Data Management practices to enhance domain expertise

Single point of contact for Study Data Manager/designee
Study /Project Management
Overall in charge of all Data Management activities for a study/ies including Study Set up, Conduct, and Close Out.

The primary point of contact for CDM and works are the liaison for Programmer, DAS, and coding activities too

Monitors and evaluates overall study progress, identify the potential risk/challenges faced during the course of the study

Monitor, maintain & report KPI / SLAs /metrics on the study

Performs tasks/activities as communicated by the TCS Group Leader (GL) and/or Project Manager (PM) and Study Data Manager (SDM)

Ensures adequate resources for the Study throughout its lifecycle in collaboration with the Group leader and informs (SDM and/or Alliance Manager (AM) as applicable) contact of any changes in staff

Keeps TCS Group Lead & Project Manager fully informed about the need for the resources so the resource requests can be finalized with Alliance Manager and TCS PM

Keeps record of all activities to ensure the smooth flow of the study throughout its lifecycle

Set priorities and targets of the study within the teams

Responsible for recruitment, selection, training of team members & managing attrition

Works as a mentor for DM staff assigned on the study/ies
Interested Candidates May Apply to apeksha.bhosale@tcs.com
*Please Note- Candidates who have appeared for an interview for said opening can re-apply only after 6 months of the interview.
ALTERNATIVE; Interested candidates can share their CVs to ankita.yelve@tcs.com

Best regards,
Ankita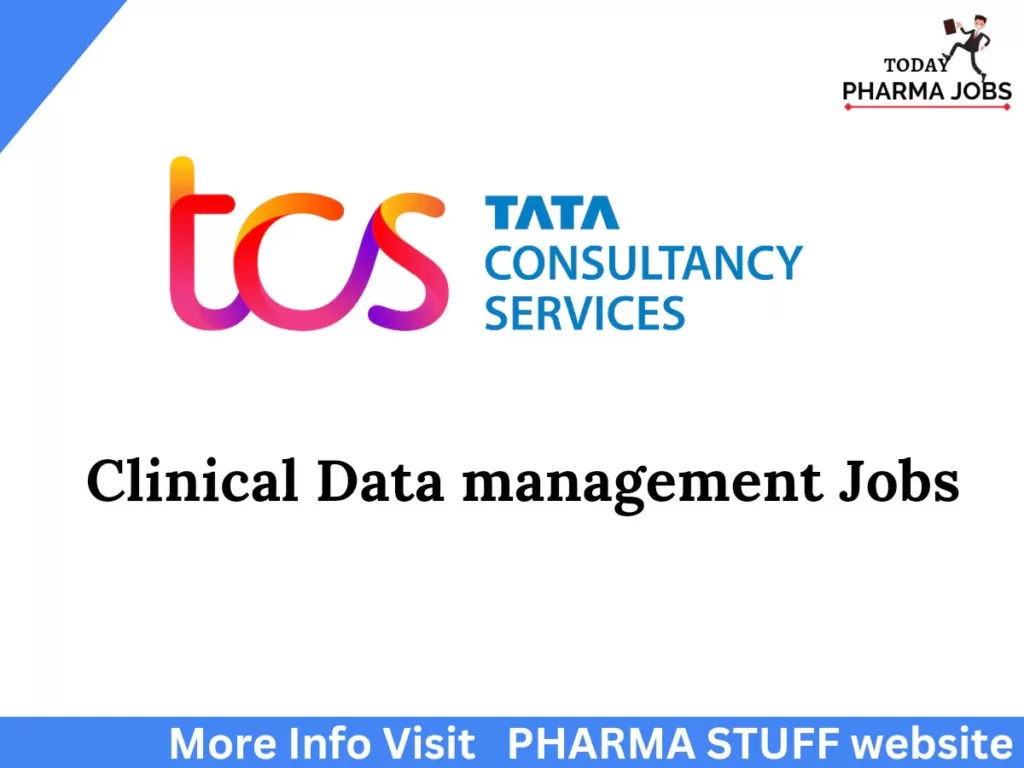 Note
:
Subscribe
to PHARMA STUFF for Hourly Pharma job openings, Medical coding, Clinical Research, and Pharmacovigilance, and more follow us on INSTAGRAM
,
Youtube
,
Telegram,
and subscribe to our
Whatsapp Group
Disclaimer:

PHARMA STUFF
 provides general information only. Job seekers must verify job postings and employers before applying. We're not liable for scams or fraudulent job postings. Be cautious of any job postings asking for money. We never ask for money.