Pharmaceutical Abstract Content editor vacancies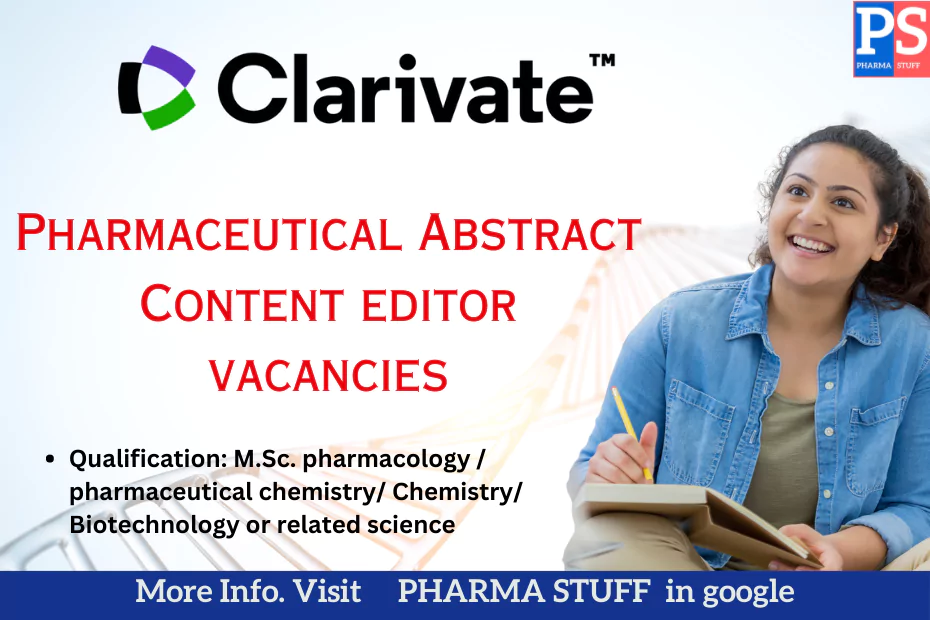 Are you a motivated individual with a strong background in chemistry, pharmacology, or related scientific fields? If so, we have an exciting job opportunity for you! Clarivate is seeking a Content Editor to join our talented International Pharmaceutical Abstracts (IPA) Team. In this role, you will have the opportunity to apply your knowledge and skills to curate drug-related data from research articles in accordance with our editorial policies. Let's dive into the details of this job vacancy.
Educational Qualification and Experience
To be considered for the position, you should hold a Master's degree in pharmacology, pharmaceutical chemistry, chemistry, biotechnology, or a related science field. In addition, we require a minimum of 1 year of experience in content analysis within a science-related field or in a related publication domain. This experience will ensure that you are familiar with the intricacies of working in a scientific setting and can effectively analyze and interpret scientific information.
Skills and Knowledge
As a Content Editor, it is crucial to possess good scientific research and analytical skills, with a keen attention to detail. You will be responsible for reviewing and curating scientific data, so an ability to identify relevant information and ensure its accuracy and completeness is essential. Additionally, you should have a solid understanding of clinical trial information, preclinical data, microbiology, gene therapy, vaccines, pharmaceutical formulations, and drug development. This knowledge will enable you to effectively navigate through research articles and extract pertinent information.
Responsibilities and Duties
In this role, your primary responsibility will be to apply concepts from biotechnology, molecular biology, pharmacology, and pharmaceutical chemistry to curate drug-related data from research articles. You will work in line with our editorial policies to ensure the quality and relevance of the curated data. Meeting weekly production volumes and consistently achieving quality targets will be key performance indicators for this role. As part of a team, you will actively collaborate to ensure that these targets are met. Additionally, you should maintain a flexible and adaptable approach to process changes, as the scientific landscape is constantly evolving.
Hours of Work; This is a full-time permanent position