inStem offers career opportunity for biological sciences candidates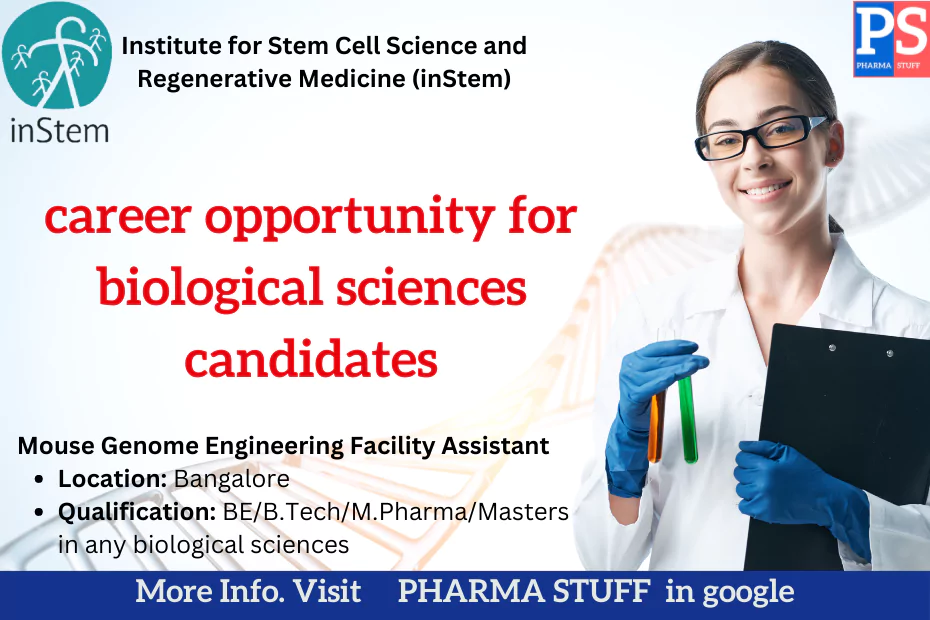 INSTITUTE FOR STEM CELL SCIENCE AND REGENERATIVE MEDICINE: Advertisement for Mouse Genome Engineering Facility Assistant
Introduction
The Institute for Stem Cell Science and Regenerative Medicine (inStem) is an autonomous institute under the Department of Biotechnology, Government of India. They are currently seeking a highly motivated individual for the position of Mouse Genome Engineering Facility Assistant.
Advertisement Details
Advertisement No.: inStem/Temp/06/2023
Position: Mouse Genome Engineering Facility Assistant
Location: GKVK Campus, Bellary Road, Bangalore
Mouse Genome Engineering Facility
The Mouse Genome Engineering Facility at inStem is a state-of-the-art facility dedicated to the generation of transgenic and gene-edited mouse models. Its main operational domains include using advanced gene-editing tools, cryo-banking services, reproductive technologies, and providing training and workshops.
Qualification & Experience Requirements
Qualification: BE/B.Tech/M.Pharma/Masters in any biological sciences
Experience: Prior experience in handling laboratory mice/rats, knowledge/experience in sperm and embryo handling is desirable
Essential Skills: Excellent organization, recordkeeping, and English communication skills
Job Responsibilities
The selected candidate will have the following responsibilities:
Coordinating and participating in the daily operations of the mouse genome engineering facility
Executing molecular biology activities related to mouse model generation
Conducting molecular biology techniques such as PCR, DNA/RNA extraction, gel electrophoresis, genotyping
Performing molecular cloning and gene-targeted vector construction for mouse model generation
Understanding CRISPR technology and designing strategies for CRISPR-mediated animal model generation
Experience in rederivation, In Vitro Fertilization, genotyping, mouse sperm and embryo cryopreservation, and breeding services
Colony management, post-surgical animal monitoring, and care
Maintenance of cryo database on animal Colony management software
Accurate record-keeping as per Standard Operative Procedures
Communicating project status and results with clients
Application Process and Important Dates
Application Mode: Only online applications will be accepted.
Application Deadline: 12.06.2023
How to Apply: To apply to the position, interested candidates may log into DBT-inStem website careers-Open positions (https://www.instem.res.in/jobportal/)
Candidates must submit an updated CV/resume along with a one-page cover letter explaining their background and interest in the position.
Any issue while applying online may be addressed to estt@instem.res.in. Shortlisted applicants will be informed by E-mail and will be interviewed via in-person/electronic mode, depending on the location of the candidate.
Please note that candidates applying without a proper cover letter will NOT be considered.
For full detailed job notification click here