Wipro Pharmacovigilance jobs: Drug Safety Physician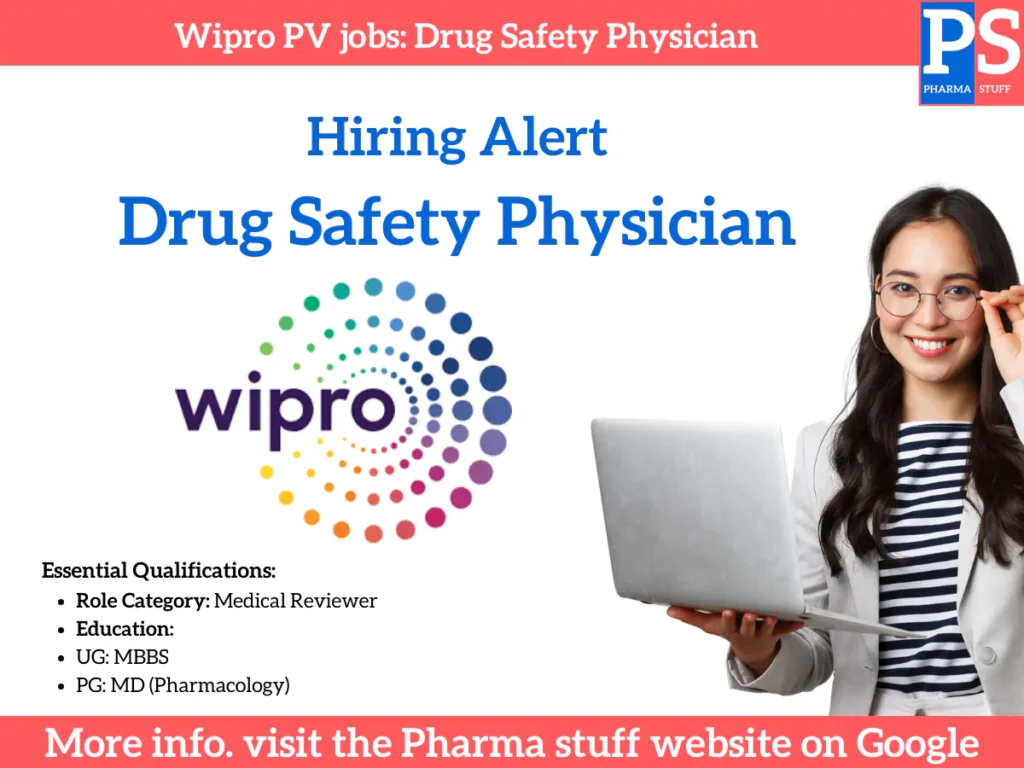 Wipro Pharmacovigilance Jobs: Pioneering Excellence in Drug Safety
---
About the Company
Embark on a career journey with Wipro, a global leader in information technology, consulting, and business process services. Wipro's commitment to innovation extends to the field of pharmacovigilance, where we are actively seeking skilled professionals to join our dynamic team in Pune. If you are a medical professional with a passion for drug safety, Wipro is the place to shape your career.
Company Vacancies List
Drug Safety Physician – Senior Executive
Company Name: Wipro
Salary: Competitive
Detailed Job Description:

Role: Drug Safety Physician – Senior Executive
Industry Type: Information Technology, Consulting, Pharmacovigilance
Department: Drug Safety
Employment Type: Full Time
Role Category: Medical Reviewer
Education:

UG: MBBS
PG: MD (Pharmacology)

Key Skills: Medical Reviewer, Drug Safety, Pharmacovigilance, ICSR Process, Literature Surveillance
Job Description
About the Department & Responsibilities
As a Drug Safety Physician at Wipro, you will play a crucial role in ensuring the safety of pharmaceutical products. Here's an overview of the key responsibilities:
Reviewing Published Reports:

Ascertain if published reports/biomedical literature contain case reports of adverse reactions and non-individual case reports.

Guidance and Training:

Apply regulatory and internal guidance to determine if the article meets the definition of a case report.
Provide training and guidance to scanners on inclusion criteria for case reports.

Relevancy Assessment:

Perform relevancy assessment based on accepted industry guidelines.

Collaboration and Training:

Work closely with SMEs to ensure the physician team has necessary training and skills per industry norms.

Additional Responsibilities:

Perform additional tasks as assigned by the team lead/manager.
Technical/Functional Competency:
Sound knowledge of Human Anatomy & Physiology.
MedDRA Coding & subsuming of adverse drug reaction/AE terms.
Seriousness determination.
Familiarity with pharmacological concepts.
Command on verbal and written communication skills.
Team Player.
Sound knowledge of regulatory guidelines related to the PV domain.
How to Apply
If you are ready to contribute to the field of drug safety and innovation, follow these steps to apply:
Submit Your Application: Share your CV to archita.majumdar@wipro.com.
Subject Line: Use "Application for Drug Safety Physician Role" in the subject line of your email.