Torrent Pharmaceuticals Walk-In Interview for Quality Control (Formulation)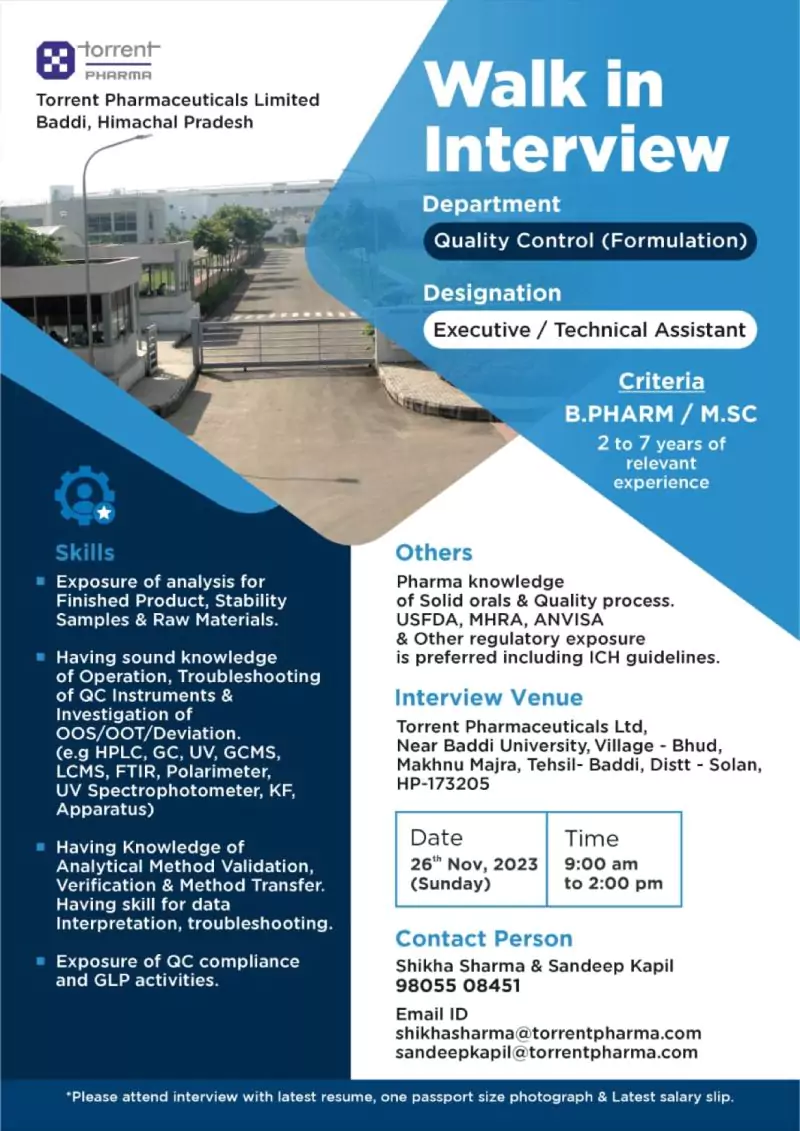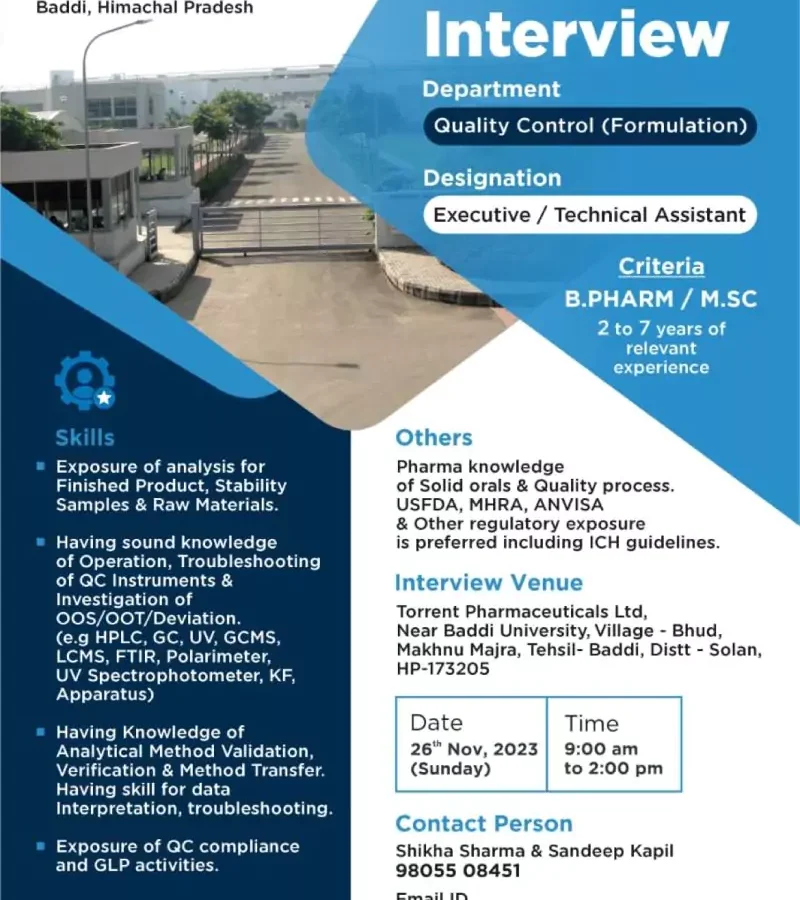 Torrent Pharmaceuticals Limited, a renowned pharmaceutical company situated in Baddi, Himachal Pradesh. Torrent Pharma is committed to innovation, excellence, and delivering high-quality healthcare solutions globally. With a focus on research, development, and manufacturing, Torrent Pharma stands as a leader in the pharmaceutical industry.
Company Vacancies List
Position Title: Executive / Technical Assistant
Department: Quality Control (Formulation)
Designation: Executive / Technical Assistant
Criteria: B.PHARM/M.SC
Experience: 2 to 7 years of relevant experience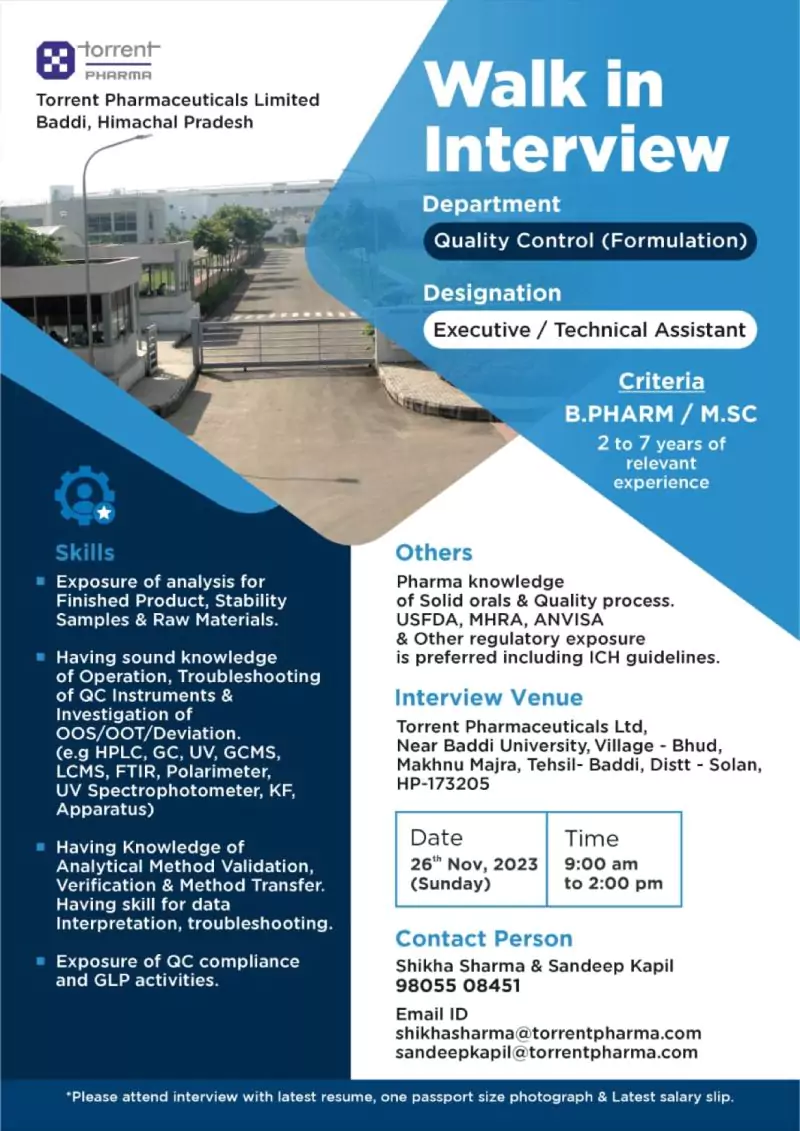 Job Description
About the Department & Responsibilities
The Quality Control (Formulation) department at Torrent Pharmaceuticals is at the forefront of ensuring the quality and compliance of pharmaceutical formulations. As an Executive or Technical Assistant in this department, you will:
Conduct Analysis: Be exposed to the analysis of Finished Product, Stability Samples, and Raw Materials.
Instrument Operation: Demonstrate a sound knowledge of operating and troubleshooting QC instruments such as HPLC, GC, UV, GCMS, LCMS, FTIR, Polarimeter, UV Spectrophotometer, KF Apparatus.
Method Validation: Be proficient in Analytical Method Validation, Verification, and Method Transfer, with skills for data interpretation and troubleshooting.
Compliance & GLP: Ensure adherence to QC compliance and participate in GLP activities.
Pharma Knowledge: Apply pharmaceutical knowledge in Solid Orals and Quality processes, with exposure to regulatory standards including USFDA, MHRA, ANVISA, and other regulatory guidelines, including ICH.
Interview Details
Venue: Torrent Pharmaceuticals Ltd, Near Baddi University, Village – Bhud, Makhnu Majra, Tehsil- Baddi, Distt – Solan, HP-173205
Date: 26 Nov, 2023 (Sunday)
Time: 9:00 am to 2:00 pm
Contact Person: Shikha Sharma & Sandeep Kapil
Email ID: shikhasharma@torrentpharma.com, sandeepkapil@torrentpharma.com
Please attend the interview with your latest resume, one passport-size photograph, and the latest salary slip.