Pharmacovigilance Job vacancies for Pharmacy Candidates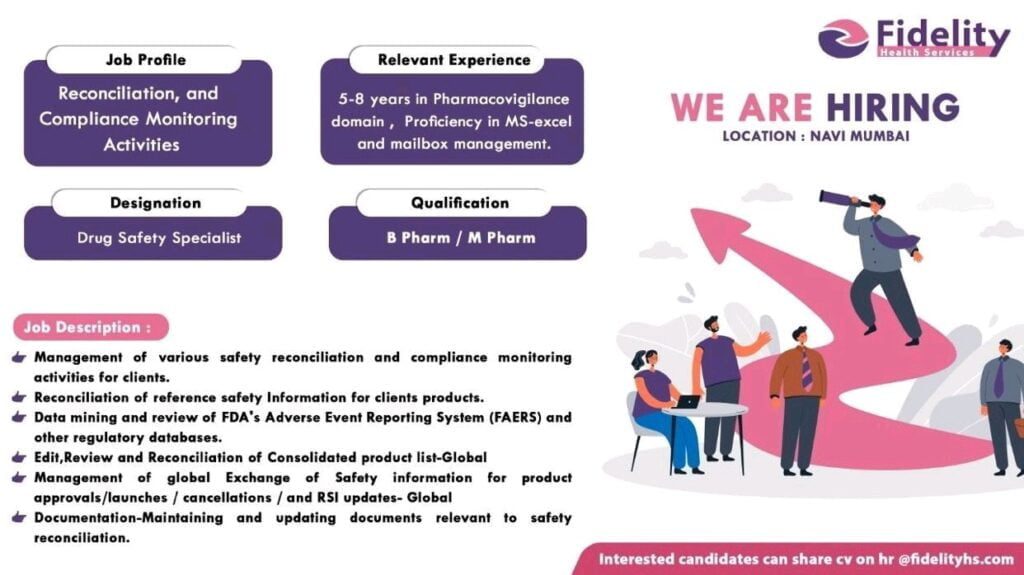 Pharmacovigilance Job vacancies in mumbai by fidelity health services
Company Name : Fidelity Health Services
Location : Navi Mumbai
Designation : Drug Safety Specialist
Qualification : B Pharm / M Pharm
Job Profile : Reconciliation, and Compliance Monitoring Activities
Relevant Experience : 5-8 years in Pharmacovigilance domain, Proficiency in MS-excel and mailbox management.
Job Description :
Management of various safety reconciliation and compliance monitoring activities for clients.
Reconciliation of reference safety Information for clients products.
Data mining and review of FDA's Adverse Event Reporting System (FAERS) and other regulatory databases.
Edit, Review and Reconciliation of Consolidated product list-Global
Management of global Exchange of Safety information for product approvals/launches / cancellations / and RSI updates- Global
Documentation – Maintaining and updating documents relevant to safety reconciliation.
Job Profile: Safety Writing
Educational Qualification : B Pharm, M Pharm, BHMS, BAMS
Relevant Experience : 2 to 4 years in safety writing & aggregate reports
Designation : Executive Safety Writer / Sr Executive Safety Writer
Job Responsibilities:
• Checking the archival of source documents and final signed off copies of aggregate reports.
• Keeping check on the online aggregate report tracker
• Helping with checking of action items populated in non conformance.
Designation : Drug Safety Specialist
Qualification: B. Pharm / M. Pharm/ BAMS / BHMS
Job Description
1. Initiate communications with internal stakeholders like business teams and subsidiaries to understand the requirements of SDEAs.
2. Follow up with third parties/business partners for having SDEAs in place
3. Timely exchange of safety data with partners and conduct of adverse event reconciliation with partners.
Requirements:
Experience : Minimum 3-4 years of experience in case processing / safety writing and knowledge of SDEA management.
• Experience in exchanging safety data /conducting reconciliations with business partners.
• Strong written and verbal communication/presentation skills.
• Being up-to-date with the latest technical/scientific developments related to PV
Application Process : Interested Candidates Share your Resume to hr@fidelityhs.com
Pharmacovigilance Job vacancies for Pharmacy Candidates