Biological E; Walk in Interview for M pharm, Msc, BSc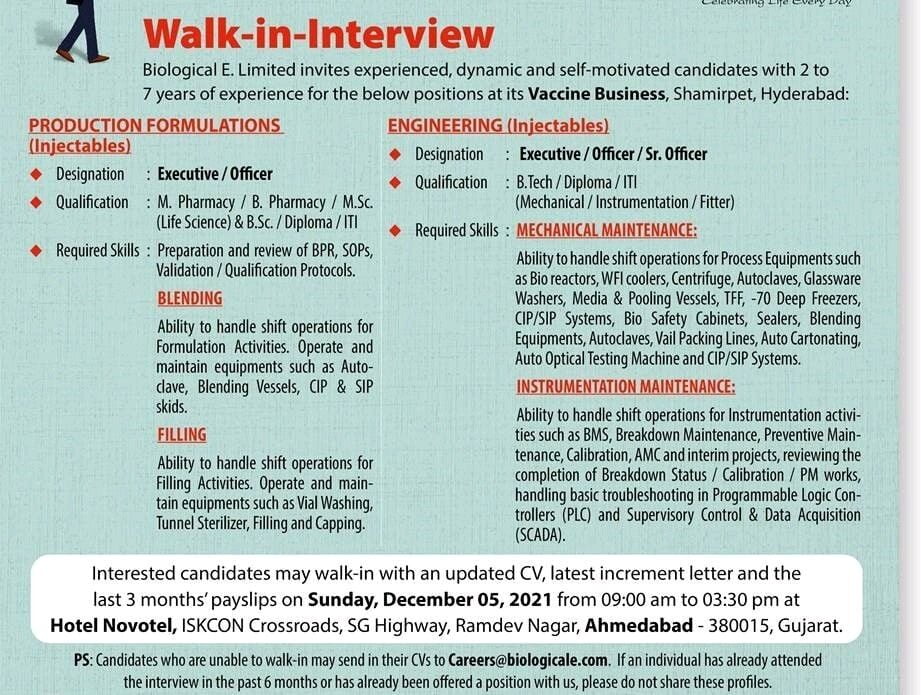 Biological E. Limited Walk-in-Interview for Bsc, B Pharmacy, Diploma, ITI, M pharmacy and msc Candidates
Biological E. Limited invites experienced, dynamic and self-motivated candidates with 2 to 7 years of experience for the below positions at its Vaccine Business, Shamirpet, Hyderabad:
(Injectables)
Designation: Executive / Officer
Qualification: M Pharmacy / B Pharmacy / MSc. (Life Science) & BSc / Diploma / ITI
Required Skills:
Preparation and review of BPR, SOPs, Validation/Qualification Protocols.
BLENDING
Ability to handle shift operations for Formulation Activities. Operate and maintain equipments such as Auto dave, Blending Vessels, CIP & SIP skids.
FILLING
Ability to handle shift operations for Filling Activities. Operate and main tain equipments such as Vial Washing, Tunnel Sterilizer, Filling and Capping.
ENGINEERING (Injectables)
Designation: Executive / Officer / Sr Officer
Qualification: B Tech / Diploma / ITI
(Mechanical / Instrumentation / Fitter)
Required Skills
MECHANICAL MAINTENANCE:
Ability to handle shift operations for Process Equipments such as Bio reactors, WFI coolers, Centrifuge, Autoclaves, Glassware Washers, Media & Pooling Vessels, TFF, -70 Deep Freezers, CIP/SIP Systems, Bio Safety Cabinets, Sealers, Blending Equipments, Autoclaves, Vail Packing Lines, Auto Cartonating, Auto Optical Testing Machine and CIP/SIP Systems.
INSTRUMENTATION MAINTENANCE:
Ability to handle shift operations for Instrumentation activi ties such as BMS, Breakdown Maintenance, Preventive Main tenance, Calibration, AMC and interim projects, reviewing the completion of Breakdown Status / Calibration / PM works, handling basic troubleshooting in Programmable Logic Con trollers (PLC) and Supervisory Control & Data Acquisition (SCADA).
Interested candidates may walk-in with following Documents
Updated CV
latest increment letter and the last 3 months' payslips
Walk in interview on Sunday, December 05, 2021 from 09:00 am to 03:30 pm
Venue : Hotel Novotel, ISKCON Crossroads, SG Highway, Ramdev Nagar, Ahmedabad – 380015, Gujarat.
Note : Candidates who are unable to walk-in may send in their CVs to Careers@biologicale.com.
If an individual has already attended the interview in the past 6 months or has already been offered a position with us, please do not share these profiles.
Note: Candidates may walk-in without any hesitation as we diligently follow the safety precautions against the spread of COVID-19. As part of our COVID-19 safety measures, the candidates are requested to sanitize their hands at the entrance, maintain social distance and wear a face mask before entering the Venue.