GSK Job Vacancy: Clinical Transparency Specialist – PLS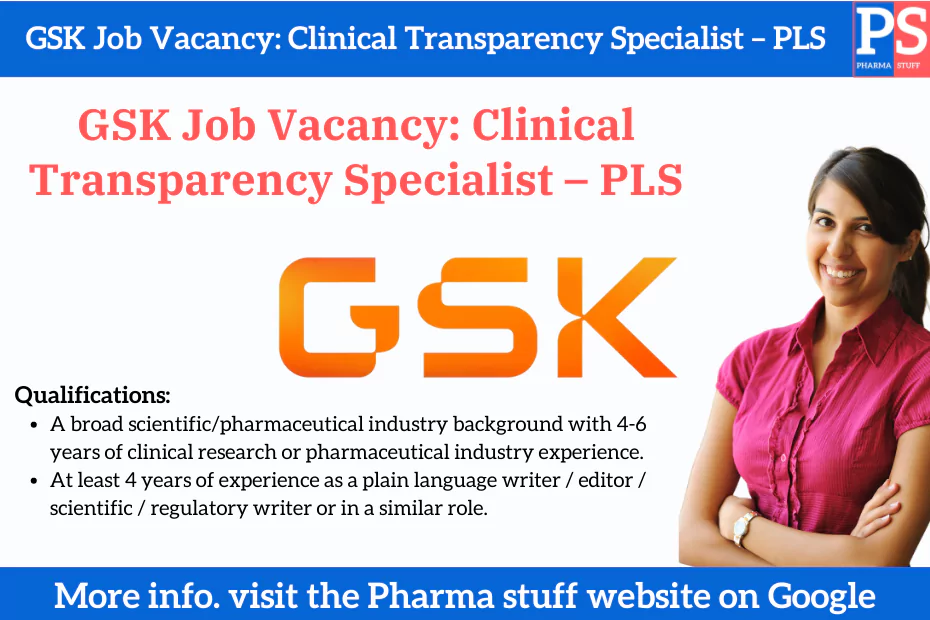 Are you a skilled medical writer with a passion for clear communication and transparency in clinical research? GlaxoSmithKline (GSK), a global pharmaceutical leader, has an exciting job opportunity for a Clinical Transparency Specialist focused on Plain Language Summaries (PLS). This role is based in Bengaluru, India, and offers a chance to contribute to GSK's commitment to clinical data transparency while working in the dynamic field of medical and clinical communication.
Introduction
In an era where transparency and clear communication are paramount, GSK is taking a proactive step by establishing the role of a Plain Language Medical Writer. This role is designed to drive the development of Plain Language Summaries (PLS) of Clinical Trial Results, contributing to GSK's commitment to advance scientific understanding, improve patient care, and foster trust.
Job Description
Site: Bengaluru Luxor North Tower
The Plain Language Medical Writer's primary role is to create plain language summaries of clinical study protocols and results summaries. These summaries play a crucial role in simplifying complex health information, ensuring it is understandable to a non-expert audience. The Plain Language Writer will focus on principles of plain language and health literacy, contributing to GSK's efforts to enhance transparency and communication.
Job Purpose
The role of the Clinical Transparency Specialist is to drive the development and delivery of Plain Language Summaries (PLS) across various therapy areas within GSK. This involves ensuring consistent, timely, and compliant disclosure of PLS from GSK-sponsored human subject research. The Specialist collaborates with multidisciplinary experts to develop research content in a clear and engaging manner for a lay audience. The role also involves supporting the implementation of processes aligned with regulatory transparency requirements.
Key Responsibilities
As a Clinical Transparency Specialist, your responsibilities include:
Overseeing the end-to-end delivery of PLS, including development, approval, translation, and disclosure, ensuring compliance with laws and regulations.
Driving the timely delivery of PLS to external registers and platforms.
Collaborating with study delivery leaders, clinical teams, and cross-functional members to create clear and accurate PLS.
Promoting consistent PLS writing processes within the therapy area.
Collaborating with patient advocacy and digital engagement committees to tailor PLS to different patient communities.
Developing and executing communication plans for PLS and continuous improvement mechanisms.
Managing transparency risks related to PLS and implementing strategies for risk mitigation.
Staying updated with changes in global Clinical Trial Disclosure and Transparency Regulations and aligning GSK practices accordingly.
Minimum Level of Experience Required
To excel in this role, candidates should possess:
A broad scientific/pharmaceutical industry background with 4-6 years of clinical research or pharmaceutical industry experience.
At least 4 years of experience as a plain language writer/editor/scientific/regulatory writer or in a similar role.
Strong English-language written communication skills and the ability to translate complex health information into plain language.
Familiarity with clinical trial guidance and standards.
Collaboration skills in a team environment.
Proficiency in Microsoft Office applications, particularly Word and PowerPoint.
Minimum Level of Education Required
Candidates should have a University Scientific Degree Master or equivalent professional experience.