Recruitment for Dr Reddy's by NAPS – Apprenticeship Opportunities
Dr Reddy's Laboratories Limited offers an internship program for students interested in pursuing a career in the life sciences sector. The Microbiologist-Quality Control internship is a 180-day program that provides hands-on training in various aspects of quality control in the pharmaceutical industry.
The program is open to female candidates with a B.Sc. degree in Biochemistry, Biology, Chemistry, Immunology, Biomedical Science, Biotechnology, or Microbiology and those pursuing a B.Pharma or B—Tech in Biotechnology (3rd Year). The internship provides a stipend ranging from ₹27,667.00 – ₹29,167.00.
Interns gain practical experience in microbiological testing, documentation, and compliance with regulatory requirements. They work closely with experienced professionals and learn about pharmaceutical manufacturing, quality control systems, and good laboratory practices.

Dr Reddy's Laboratories Limited internship program provides a valuable opportunity for students to gain industry experience, enhance their skills, and make connections in the pharmaceutical sector.
Establishment Name: Dr Reddy's Laboratories
Department: Quality Control
Role: Microbiologist
Job Location: Visakhapatnam – Andhra Pradesh
Qualification: B.Sc (Biochemistry / Biology / Chemistry / Immunology / Biomedical Science / Biotechnology / Microbiology) / B.Pharma / B.Tech Biotechnology (3rd Year)
Gender: Female
Stipend from: ₹27,667.00 – ₹29,167.00
Number of Openings: 01
Training Duration: 180 Days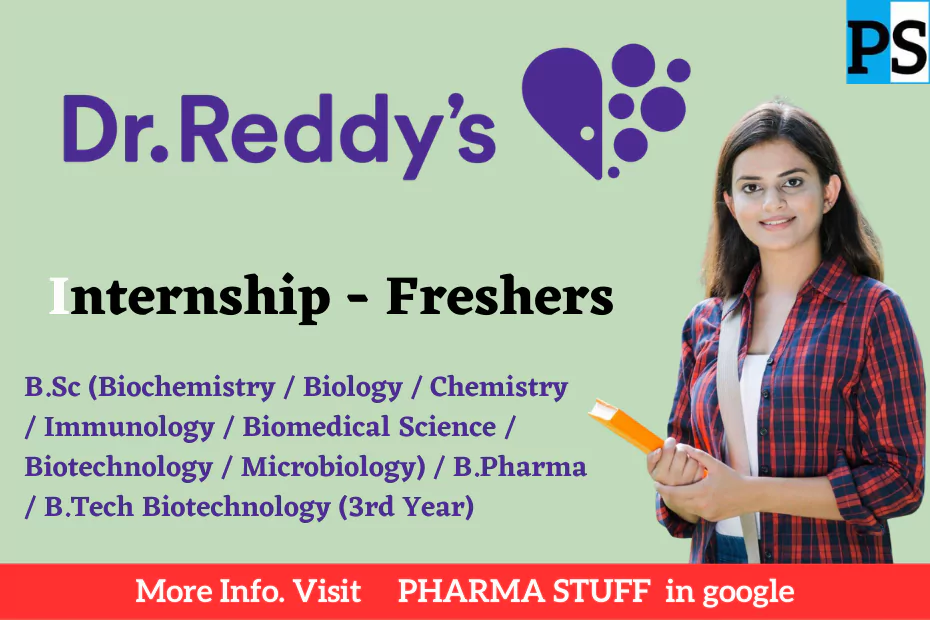 Disclaimer:

PHARMA STUFF
 provides general information only. Job seekers must verify job postings and employers before applying. We're not liable for scams or fraudulent job postings. Be cautious of any job postings asking for money. We never ask for money.