Cotiviti Hiring HCC Certified Medical Coders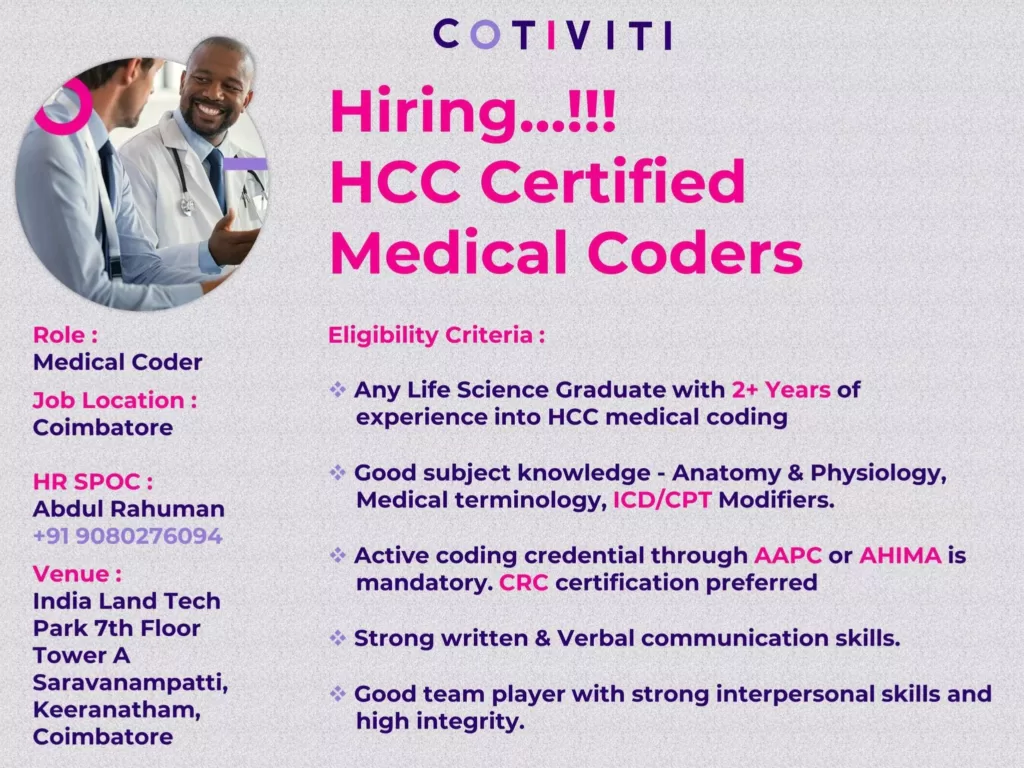 Cotiviti Hiring HCC Certified Medical Coders
Cotiviti is a healthcare technology and analytics company that provides services to healthcare payers and providers. They use data analytics and technology to help improve the accuracy of medical claims and reduce costs for clients. Their services include claims auditing, fraud detection, and payment accuracy. They are headquartered in Atlanta, Georgia, USA.
HCC stands for Hierarchical Condition Category. It is a type of medical coding system used by Medicare Advantage (MA) plans to identify and track chronic conditions of their beneficiaries. HCC coding is used to predict the healthcare utilization and costs of a patient, and to adjust payments to the plan based on the patient's level of risk. The HCC coding system is a way to capture the complexity of a patient's health status, and it is used to create risk scores that are used to determine the amount of funding that a plan will receive from CMS (Centers for Medicare & Medicaid Services). It's a way to adjust payments to a plan to account for the expected higher costs of caring for patients with chronic conditions.
HCC Certified Medical Coders

Job Role – HCC – Coder / Sr Coder

Eligibility Criteria:

Any Life Science graduate with 1+ Years in HCC Coding
Any Life Science Graduate with a minimum of 1+ years of experience in HCC medical coding.
Active coding credential through AAPC or AHIMA is mandatory.
CRC certification is preferred.
Good subject knowledge in Anatomy & Physiology, Medical terminology, and ICD guidelines.
Strong written & Verbal Communication skills
Good team player with interpersonal skills with high integrity
Responsibilities
HCC Certified Medical Coders are individuals who have been trained and certified in the use of the Hierarchical Condition Category (HCC) medical coding system.
They are responsible for reviewing medical records, identifying and coding diagnoses and conditions, and entering this information into the system.
HCC coding is used by Medicare Advantage plans to identify and track chronic conditions of their beneficiaries and predict healthcare utilization and costs.
HCC coders need to have a thorough understanding of medical terminology, anatomy, and the HCC coding system.
They must also be well-versed in the coding guidelines and regulations set by the Centers for Medicare and Medicaid Services (CMS). They also need to be familiar with the ICD-10-CM codes and the HCC codes.
The certification in HCC coding is offered by several organizations like AHIMA, AAPC, and others. The certification process typically includes passing an exam and meeting certain education and experience requirements.
How to Apply
Interested candidates can contact /share your resume to the below email id

Contact details
Divine Jenifer- HR
8807296462
divine.jeniferclasiya@cotiviti.com