Medical Scriber:- Senior Process Executive
JOB DESCRIPTION:
A Virtual Medical Scribe works asynchronously with a physician and their care team to complete documentation of clinic visits.
Specialists support healthcare providers and their patients by using an emerging technology platform to complete confidential medical documentation summaries of patient encounters.
SPE Agents save time for providers by delivering accurate documentation within hours of patient visits.
Documentation includes patient histories, exams, radiographic findings, assessments, and treatment plans.
Specialists make healthcare functional and efficient by allowing providers to keep their focus on their patients.
Candidates who are passionate about medicine and desire to impact the future of healthcare are desired.
Candidates should also be quick learners who can get up to speed with medical terminology to include anatomy and treatment modalities and strive for continual learning and improvement.
Successful candidates will be eager to learn new technology and be open to making changes as new technologies evolve. \
Training will be provided through our training program.
Required Qualifications/Experience:–
Required in a medical office, clinical or healthcare documentation or similar academic setting.
Familiarity with medical terminology & medical summarization.
Excellent English professional writing skills; including advanced proficiency in grammar and spelling.
Excellent listening skills and ability to understand diverse accents and dialects of physicians, their staff, and patients.
Ability to work independently in a secure and private location with a reliable high-speed internet connection.
Ability to participate in live video chat and screen sharing sessions for training.
Experience with the Microsoft Office 365 or other cloud-based productivity tools.
Must Have Skills: –

1- 3 Years in Medical Summarization / Medical Transcription/ Medical Scribe
Work From Office only at Cognizant locations
ALL POSITIONS WILL BE NIGHT SHIFT
In this project, you will be an integral member of the patient care team, working in near real-time with a doctor and their medical team to help summarize, validate, and complete confidential medical documentation of patient visits – including patient histories, exams, radiographic findings, assessments, and treatment plans.
Employee Status : Full-Time Employee
Shift: Day Job
Travel: NO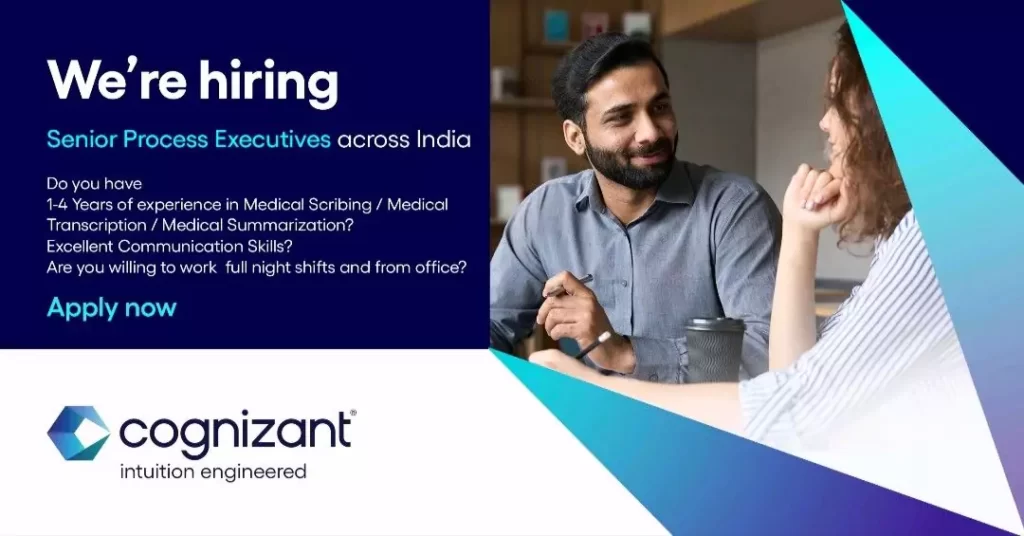 Disclaimer:

PHARMA STUFF
 provides general information only. Job seekers must verify job postings and employers before applying. We're not liable for scams or fraudulent job postings. Be cautious of any job postings asking for money. We never ask for money.