TSPSC Govt. drug inspectors notification- Salary 51,320 – 1,27,310/-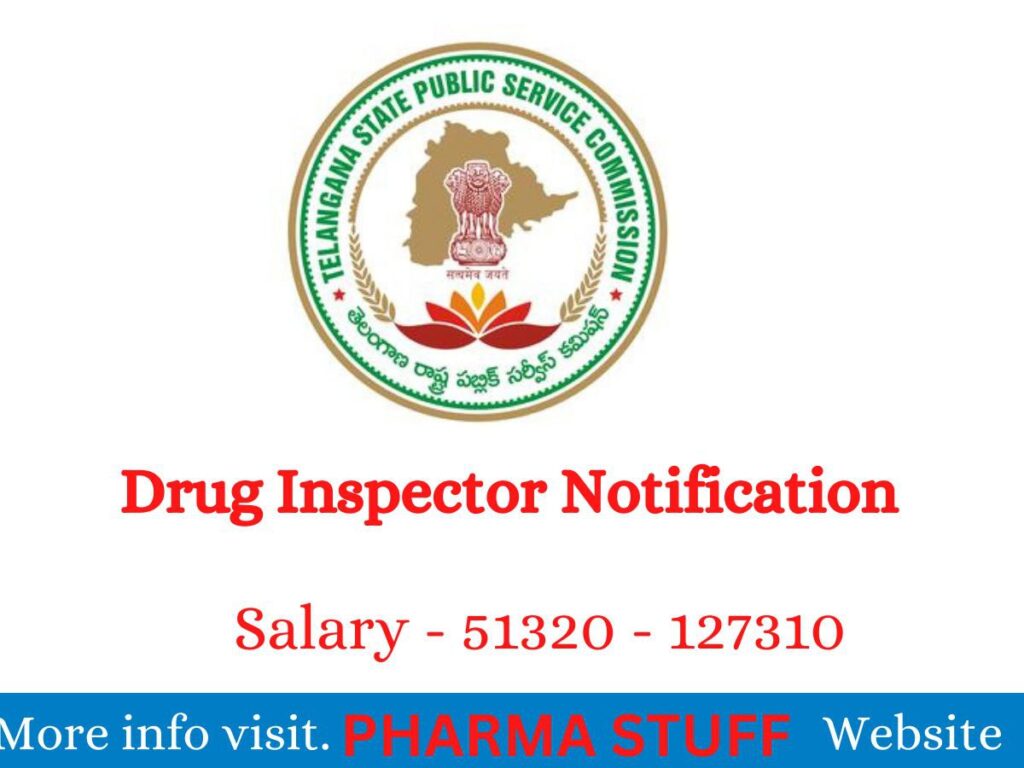 drug inspector notification in Telangana state
TELANGANA STATE PUBLIC SERVICE COMMISSION: HYDERABAD
DRUGS INSPECTOR IN DRUGS CONTROL ADMINISTRATION DEPARTMENT
Applications are invited Online from qualified applicants through the proforma Application to be made available on the Commission's website (https://www.tspsc.gov.in) to the post of Drugs Inspector in the Drugs Control Administration Department in the State of Telangana.
 Submission of ONLINE applications starts from Dt. 16/12/2022.
the Last date and time for submission of ONLINE applications is 5.00 PM on 05/01/2023. The payment of the Fee will be accepted up to 5:00 P.M. of the last date for submission.
NOTIFICATION NO. 21/2022, DATED:08/12/2022
The details of the vacancies are given below:-
Name of the Post Drugs Inspector
No. of Vacancies; 18
Age as on 01/07/2022 ;  18-44
Min. Max. Scale of Pay Rs. 51,320– 1,27,310/-
The Examination (Objective Type) is likely to be held in the Month of May/June 2023 and the Commission reserves the right to conduct the Examination either through COMPUTER BASED RECRUITMENT TEST (CBRT) OR OFFLINE OMR BASED EXAMINATION OF OBJECTIVE TYPE.
(ii) Exact date for the above examination will be announced later.
(iii) Hall Tickets can be downloaded from 7 days prior to the examination.
EDUCATIONAL QUALIFICATIONS: Applicants must possess the requisite qualifications as detailed below, specified in the relevant Service Rules, indented by the Department, as on
the Date of Notification
Name of the post; Drug inspector
Educational Qualifications as specified in the Service Rules of the department.; Must possess a Degree in Pharmacy (OR) Pharmaceutical Science (OR) Pharm.D (OR) Medicine with a specialization in Clinical Pharmacology or Microbiology from a University established in India by law.
AGE: The candidates should possess Minimum 18 years & Maximum 44 years. The age is reckoned as on 01/07/2022 (Rule-12(1)(a)(v) of State and Subordinate Service Rules). (As per G.O.Ms.No.42, G.A.(Ser.A) Department, Dt. 19/03/2022 the upper age limit is raised up to 10 years i.e., from 34 years to 44 years)
Minimum Age (18 years): An Applicant should not be born after 01/07/2004
Maximum Age (44 years): An applicant should not be born before 02/07/1978 The Upper Age limit will be relaxed as per the Rules and will be calculated on the above lines. For more info check the notification mentioned below
application FEE for TS drug inspector
Application Processing Fee:- Each applicant must pay Rs. 200/- (Rupees Two Hundred Only) towards Online Application Processing Fee.
Examination Fee:– The applicants have to pay RS. 120/- (Rupees One Hundred and Twenty Only) towards Examination Fee. However,
a) All unemployees are exempted from payment of examination fee, and
b) All Employees of any Government (Central / State / PSUs / Corporations / Other Government Sector) have to pay the prescribed examination fee.
HOW TO APPLY FOR DRUG INSPECTOR :
HOW TO SUBMIT THE ONLINE APPLICATION FORM:
The Applicant has to read the User Guide (https://www.tspsc.gov.in) for Online Submission of Applications and then proceed further.
Step I:
Before applying, the Applicant has to visit the website (https://www.tspsc.gov.in) and fill out the OTR application if not registered earlier to obtain TSPSC ID. The candidates are advised to upload all the required certificates (However, original certificates have to be produced for verification at the time of scrutiny before finalizing the selection list).
While filling the OTR, the applicant has to ensure that there are no mistakes in it.
The Commission will not be held responsible for the mistakes, if any, made by the applicants. If already registered in the OTR the applicant can directly access the application form.
The applicant is instructed to fill his/her application form himself/herself with utmost care instead of delegating to others.
Step II:
In order to fill out the application form, the Applicant has to visit the website (https://www.tspsc.gov.in) and Click on the online Application Link provided on the
Website, then enter TSPSC ID and Date of Birth and login with OTP received to proceed further.
The applicant has to verify the details fetched from OTR database pertaining to Name, Date of Birth, requisite Educational Qualifications, Community, Gender, ExServicemen & Sports etc., are displayed on the screen.
In addition to the details obtained from OTR database, specific details of Notification such as Examination Centre opted, required qualification and declarations, etc., should be filled by the applicant.
Preview and Edit facility is available to make changes and then click on SAVE & PAY button for proceeding to the next step of making online payment of fee through payment gateway.
Step III:–
The applicant should pay the prescribed fee as specified through any of the three modes of payment online i.e., Net Banking, Debit Card and Credit Card duly following the instructions appearing on the screen.
Step IV:-
After payment of fee, the PDF application will be generated which contains the particulars furnished by the applicant. The applicant must download a copy of his/her submitted form (PDF). The Reference ID Number in the PDF application form has to be quoted for future reference/correspondence.
The applicant shall note that the details available in OTR database at the time of submitting the application will only be considered for the purpose of this notification. Hence, the candidate is advised to update/edit the details in OTR form before submitting the online application form.
The Time and Date of submission of the application will be printed on the application PDF form. Changes made by the applicant in OTR details after submission of the application form will not be considered for the purpose of this Notification.
The Commission is not responsible for any discrepancy in Bio-data particulars submitted in the application form. The applicant is therefore advised to strictly follow the instructions and User guide in his/her own interest before submitting the application.
Applicant must compulsorily fill up all relevant columns of the application form. The eligibility of the applicant will be decided based on the particulars given in the online application form in terms of notification it is validated by the software and it will be taken as final. For eg: If an applicant fails to update the OTR regarding his/her Sports status before applying, the applicant will not be considered for Sports vacancies. Applicants should therefore be very careful while entering the data and uploading / submitting the application form online.
An incomplete/incorrect application form will be rejected. The information if any furnished by the applicant subsequently in any form will not be entertained by the Commission under any circumstances unless specifically called for. Applicants should be careful in filling up the application form and submission. If any lapse is detected during the scrutiny/verification of certificates, the candidature will be rejected even though he/she comes through the final stage of the recruitment process or even at a later stage.
Before uploading/submitting of application form, the applicant should carefully ensure his/her eligibility for this examination. No relevant column of the application form should be left blank, otherwise, the application form will not be accepted
The Commission will not make any corrections to the application form submitted by the applicant.
Applicant must click on the Save & Pay Button after filling and preview of the application. Otherwise, the application particulars will not be saved in the database.
Handwritten/ Typed/ Photostat copies/ outside printed Application Forms will not be entertained. The Commission will not be held responsible for the applications submitted in any other mode.
For any Technical problems related to the Online submission and downloading of HallTickets please contact 040-23542185 or 040-23542187 (Call Time: 10.30 A.M to 1.00P.M & 1.30 P.M to 5.00 P.M on working days) or mail to helpdesk@tspsc.gov.in.
The following certificates/documents must be submitted by the candidates at the
time of verification of certificates.
PDF Application form
Hall Ticket.
Aadhar Card /Voter ID / Pass Port / Driving License / Service ID Cards with (Photograph issued by Central/State/PSU/Public Limited Companies) / Passbook with (photograph by Bank / Post Office) / PAN Card.
Proof of Educational Qualifications.
S.S.C / CBSE / ICSE (For Date of Birth)
 School Study Certificate (1st to 7th Class)
Certificate of Residence (where the Candidate has not studied in Educational Institution) (1st to 7th Class period) obtained from competent authority of Telangana Government.
Declaration by the Unemployed (For claiming exemption from payment of exam fee).
No Objection Certificate from Employer (even if employed at any later stage of recruitment).
Service Certificate (If any employee claimed Age relaxation).
 Certificate claiming sports reservation.
Certificate claiming Ex-servicemen for age relaxation.
Community Certificate for BCs, SCs & STs (Issued in the name of the candidate with Father's Name is only acceptable.) obtained from the competent authority of the Telangana Government.
Non-Creamy Layer Certificate for BCs as per Form- VIIB vide G.O. Ms. No. 34 BC Welfare (OP) Department Dt.08/10/2015 and G.O. Ms. No. 20 BC Welfare (OP) Department Dt.31/10/2017 (Certificate issued in the name of the candidate as S/o OR D/o is only acceptable.) obtained from the competent authority of Telangana Government.
Income certificate for the Financial Year prior to the year of application issued by the the competent authority of the Telangana government for claiming EWS reservation.
Any other certificate is required.
SCHEME AND SYLLABUS FOR RECRUITMENT TO THE POST OF DRUGS
INSPECTOR IN DRUGS CONTROL ADMINISTRATION DEPARTMENT
Written Examination (Objective Type)
Paper-I: General Studies & General Abilities 150 MARKS,  150 MINUTES,  150 MAX.  MARKS
Paper-II: Concerned Subject (Degree Level) 150 MARKS, 150 MINUTES, 300 MAX. MARKS
TOTAL  ; 450
SYLLABUS
PAPER-I: GENERAL STUDIES AND GENERAL ABILITIES
1. Current affairs – Regional, National and International.
2. International Relations and Events.
3. General Science; India's Achievements in Science and Technology.
4. Environmental issues; Disaster Management- Prevention and Mitigation Strategies.
5. Economic and Social Development of India and Telangana.
6. Physical, Social and Economic Geography of India.
7. Physical, Social and Economic Geography and Demography of Telangana.
8. Socio-economic, Political, and Cultural History of Modern India with special emphasis on the Indian National Movement.
9. Socio-economic, Political, and Cultural History of Telangana with special emphasis on the Telangana Statehood Movement and formation of the Telangana state.
10. Indian Constitution; Indian Political System; Governance and Public Policy.
11. Social Exclusion; Rights issues such as Gender, Caste, Tribe, Disability etc., and inclusive policies.
12. Society, Culture, Heritage, Arts, and Literature of Telangana.
13. Policies of Telangana State.
14. Logical Reasoning; Analytical Ability and Data Interpretation.
15. Basic English. (10th Class Standard)
P A P E R -I I :  C O N C E R N E D  S U B J E C T ( D E G R E E L E V E L )
1. Importance of various Pharmacopeias with special reference to Indian Pharmacopoea, British Pharmacopoea, Unites States Pharmacopoea and International Pharmacopoea.
2. Sources of drugs: Plant, Animal, Mineral, Synthetic and Biotechnological drugs.
3. Preparation of Infusions, Decoctions, Tinctures, Solutions, and Soft and Dry extracts. Introduction and classification of various pharmaceutical dosage forms.
4. Various parts of "Prescription" handling of prescriptions preliminary knowledge of important Latin terms useful in the interpretation of prescriptions and their translation into English.
5. Posology: Calculation of dosage for infants, children adults, and elderly persons. Alcohol dilutions, Proof spirit, Isotonic solutions, Displacement value.
6. Brief outline of communicable diseases, their causative agents, modes of transmission and their prevention (Chicken pox, Tuberculosis, Malaria, Filaria, Leprosy, Sexually transmitted diseases, and AIDS).
7. First Aid: Emergency treatment of shock, snake bites, burns, poisoning and fractures.
8. Classification of microbes their structure and identification. Bacterial growth, nutritional requirements and staining.
9. Contamination of pharmaceuticals in hospital and community environments by microbes.
10. Sterilization: Definition, types, procedure, and testing.
11. Sterilization of materials, equipment, and utensils used in hospitals, centralized and decentralized sterilization. The drug distribution system in hospitals for outpatients, in-patients, and unit dose dispensing systems.
12. Hospital-acquired infections and infection control programs.
13. Biomedical Waste Management.
14. Ophthalmic preparations: formulations, methods of preparation, containers and evaluation.
15. Collection, processing, storage, and evaluation of blood, blood products and plasma – substitutes
16. Surgical products: Surgical cotton, surgical gauzes, bandages, sutures, ligatures and catgut.
17. Definition and types of incompatibilities (Physical Chemical and Therapeutic), correction of incompatibilities.
18. Anatomy and physiology of the Cardio-vascular system and related common disorders like hypertension, hypotension, angina, myocardial infarction and congestive heart failure.
19. Anatomy and physiology of the Digestive system and related disorders like peptic ulcers, constipation, diarrhea and jaundice, and Drugs acting on Gastro-intestinal tract: antacids, anti-ulcer drugs, anti-emetics, laxatives, anti-diarrheal drugs and probiotics.
20. Functions of different parts of the Brain and spinal cord, Neurohumoral transmission in the central nervous system and autonomic nervous system.
21. Drugs, acting on the cardiovascular system: Digitalis and other cardiac glycosides, anti-hypertensive drugs, anti-anginal, and vasodilators including calcium channel antagonists.
22. Drugs acting on central nervous systems: Sedatives, hypnotics, anti-anxiety agents, centrally acting muscle relaxants, anti-epileptics, analgesics, antipyretic and anti-inflammatory drugs.
23. Antigens, antibodies, antigen-antibody reactions, hypersensitivity active and passive immunity, types of vaccines, Monoclonal antibodies and their clinical applications.
24. Historical development of antibiotics. Isolation of fermentation products with special reference to penicillins and tetracyclines.
25. Carbohydrate metabolism: Glycolysis, glucogenesis, glycogenolysis, glycogen the formation, pentose phosphate pathway, uronic acid pathway, abnormalities of carbohydrate metabolism.
26. Introduction and principles of anti-microbial therapy Cotrimoxazole, fluoroquinolones, newer penicillins, broad-spectrum antibiotics, cephalosporins, macrolides, anti-tubercular, anti-leprotic, antifungal and anti-viral drugs.
27. Anti-protozoan and anthelmintic drugs. Chemotherapy of neoplastic diseases.
28. Salient features of Drugs and Cosmetics Act, 1940 and Rules, 1945 with special reference to Duties and powers of Inspectors. Composition and functions of statutory bodies.
29. Narcotic Drugs and Psychotropic substances Act, 1985 with special reference to procurement and utilization of dosage forms.
30. GMP and CGMP: Salient Features.
31. Regulatory Aspects concerning Medical Devices
FOR DETAILED DRUG INSPECTOR NOTIFICATIONS click below
TS DRUG-INSPECTOR-NOTIFICATION – PHARMA STUFF