M. Pharm & M.ScFresher Jobs | Gracure Pharmaceuticals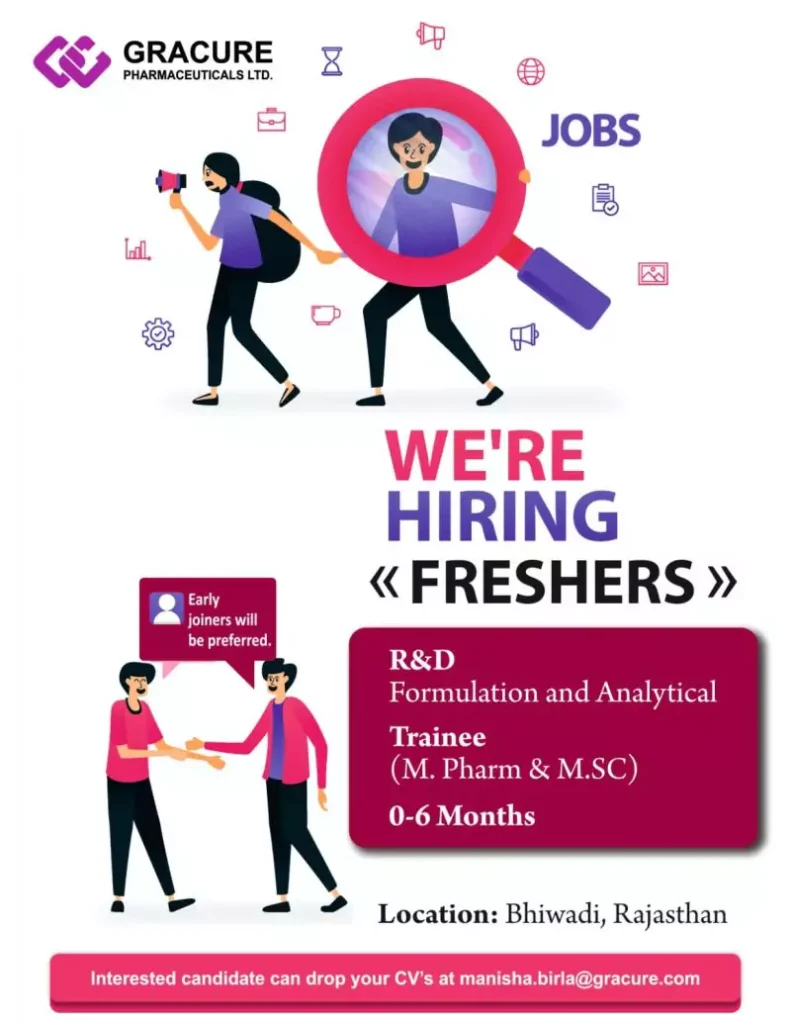 Kickstart Your Career in Pharmaceuticals: Trainee Role at Gracure Pharmaceuticals Ltd.
Gracure Pharmaceuticals Ltd. is a renowned pharmaceutical company known for its commitment to delivering high-quality healthcare products. With a strong focus on research and development, Gracure Pharmaceuticals is dedicated to innovation and excellence. The company offers an excellent work environment that encourages growth and collaboration.
Table of job Contents
Company Vacancies List
Gracure Pharmaceuticals Ltd. is currently seeking candidates for the role of Trainee in the R&D department, specifically in Formulation and Analytical areas. Below are the details for the job vacancy:
Position Title: Trainee
Company Name: Gracure Pharmaceuticals Ltd.
Salary: Competitive
Company Address: Bhiwadi, Rajasthan
Job Description:
Job Responsibilities for Trainee – R&D (Formulation and Analytical):
Department: R&D
Qualifications: M. Pharm & M.Sc
Experience: 0-6 Months
As a Trainee at Gracure Pharmaceuticals, your responsibilities will include:
Gaining hands-on experience in the R&D department, particularly in the areas of Formulation and Analytical processes.
Collaborating with experienced professionals to learn and contribute to ongoing projects.
Conducting research and experiments under the guidance of senior team members.
Assisting in data collection, analysis, and reporting.
Following safety protocols and maintaining a clean and organized work environment.
How to Apply for Trainee – R&D (Formulation and Analytical):
Gracure Pharmaceuticals Ltd. is looking for early joiners who are enthusiastic about starting their career in the pharmaceutical industry. If you hold a degree in M. Pharm or M.Sc and have 0-6 months of experience, we encourage you to apply. Please send your CV to manisha.birla@gracure.com.