Pharmacovigilance Drug Safety Associate Job Openings at TATA CONSULTANCY SERVICES
TCS (Tata Consultancy Services) is a global IT services company that provides a range of services to clients in a variety of industries. It is possible that TCS may have job openings in the field of pharmacovigilance, as pharmacovigilance is a growing area of concern in the pharmaceutical industry and many companies are looking for qualified professionals to help them monitor the safety of their products
TCS is hiring for Pharmacovigilance (PV) – Case Processor. Details are
Role : Pharmacovigilance (PV) – Case Processor; Pharmacovigilance is the process of monitoring the effects of pharmaceutical products, including both prescription and over-the-counter medications, after they have been released for use. A pharmacovigilance case processor is a person who is responsible for reviewing and analyzing reports of adverse reactions or other problems that may be related to the use of a particular medication. This may involve reviewing medical records, communicating with healthcare professionals, and working with regulatory agencies to ensure that the appropriate actions are taken to protect the public's health. The goal of pharmacovigilance is to identify and assess potential risks associated with medications, and to implement measures to minimize those risks.
Key skill :
Complete narratives for ICSRS based on GLPS
auto-narrative templates and conventions
Years of experience- 1 to 05 Years
Key skill– Complete narratives for ICSRs based on GLPS's auto-narrative templates and conventions
Location- Pune/Mumbai
Responsibilities
Triage and Prioritize cases
Full data entry of all relevant information from the Manual coding of all codeable terms (that did not auto-encode), including adverse events, medical source data history, concomitant medications, and laboratory values
Complete narratives for ICSRS based on GLPS's auto-narrative templates and conventions
Workflow Monitoring activities which include – Retrieving daily workflow reports and ensuring users are completing cases nearing the 7/15-day timelines
Monitoring compliance by identifying and prioritizing expedited cases up to completion
Review impacted cases daily and escalate/re-route cases to ensure follow-up processing is initiated and completed in a timely manner;
Monitor and maintain a record of data correction requests including impact and actions taken.
Interested candidates may apply

Please Note- Candidates who have been interviewed earlier for the said position can re-apply only after 6 months of interview
Current Org
Education
Total Exp
Relevant Exp in Case processing
Current CTC
Expected CTC
Notice Period –
Current Location
Interested in Mumbai/ Pune location – Work from office only? –
EPCN/Pan Card No. (If EPCN is not created, please share PAN no.)
Also please confirm the below:
First Name Middle Name
Last Name Contact No.
Email ID
Are you ok to work in night shifts, if required (Yes/No) Ok with TCS BPS Payroll (Yes/No)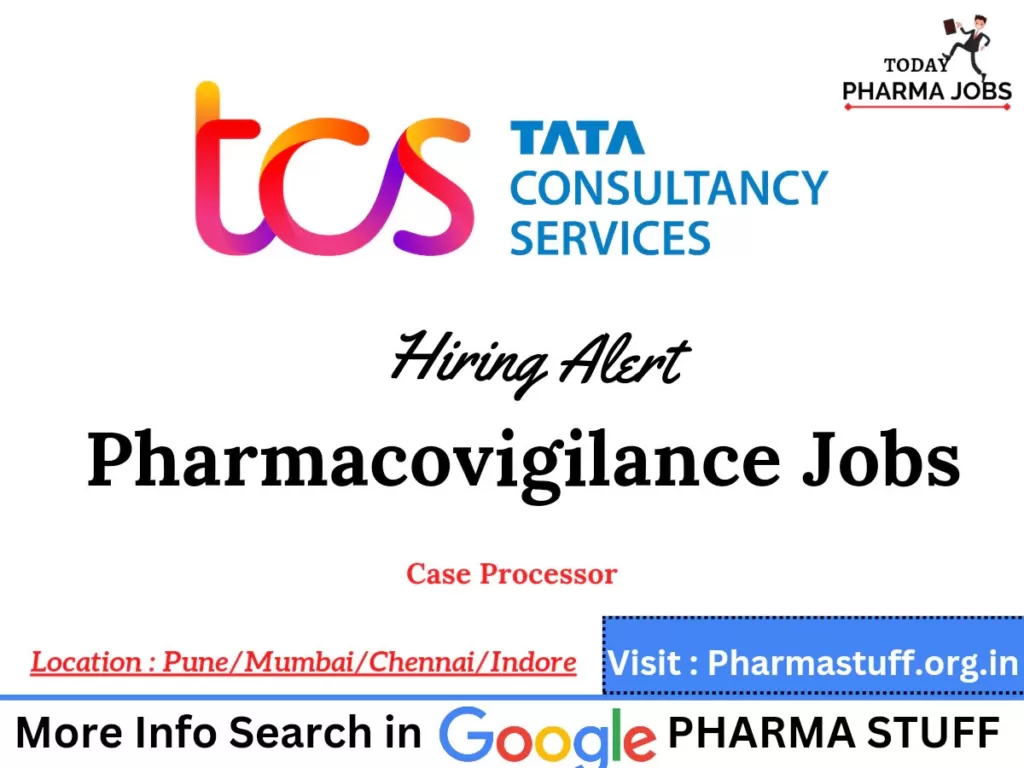 Note
:
Subscribe
to PHARMA STUFF for Hourly Pharma job openings, Medical coding, Clinical Research, and Pharmacovigilance, and more follow us on INSTAGRAM
,
Youtube
,
Telegram,
and subscribe to our
Whatsapp Group
Disclaimer:

PHARMA STUFF
 provides general information only. Job seekers must verify job postings and employers before applying. We're not liable for scams or fraudulent job postings. Be cautious of any job postings asking for money. We never ask for money.