Research Investigator or Senior Research Investigator job vacancy at Biocon-Bristol Myers Squibb, Syngene International Limited
Designation: Research Investigator (7-I) / Senior Research Investigator (7-II)
Job Location: Bangalore
Department: Protein Science & Molecular Technologies, BBRC

Educational Qualification: PhD
Experience: 2-4 years of relevant experience
Job Purpose: The primary purpose of this position at Biocon-Bristol Myers Squibb, Syngene International Limited is to provide Protein Biophysics and crystallization support for Protein-protein and Protein-ligand interaction studies.
Key Responsibilities:
Performing Biacore experiments: Conducting experiments using Biacore technology to study protein interactions.
TSA studies: Performing Thermal Shift Assays (TSA) to assess protein stability and ligand binding.
Aiding in crystallization setup and solving crystal structures: Assisting in the setup of protein crystallization experiments and contributing to the determination of crystal structures. Also responsible for the maintenance of Linux boxes and relevant software.
Scripting support: Providing scripting support as and when required for data analysis or automation.
Technical/Functional Skills: The ideal candidate should possess hands-on experience with one or more of the following techniques:
Surface Plasmon Resonance (SPR) analysis using instruments like Biacore.
Octet technology for label-free protein quantitation and kinetic analysis.
Isothermal Titration Calorimetry (ITC) for studying protein-ligand interactions.
Protein crystallization techniques and experience in solving crystal structures. Additionally, knowledge of working with Linux systems is required.
If you are interested in the position of Research Investigator or Senior Research Investigator at Biocon-Bristol Myers Squibb, Syngene International Limited, please revert to Swetha Pawate via email at swetha.pawate@syngeneintl.com.
Note: The mentioned details are based on the provided information and may be subject to change. It is advisable to contact the specified email address for the most accurate and up-to-date information regarding the job opportunity.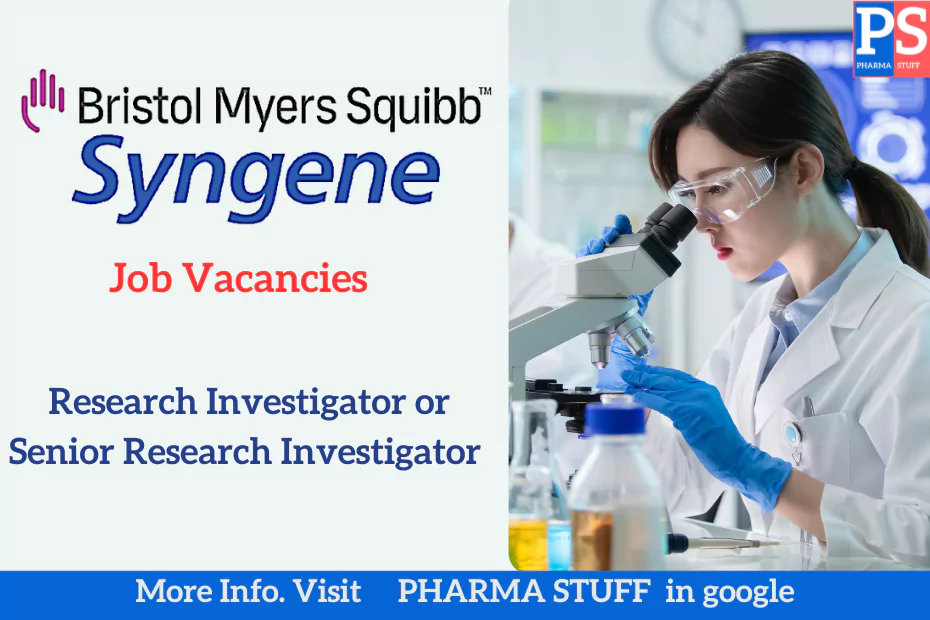 Disclaimer:

PHARMA STUFF
 provides general information only. Job seekers must verify job postings and employers before applying. We're not liable for scams or fraudulent job postings. Be cautious of any job postings asking for money. We never ask for money.