Sun Pharmaceutical Industries: Walk-In Interview for Job Vacancies in Vadodara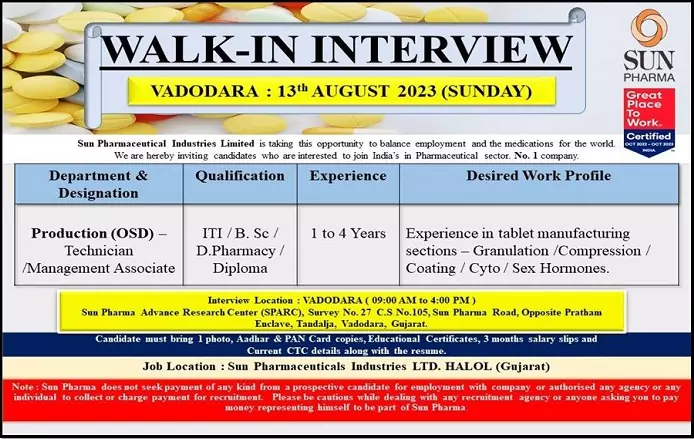 In the vibrant landscape of the pharmaceutical industry, Sun Pharmaceutical Industries Limited stands tall as a beacon of excellence and innovation. With a rich legacy of providing top-notch medications to the world, Sun Pharma is not only recognized as India's number one pharmaceutical company but also holds the prestigious "Great Place To Work" certification. As part of their commitment to shaping the healthcare landscape, Sun Pharma is offering a golden opportunity for aspirants to join their workforce through a walk-in interview. Let's delve into the details of this enticing opportunity.
Sun Pharma: Pioneering Excellence in Pharmaceuticals
Sun Pharmaceutical Industries Limited, with its commitment to producing high-quality medications, has achieved a remarkable position in the pharmaceutical sector. The company's reputation is further solidified by its "Great Place To Work" certification, reflecting a culture of excellence, innovation, and employee satisfaction.
The Walk-In-Interview: Vadodara, 13th August 2023
Sun Pharma recognizes the importance of balancing both employment opportunities and healthcare advancements. As part of their ongoing efforts to strengthen their workforce, the company is conducting a walk-in interview on the 13th of August, 2023, in Vadodara. This event is a remarkable chance for individuals to become a part of India's leading pharmaceutical company and contribute to the world of medicine.
Department & Designation: Production (OSD) – Technician / Management Associate
Sun Pharma is inviting candidates for positions in the Production (Oral Solid Dosage) department. The available designations include Technician and Management Associate. Individuals who have a passion for pharmaceutical manufacturing and are interested in roles related to tablet manufacturing sections such as Granulation, Compression, Coating, Cyto, and Sex Hormones are encouraged to seize this opportunity.
Qualification and Experience Requirements
To be eligible for these positions, candidates should possess the following qualifications and experience:
Qualification: ITI/B. Sc / D.Pharmacy/ Diploma
Experience: 1 to 4 years
Desired Work Profile: Experience in tablet manufacturing sections, including Granulation, Compression, Coating, Cyto, and Sex Hormones.
Walk-In Interview Details
Date: 13th August 2023 (Sunday)
Time: 09:00 AM to 4:00 PM
Venue: Sun Pharma Advance Research Center (SPARC), Survey No. 27 C.S No.105, Sun Pharma Road, Opposite Pratham Enclave, Tandalja, Vadodara, Gujarat.
Candidates are required to bring the following documents along with their resume:
1 passport-size photo
Copies of Aadhar & PAN Card
Educational Certificates
3 months' salary slips
Current CTC details
Job Location and Cautionary Note
Selected candidates will find their place in Sun Pharmaceuticals Industries Ltd., located in HALOL, Gujarat. It's important to note that Sun Pharma does not seek any payment from prospective candidates for employment or authorize any agency or individual to collect payment for recruitment. Candidates are advised to exercise caution when dealing with any recruitment agency or individual claiming to represent Sun Pharma.