Strides walk in interview for Quality control, Quality Assurance(IPQA) Departments @ Bangalore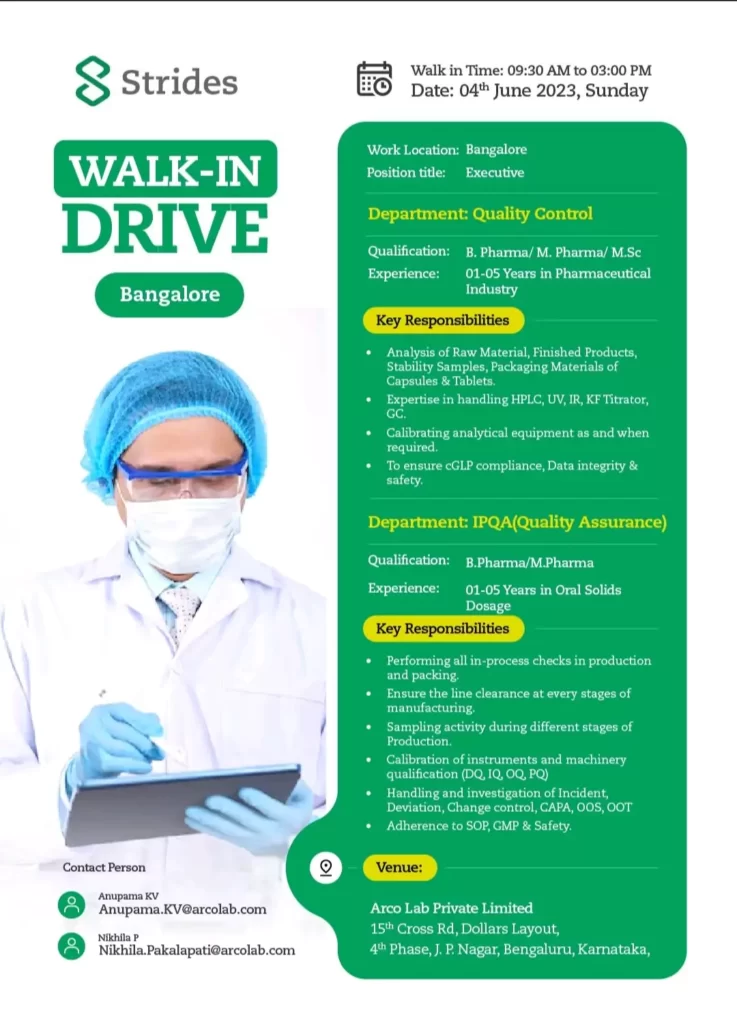 Strides walk in Drive
Job location: Bangalore
Department: Quality Control
Qualification: B Pharmacy / M Pharma / MSC
Experience: 01-05 Years in Pharmaceutical Industry
Key Responsibilities:
Analysis of Raw Material, Finished Products, Stability Samples, Packaging Materials of Capsules & Tablets.
Expertise in handling HPLC, UV, IR, KF Titrator,GC. Calibrating analytical equipment as and when required.
To ensure CGLP compliance, Data integrity & safety.
Department: IPQA(Quality Assurance)
Qualification: B Pharmacy / M Pharma
Experience: 01-05 Years in Oral Solids Dosage
Key Responsibilities: 
Performing all in-process checks in production and packing
• Ensure the line clearance at every stages of manufacturing
Sampling activity during different stages of Production.
Calibration of instruments and machinery qualification (DQ, IQ, OQ, PQ)
Handling and investigation of Incident, Deviation, Change control, CAPA, OOS, OOT
Adherence to SOP, GMP & Safety
Walk in Time: 09:30 AM to 03:00 PM Date: 04th June 2023, Sunday
Venue: Arco Lab Private Limited 15th Cross Rd, Dollars Layout, 4th Phase, J. P. Nagar, Bengaluru, Karnataka
Contact person: Anupama KV Anupama.KV@arcolab.com
Nikhila.P
Nikhila.Pakalapati@arcolab.com