Ferring Pharmaceuticals is seeking a Sr. Executive in Regulatory Affairs for their Hyderabad location in India. The role involves compiling dossiers for marketing authorization applications in India and ROW markets, preparing briefing packages for submission to regulatory authorities, coordinating with cross-functional teams to review developmental documents, and ensuring regulatory compliance as per global policy. The ideal candidate should possess an M. Pharm degree with experience in regulatory affairs for India and ROW markets. 
Ferring Pharmaceuticals is a global biopharmaceutical company that develops innovative products for reproductive medicine, maternal health, gastroenterology, urology, and endocrinology. Founded in 1950 in Sweden, the company has since expanded to over 60 countries with a strong focus on research and development. Ferring Pharmaceuticals is strongly committed to sustainability, with initiatives focused on reducing its environmental impact, promoting diversity and inclusion, and ensuring ethical practices throughout its supply chain. The company is dedicated to improving patient outcomes and maintaining a high standard of scientific excellence, with a mission to bring innovative solutions to patients and healthcare professionals worldwide.
Ferring pharmaceuticals regulatory affairs job vacancies in Hyderabad
Sr. Executive – Regulatory Affairs
locations; Hyderabad, India

job requisition id R0024843
Job Description:
Role
Task / Responsibility
Carry Out: Dossier compilation for submission of marketing authorization application in India & ROW Market.
Carry Out: Prepare briefing package documents to submit applications to central and local regulatory authorities (Form-29, CDSCO NOCs, import permission, etc.).
Carry Out: Co-ordination with CFTs for review of developmental documents for submission of application to Regulatory Agency
Carry Out: Gap analysis and risk assessment for the submission based on the available data/documents and appraise team on change in regulatory guidance
Carry Out: Preparation of application and Co-ordinate with CROs and CMOs for on-time submission of various statutory applications
Support: Support new product development with special attention to fit-for-purpose regulatory requirements
Support: Review of protocols, reports, validation plans, development reports, DMFs, artworks and other CMC documents
Support: Timely submission of Dossier to drug authority and ensuring that approvals are obtained within the scheduled time
Support: Handling, compiling and responding to queries regulatory authorities
Ensure: Quality dossier to meet the Ferring policy and co-ordinate with internal stakeholder for submission of application
Ensure: Regulatory compliance at as per regulatory requirements and global policy
Requirement:M. Pharm having 3-5 years of industrial experience in the field of regulatory affairs for India and ROW markets
Location: Ferring India FHPDC R&D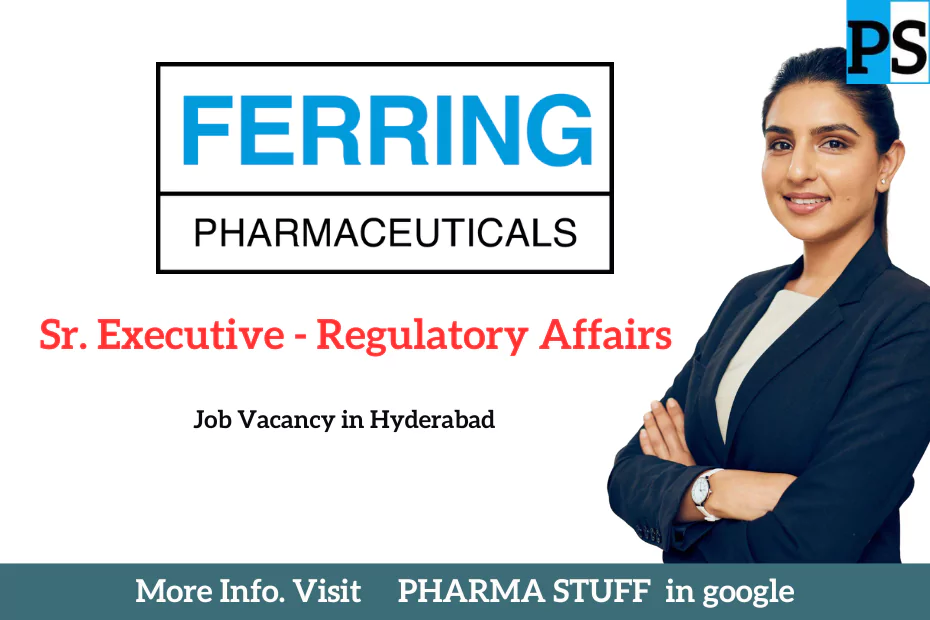 Disclaimer:

PHARMA STUFF
 provides general information only. Job seekers must verify job postings and employers before applying. We're not liable for scams or fraudulent job postings. Be cautious of any job postings asking for money. We never ask for money.