Senior Regulatory Affairs Associate – Biologic CMC | Bengaluru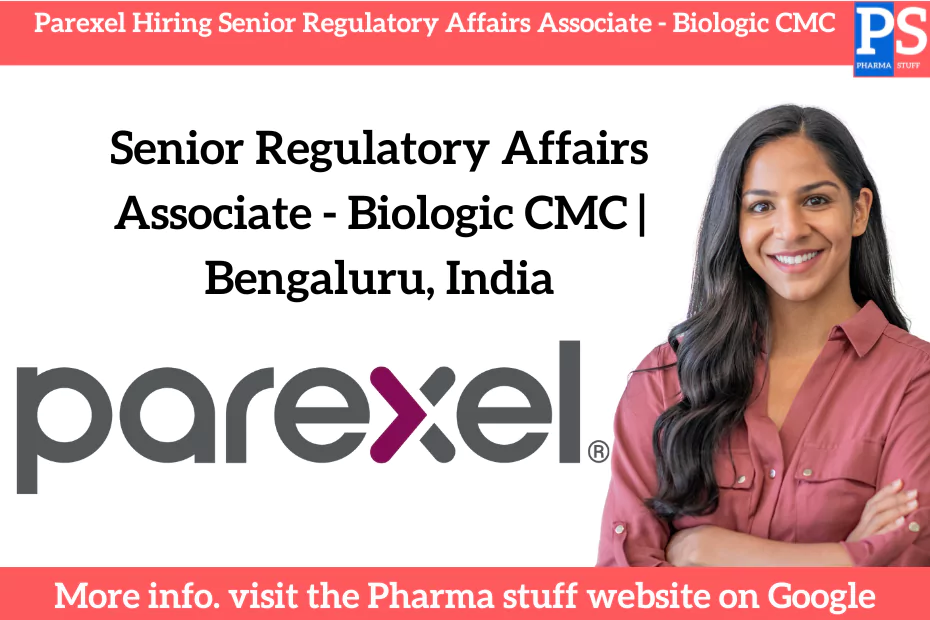 Senior Regulatory Affairs Associate – Biologic CMC
Introduction:
Are you a skilled Regulatory Affairs professional with a background in Biologic CMC? If you're looking for a rewarding opportunity, we invite you to explore the role of Senior Regulatory Affairs Associate at our organization. Join us in Bengaluru, India, and be part of a dynamic team working on critical projects in the biologics field.
Vacancies List: We are currently seeking a Senior Regulatory Affairs Associate for our Biologic CMC team.
Position Title: Senior Regulatory Affairs Associate – Biologic CMC
Company Name: Parexel
Salary: Competitive, commensurate with experience
Company Address: 3rd Floor, Campus 5B, RMZ Ecoworld SEZ Sarjapur Marthahalli Road, Village, Devarabisanahalli, Bengaluru, Karnataka 560103
Detailed Job Description:
Role: Senior Regulatory Affairs Associate
Industry Type: Regulatory / Consulting
Department: Biologic CMC
Employment Type: Full-Time
Role Category: Regulatory Affairs
Education:
UG: Bachelor's degree in a relevant field
PG: Master's degree in Regulatory Affairs or a related field is preferred
Key Skills:
In this role, you will need to demonstrate the following skills and qualifications:
4 to 7 years of experience in Regulatory Affairs, specifically in the Biologic CMC domain.
Proficiency in supporting CMC activities related to Vaccine, Biologic, and Small Molecules manufacturing and control.
Authoring submission dossiers for new applications and post-approval variations.
Deep understanding of EU/CA/WHO/US regulations and guidance for compiling data to meet appropriate standards and requirements.
Experience in CTD update/authoring, including CTD Module 1, 2&3.
Handling and responding to Health Authorities Requests.
Preparation of US & CA Annual reports, Renewals, PQVAR, and APR.
Assessment of Change Controls and associated technical dossiers.
Exceptional project management and communication skills.
Proficiency with Veeva regulatory tools.