Pharmacovigilance Associate vacancies in Bangalore – Teva Pharmaceuticals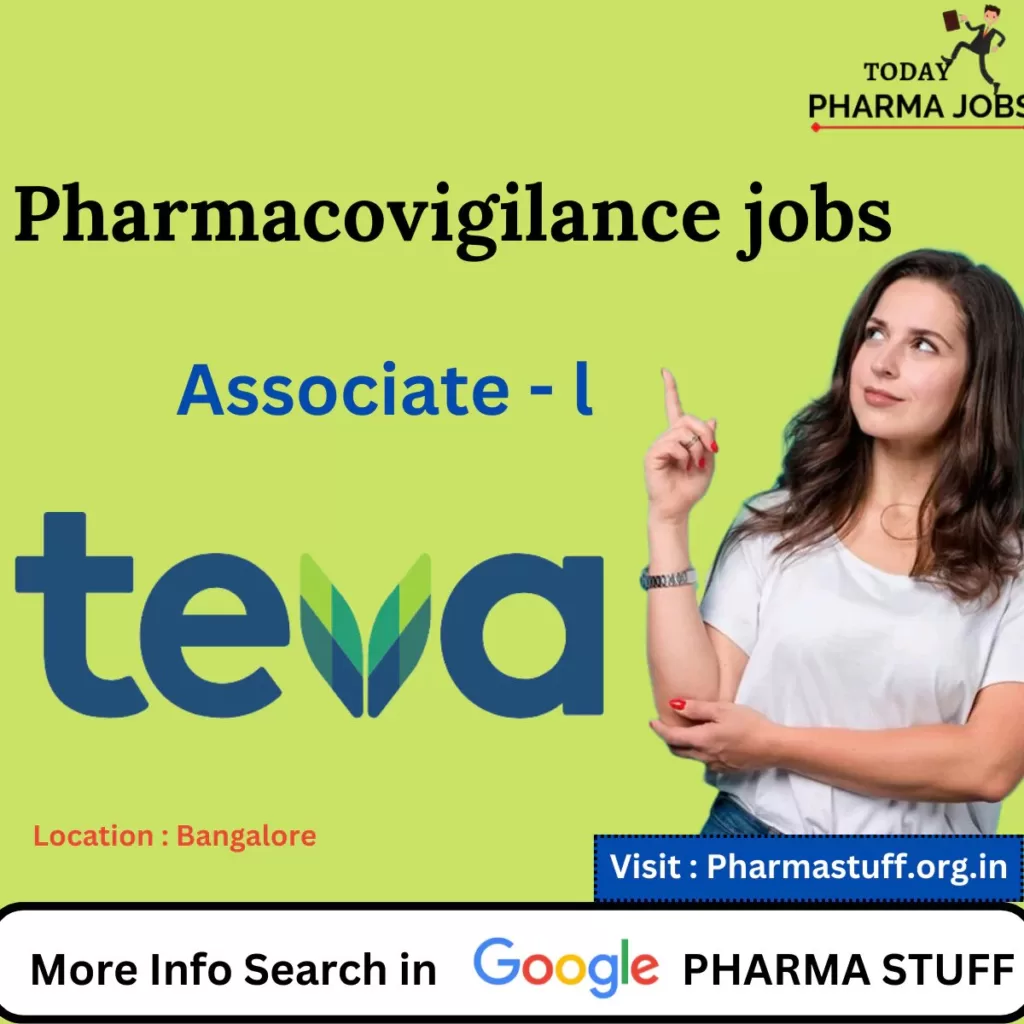 Teva Pharmaceuticals Pharmacovigilance Associate I Job vacancies in Bangalore location for all Lifesciences Candidates interested & Eligible Candidates apply NoW.
Teva Pharmacovigilance Associate Job openings in Bangalore location. Interested and eligible Candidates Apply Now

Teva is a global leader in genetics and biopharmaceuticals which enables our people to impact the lives of patients all over the world. At Teva, we are on a mission to make good health more affordable & accessible to more people around the world.

Patient safety is at the heart of Teva's agenda and one of our core principles in PV. The PV India team supports global pharmacovigilance activities for all Teva locations & for all Teva products. We are always looking for new ways to make a difference, and new people to make a difference with.

Company: Teva Pharmaceuticals
Job Description
Data collection/generation, authoring, and preparation of selected PSUR sections,
Review/QC of selected PSUR sections,
PSUR finalization (creation of PSUR pdf),
Drafting responses to requests from regulatory agencies, as required,
Making sure assigned PSUR-related activities are performed in line with working procedures,
Collaborative working relationships with other functions in Teva,
Any other task assigned by the direct manager
Working experience with databases (e.g. ARIGg, Argus, Cognos, Veeva, TrackWise, QlikSense)
Minimum 2 years of experience in Pharmacovigilance (PSUR/RMP/PADER writing, or ISCR/case processing)
Excellent organizational skills
Strong sense for compliance and deadlines
Qualifications
University degree (bioscience background)
Active knowledge of English, both written and spoken
MS Office skills (Word, Excel, PowerPoint)
Function: Regulatory Affairs
Sub Function: Pharmacovigilance
Teva Pharmacovigilance Associate Job Information :

Pharmacovigilance Associates I 
Job Location: Bangalore
Experience: Minimum 2 years of Pharmacovigilance experience, ICSR/case
processing & related activities.
Qualification: Post graduates in Science or Pharmacy/HCPs.

PV Associates I
Job Description
The role includes:
Processing adverse events reports from post-marketing sources into Teva's global safety database:
The different sources/types of reports include: Reports from the scientific literature, Teva partners (other pharmaceutical companies), Health Authorities, Non-interventional studies and other programs
The processing includes Adverse Events coding (in medical dictionary – MedDRA), drug coding in the Company Product Dictionary, seriousness and labelling assessment and submission to health authorities
Working in the global environment: Interacting with other global PhV units and local PhV reps. around the world
Taking part in the development and maintenance of an efficient and robust Pharmacovigilance system.
Qualifications; B.Pharma / M.Pharma / Bsc / Msc
Function; Regulatory Affairs
Sub Function; Pharmacovigilance
Teva's Equal Employment Opportunity Commitment
Teva Pharmaceuticals is committed to equal opportunity in employment.
It is Teva's global policy that equal employment opportunities be provided without regard to age, race, creed, color, religion, sex, disability, pregnancy, medical condition, sexual orientation, gender identity or expression, ancestry, veteran status, national or ethnic origin or any other legally recognized status entitled to protection under applicable laws.