Pfizer safety surveillance associate Job Opportunity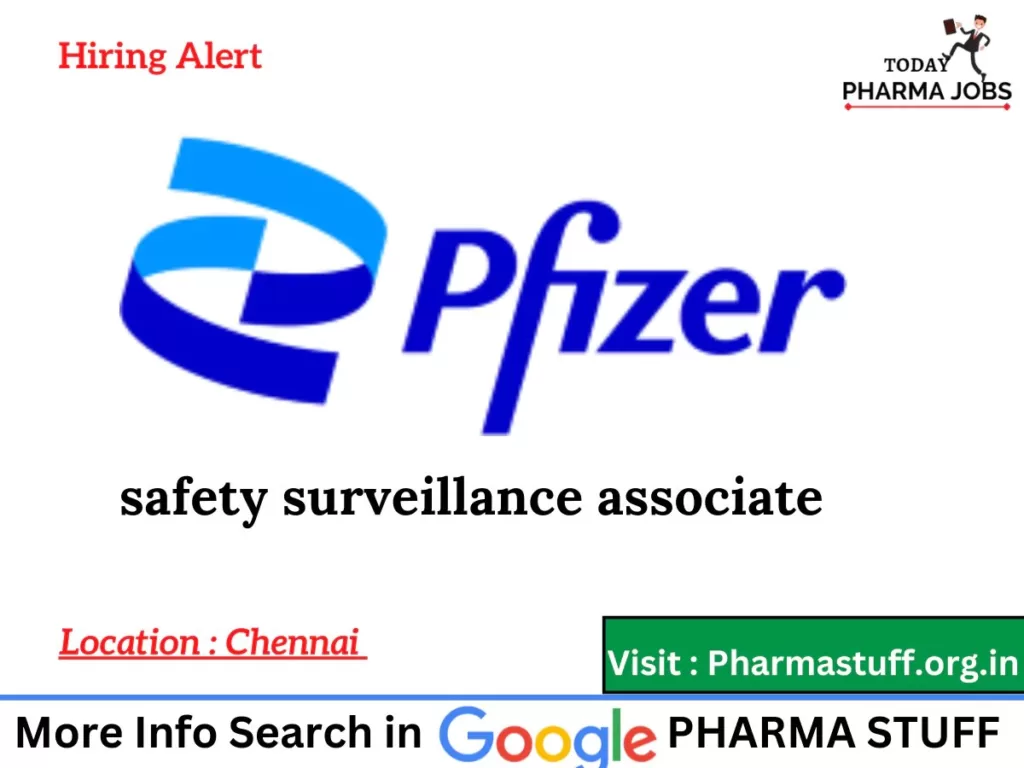 Pfizer Hiring Notification for Safety Surveillance Associate at Chennai location
Introduction
Pfizer, a renowned pharmaceutical company, is currently seeking qualified candidates for the position of Safety Surveillance Associate. As a Health care professional, you will play a vital role in monitoring Pfizer's drug, biologics, and medical devices surveillance program. This position involves intake, evaluation, and processing of adverse reports, supporting clinical trials, and post-marketing activities. In this article, we will explore the responsibilities, qualifications, and the impact of this role on patient safety.
Responsibilities of a Safety Surveillance Associate
As a Safety Surveillance Associate, you will contribute to the completion of project milestones and organize your work efficiently to meet project task deadlines. Your expertise in regulatory requirements and corporate policies will be instrumental in supporting project teams. Some key responsibilities include:
Providing analyses of post-marketing safety data and reviewing medical literature.
Reviewing case criteria to determine appropriate workflow and processing.
Assessing cases for complexities and escalating as necessary.
Reviewing, verifying, and processing event terms, case classifications, and product complaint information.
Writing and editing case narratives.
Generating reports in compliance with regulatory timelines.
Liaising with key partners regarding safety data collection and reconciliation.
Developing and maintaining expertise in Pfizer's portfolio and regulatory guidelines.
Consistently applying regulatory requirements and Pfizer policies.
Qualifications and Requirements
To be eligible for the Safety Surveillance Associate position, you must have the following qualifications:
Bachelor's Degree in a Health care profession.
Nice-to-have: Experience in pharmacovigilance, clinical care, or clinical/scientific research.
Demonstrated computer literacy, particularly with relational databases.
Ability to achieve personal objectives while meeting departmental performance standards.
Ability to work under supervision in a matrix organization.
Excellent oral and written communication skills.
Fluency in spoken and written English; additional language skills are advantageous.
Experience and skill with medical writing is a plus.
Impact on Patient Safety and Medical Compliance
As a Safety Surveillance Associate, your dedication and hard work will contribute to the safe and appropriate use of medicines for patients. By monitoring and processing adverse reports, you will help ensure that any potential safety concerns are identified and addressed promptly. Your expertise in regulatory requirements and adherence to Pfizer's policies will uphold medical compliance and support Pfizer's commitment to patient safety.
Work Location Assignment
The work location assignment for the Safety Surveillance Associate position is flexible, offering potential opportunities in various locations. Pfizer values diversity and is an equal opportunity employer, complying with all applicable equal employment opportunity legislation in each jurisdiction where it operates.