Microbiology vacancies in hyderabad: Anthea Pharma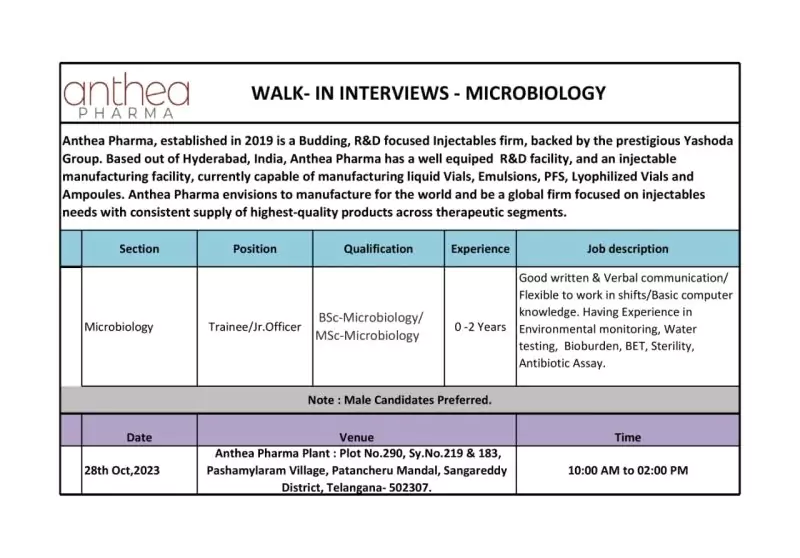 Anthea Pharma's walk-in interviews for Microbiology positions provide an excellent opportunity for both freshers and experienced professionals to join a renowned organization in the pharmaceutical industry.
Anthea Pharma is a research and development-focused injectables firm established in 2019. With its headquarters in Hyderabad, India, the company is equipped with state-of-the-art R&D and manufacturing facilities. Anthea Pharma aims to be a global leader in injectables, providing high-quality products across various therapeutic segments.
2. Microbiology Positions Available
Anthea Pharma is currently conducting walk-in interviews for positions in the Microbiology department. The available positions include:
Trainee
Officer
Senior Officer
3. Qualifications Required
To be eligible for the Microbiology positions at Anthea Pharma, candidates must have the following qualifications:
4. Job Description
The job responsibilities for Microbiology positions at Anthea Pharma include, but are not limited to:
Environmental monitoring
Water testing
Bioburden testing
BET (Bacterial Endotoxin Testing)
Sterility testing
Antibiotic Assay
5. Experience
Candidates with 0 to 4 years of experience in Microbiology are encouraged to apply. In addition to relevant experience, the following skills and attributes are desired:
Good written and verbal communication
Flexibility to work in shifts
Basic computer knowledge
6. Interview Details
If you are interested in attending the walk-in interviews at Anthea Pharma, please take note of the following details:
Date: 28th October, 2023
Venue : Anthea Pharma Plant: Plot No.290, Sy.No.219 & 183, Pashamylaram Village, Patancheru Mandal, Sangareddy District, Telangana-502307.
Time 10:00 AM to 01:00 PM
7. Important Note
Candidates are requested to bring all their educational certificates for verification. Those who are able to join immediately will be given preference, especially candidates with experience in injectable manufacturing.