Junior Research Fellow Notification – Gujarat Biotechnology University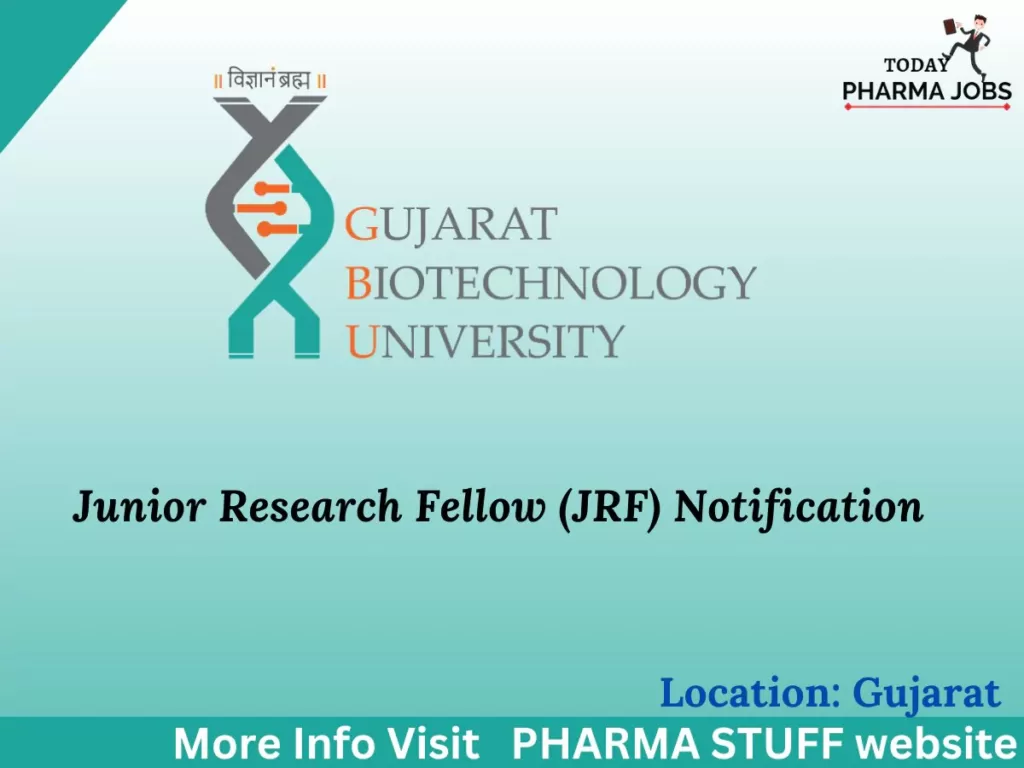 GUJARAT BIOTECHNOLOGY UNIVERSITY Advertisement for the post of Junior Research Fellow

Gujarat Biotechnology University Applications are invited for the post of Junior Research Fellow (JRF) to work on the network research

project entitled "Tracking the prevalence of antimicrobial resistance (AMR) in the urban clusters of Narmada River, Gujarat" funded by Gujarat State Biotechnology Mission, Govt. of Gujarat at Gujarat Biotechnology University (GBU). The post is purely temporary and co-terminates with the project.

Details of qualifications, emolument and duration of the project:

Name of the Position : Junior Research Fellow (JRF) (No. of Positions: 01)

Eligibility : Minimum Qualifications: MSc (Biotechnology / Microbiology / Biochemistry or relevant life science discipline)

With a minimum of 55% marks.
Desirable Qualification
Candidates who have qualified for the CSIR-UGC-NET/DBT-JRF/ICMR JRF/GATE etc. national-level exams will be preferred.
Candidates having experience in handling antibiotic-resistant bacteria, microbial isolation, metagenomics, molecular biology techniques and detection of environmental contaminants in water and sediments through LC-MS/GC-MS are encouraged to apply.
Candidates will be required to travel for onsite sample collection and networking with other institutions.
Candidates must have proficiency in scientific writing.
Age Limit : Up to 31 years on the closing date of the advertisement
Fellowship Duration : Till the end of the project: 2.5 years (subject to satisfactory performance)

Fellowship : Rs. 36,000 per month inclusive of HRA (NET/GATE or national-level exam qualified candidates) as per GSBTM, DST, GoG guidelines.
OR Rs. 23,213 per month (For candidates who have not qualified for the national level examinations such as NET/GATE) as per GSBTM, DST, GOG guidelines

Last Date of receiving applications : 01st November 2022

How to Apply
Eligible candidates may apply to the Principal Investigator (Dr Chirayu Desai), Gujarat Biotechnology University, Gandhinagar by e-mailing the application form mentioned below and supporting documents including the latest CV and other credentials at ebt-projects@gbu.edu.in on or before November 01, 2022.

Shortlisted candidates will be informed through email regarding the interview process.