Jodas Expoim Walk-In Interview For AR&D (Development)
Department: AR&D (Development)
Designations: Research Associate I/II/III
Required Educational Qualification: B Pharmacy / M Pharmacy / MSc Analytical Chemistry
Experience: 2-8 Years
Job Description:

Analysis of Formulation Research Development samples. (Assay, Related Substances, Osmometer, UV-Visible Spectrophotometer, Water Content).
Responsible for the analysis of the in-process and Finished and Stability Samples.
Responsible for analyzing HPLC, Assay, and Related Substances by HPLC. Water Content by KF
Responsible for online documentation of analysis done.
Responsible for online Support for the Formulation department
Responsible for Good Laboratory Practices in Analytical Research and Development.
Responsible for Following the Calibration Schedule of the laboratory instruments as per the master plan.
Operation & Calibration of Analytical Instruments (HPLC, Analytical micro balances & pH meter).
Walk-in-interview information;
DATE; 16th April 2023
INTERVIEW LOCATION: JODAS EXPOIM PVT. LTD., 3rd Floor, NSL Centrum, Plot No S-1, Sy No: 1043 & 1048, KPHB Phase-III, Kukatpally, Hyderabad-500072, India.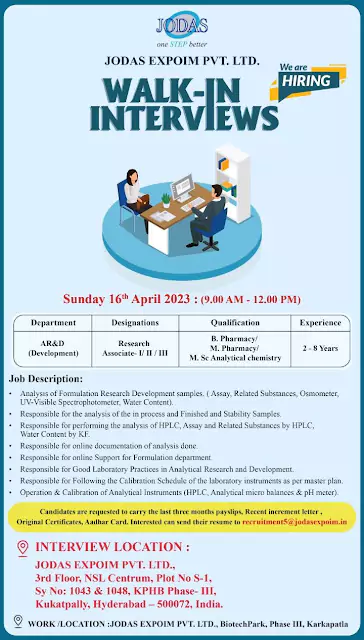 Disclaimer:

PHARMA STUFF
 provides general information only. Job seekers must verify job postings and employers before applying. We're not liable for scams or fraudulent job postings. Be cautious of any job postings asking for money. We never ask for money.