Jodas Expoim analytical, Formulation R&D Job Openings Hyderabad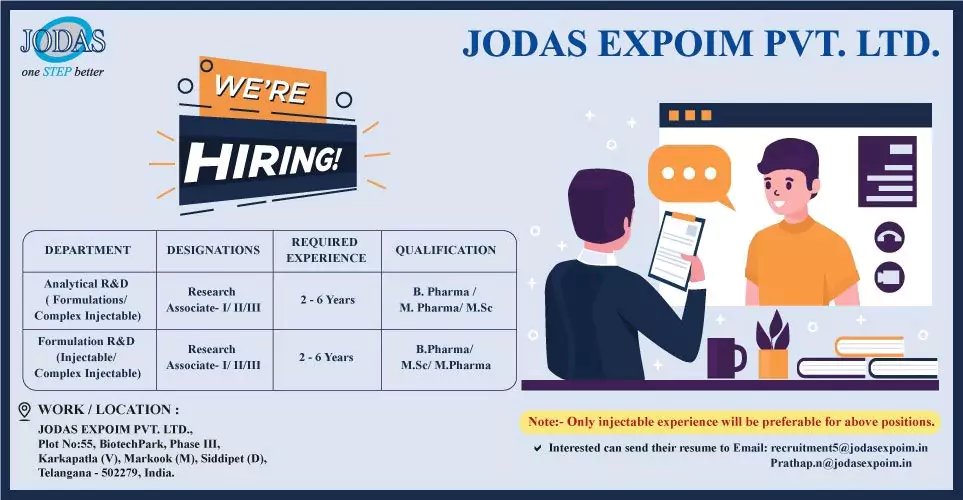 Jodas Expoim Pvt litd Hyderabad Hiring Notification for Analytical R&D, Formulation R&D  (formulation / Complex Injectable) Research Associate-I/II/III Job Openings for  B Pharmacy / M Pharma / MSc Candidates
Company Description : Jodas is a Global, specialty, innovation driven, emerging, generic bio-pharmaceutical company, that is asserting itself among the world's foremost pharmaceutical companies. JEPL is having EU GMP certification of Oncology (orals), Contrast Media (SVP & LVP) and facility for Cephalosporins (DPI). Currently delivering the products like Anti-Cancer and Antibiotics, Contrast media.
JODAS Expoim Jobs Information :
Analytical R&D (Formulations/ Complex Injectable)
Designations : Research Associate-I/II/III
Required Experience : 2-6 Years
Qualification : B Pharmacy / M Pharma / MSc
Formulation R&D (Injectable/ Complex Injectable)
Designation : Research Associate-I/II/III
Experience ; 2-6 Years
Educational Qualification Required: B Pharmacy / MSc / M Pharma
Work/location: JODAS EXPOIM PVT. LTD., Plot No:55, BiotechPark, Phase III. Karkapatla (V), Markook (M), Siddipet (D). Telangana 502279, India.
Note:- Only injectable experience will be preferable for above positions.
Application Process :  Interested can send their resume to Email: recruitments@jodasexpoim.in Prathap.n@jodasexpoim.in