Pfizer Validations Associate vacancies: Pharma candidates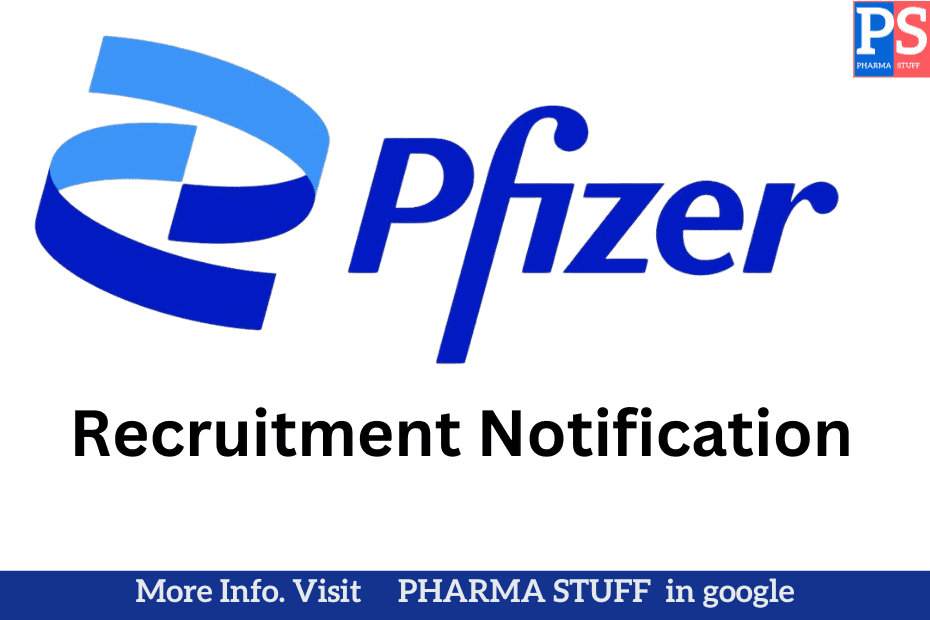 Pfizer, a leading pharmaceutical company, is currently seeking highly skilled and qualified candidates for the position of Validations Associate. This is an exciting opportunity for individuals with a strong background in pharmaceutical manufacturing and quality assurance. In this role, you will be responsible for ensuring the quality and compliance of Pfizer's products through the evaluation, review, and approval of validation processes. If you are passionate about contributing to the delivery of safe and effective products to patients, this role may be perfect for you.
Preferred Education/Qualification
To be considered for the position of Validations Associate at Pfizer, candidates should possess the following preferred education qualifications:
B.Pharm/ M.Pharm/M.S (Pharmacy)/M.Sc/BE
Experience Requirement
Pfizer requires candidates for the Validations Associate position to have a minimum of 2+ years of experience in quality assurance and/or validation function of a sterile dosage form facility. This experience should demonstrate a strong understanding of pharmaceutical manufacturing, packaging, quality assurance, and quality control operations.
Core Competencies
As a Pfizer Validations Associate, the following core competencies are expected:
Understanding of pharmaceutical manufacturing, packaging, quality assurance, and quality control operations.
Knowledge of validation principles and practices related to various areas, including manufacturing processes, analytical methods, cleaning methods, facility and equipment, instruments, utility systems, and CSV systems.
Familiarity with the design and working principles of key equipment used in sterile manufacturing, such as autoclaves, tunnels, lyophilizers, homogenizers, filling machines, and filter integrity testing devices.
Expertise in Terminal process design, execution, and review.
Experience in plant and QC lab operations.
Strong written skills for document preparation, issue identification, and recommendation of actions.
Knowledge of basics in the pharmaceutical industry.
Understanding of qualification lifecycles for batch manufacturing, process equipment, manufacturing/lab/packing equipment, and preparation/review of qualification protocols.
Proficiency in sampling techniques.
Adherence to Safety Procedures/GMP & Good Documentation Practices.
Ability to execute validation of manufacturing equipment, visual inspection equipment, packing equipment, utilities, LAB equipment, Cleaning Validation, and Process Validation according to regulatory requirements, cGMPs, and corporate policies.
Operation and calibration of KAYE Validators and validation accessories.
Coordination and planning of validation activities with Manufacturing, QC, Microbiology, and Projects.
Data analysis and investigation of validation deviations for root cause identification.
Compilation of validation documents and results.
Assisting in reporting during validation planning and execution.
Perform risk assessment to establish the scope and extent of validation activities.
Assistance to reporting manager in performing risk assessment for validation activities.
Why Patients Need You
At Pfizer, everything is driven by an unwavering commitment to delivering safe and effective products to patients. The quality assurance team plays a crucial role in ensuring that this commitment is met. As a Validations Associate, your work will directly impact patients by contributing to the science and risk-based compliant quality culture at Pfizer. Your expertise and dedication will help maintain flexible, innovative, and customer-oriented quality systems, ultimately benefiting patients around the globe.
What You Will Achieve
As a member of Pfizer's quality assurance team, you will achieve the following:
Evaluation, review, and approval of validation master plans, protocols, and reports.
Compliance of quality systems with company standards and government regulatory requirements.
Troubleshooting of validation problems related to equipment and performance processes.
Statistical analysis of testing results and process anomalies.
Writing, reviewing, and approving validation process documents and technical reports.
Contribution to achieving project tasks and goals.
Development of plans for work activities and effective time management.
Determination of process capability for new equipment and incorporation of parameters into operating procedures and batch records.
Assistance in the development of validation protocols and management of regulatory queries and responses.
Participation in deviation investigations to identify root causes and define corrective and/or preventative actions.
Adherence to company procedures, safety regulations, and Good Manufacturing Practices (GMP).
Collaboration with colleagues to create a team-oriented environment.
How You Will Achieve It
To achieve the above goals, you will:
Contribute to the completion of complex projects, manage your time effectively, and develop work plans within a team.
Execute approved protocols to determine the process capability of new equipment and ensure parameter incorporation into operating procedures and batch records.
Assist in the development of validation protocols and manage regulatory queries and responses.
Participate in deviation investigations, identify root causes, and define appropriate actions.
Adhere to company procedures, safety regulations, and Good Manufacturing Practices (GMP) to ensure compliance.
Collaborate with the Quality Operations (QO) team, business area training leads/coordinators, and subject matter experts (SMEs) to support training initiatives.
Report to the Validation Section Manager and work on summarizing data into concise reports for review and approval.
Define problems, collect data, establish facts, and draw valid conclusions.
Work in a team environment, communicate progress, and meet project objectives.
Qualifications
Must-Have
Bachelor's Degree
Excellent attention to detail and working knowledge of Food and Drug Administration (FDA) regulations/guidance and Good Manufacturing Practices (GMP)
Strong organizational skills and ability to handle changing deadlines
Excellent written and verbal communication skills
Working knowledge of Microsoft Office, especially Excel for data evaluation
Nice-to-Have
Technical writing experience
Pharmaceutical industry experience with laboratory process validation
Working knowledge of equipment qualification and calibration, specifically for laboratory equipment
Work Location Assignment
The work location assignment for the Pfizer Validations Associate position is on-premise.