Navitas Life Sciences Pharmacovigilance jobs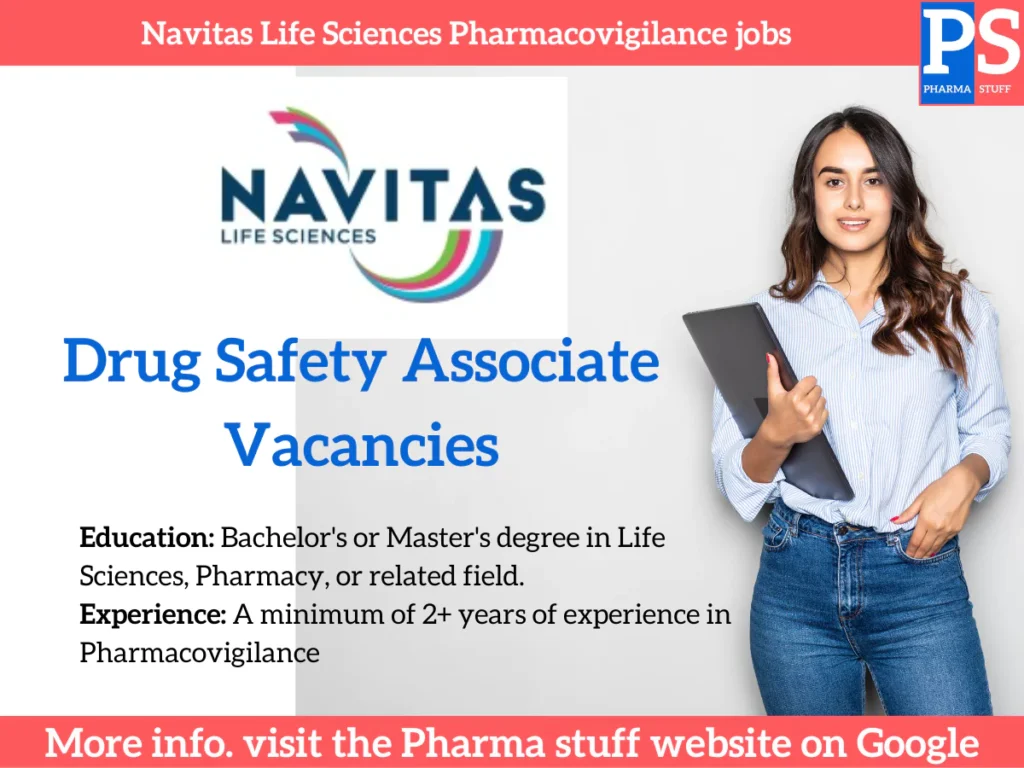 About the Company
Explore exciting career opportunities in the field of pharmacovigilance with Navitas Life Sciences. Our mission is to reshape the future of healthcare, and you can be a part of it. Join us in Bangalore or Chennai as a Drug Safety Associate, and contribute to the critical work of ensuring drug safety and regulatory compliance in clinical trials. Discover a fulfilling career path with Navitas Life Sciences – where your expertise makes a difference. Apply now and embark on a journey towards excellence. To learn more about company, please visit our website at www.navitaslifesciences.com.
Company Vacancies List
Navitas Life Sciences is currently seeking experienced professionals to join our dynamic team as Drug Safety Associates. We are looking for individuals with a minimum of 2+ years of Pharmacovigilance (PV) experience and expertise in core Clinical Trial Case Processing. The following positions are available:
Position Title: Drug Safety Associate
Company Name: Navitas Life Sciences
Job Location: Bangalore/Chennai
Employment Type: Full-Time
Job Description
As a Drug Safety Associate at Navitas Life Sciences, you will play a pivotal role in ensuring drug safety and patient well-being. Your responsibilities will include:
Thoroughly reviewing and processing clinical trial cases in compliance with regulatory standards.
Identifying and assessing adverse events, medical coding, and narrative writing.
Collaborating with cross-functional teams to ensure the safety of investigational drugs.
Contributing to pharmacovigilance activities to support clinical trials.
About the PV Department & Responsibilities
The Drug Safety department at Navitas Life Sciences is dedicated to safeguarding patient health and ensuring the highest standards of drug safety throughout the drug development process. Drug Safety Associates are responsible for:
Timely and accurate case processing and submission to regulatory authorities.
Maintaining a high level of compliance with global pharmacovigilance regulations.
Generating and reviewing safety reports.
Collaborating with stakeholders in clinical trials and post-marketing pharmacovigilance.
How to Apply
We welcome professionals with the following qualifications and skills to apply:
Education:
Bachelor's or Master's degree in Life Sciences, Pharmacy, or related field.
Experience:
A minimum of 2+ years of experience in Pharmacovigilance, with expertise in Clinical Trial Case Processing.
Key Skills:
Clinical trial case processing, adverse event assessment, medical coding, narrative writing, pharmacovigilance.
If you meet these criteria and are excited about the opportunity to contribute to the safety of patients in the pharmaceutical industry, please share your updated CV with us. Additionally, if you know someone who fits the description, please refer them to us. Please email your CV or referrals to Santhanalakshmi S. at santhanalakshmi.s@navitaslifesciences.com.
Please note that this role is not open to freshers.