Mangalam Drugs and Organics: vacancies in Production, CQA, QA, RM Store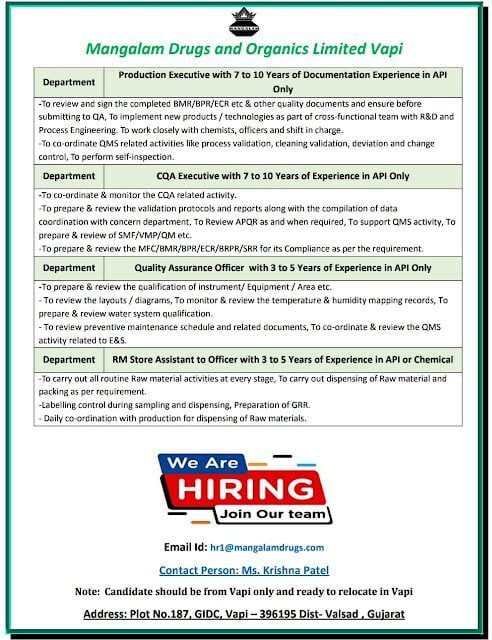 Job Opportunities at Mangalam Drugs and Organics Limited, Vapi
Are you an experienced professional in the pharmaceutical industry seeking new career opportunities? Look no further! Mangalam Drugs and Organics Limited in Vapi is currently hiring for various positions within their organization. If you have relevant experience in API and are ready to take the next step in your career, keep reading to learn more about the available positions and how to apply.
Production Executive
Experience: 7 to 10 years of documentation experience in API
Key Responsibilities:

Reviewing and signing completed BMR/BPR/ECR, and other quality documents
Ensuring the accuracy and completeness of documentation before submission to QA
Implementing new products and technologies as part of a cross-functional team with R&D and Process Engineering
Working closely with chemists, officers, and shift in charge
Coordinating QMS-related activities such as process validation, cleaning validation, deviation and change control
Performing self-inspections
CQA Executive
Experience: 7 to 10 years of experience in API
Key Responsibilities:

Coordinating and monitoring CQA-related activities
Preparing and reviewing validation protocols and reports, along with data compilation in coordination with the concerned department
Reviewing APQR (Annual Product Quality Review) as required
Supporting QMS activities
Preparing and reviewing SMF/VMP/QM (Site Master File/Validation Master Plan/Quality Manual)
Ensuring compliance with MFC/BMR/BPR/ECR/BRPR/SRR requirements
Quality Assurance Officer
Experience: 3 to 5 years of experience in API
Key Responsibilities:

Preparing and reviewing qualification of instruments/equipment/areas
Reviewing layouts/diagrams
Monitoring and reviewing temperature and humidity mapping records
Preparing and reviewing water system qualification
Reviewing preventive maintenance schedules and related documents
Coordinating and reviewing QMS activities related to E&S (Environment and Safety)
RM Store Assistant to Officer
Experience: 3 to 5 years of experience in API or Chemical
Key Responsibilities:

Carrying out routine raw material activities at every stage
Performing raw material dispensing and packing as per requirements
Ensuring labeling control during sampling and dispensing
Preparation of GRR (Goods Receipt Report)
Daily coordination with production for raw material dispensing
To apply for these positions, please follow these steps:
Update your CV to reflect your relevant experience and qualifications.
Compose a cover letter highlighting your skills and achievements.
Email your CV and cover letter to hr1@mangalamdrugs.com.
Include the position you are applying for in the subject line of the email.
The contact person for any inquiries is Ms. Krishna Patel.
Please note that candidates should be from Vapi or willing to relocate to Vapi, as mentioned in the job requirements.
Address: Plot No.187, GIDC, Vapi -396195, Dist- Valsad, Gujarat