Infinita Biotech Private Limited is Hiring for the Position of QC Officer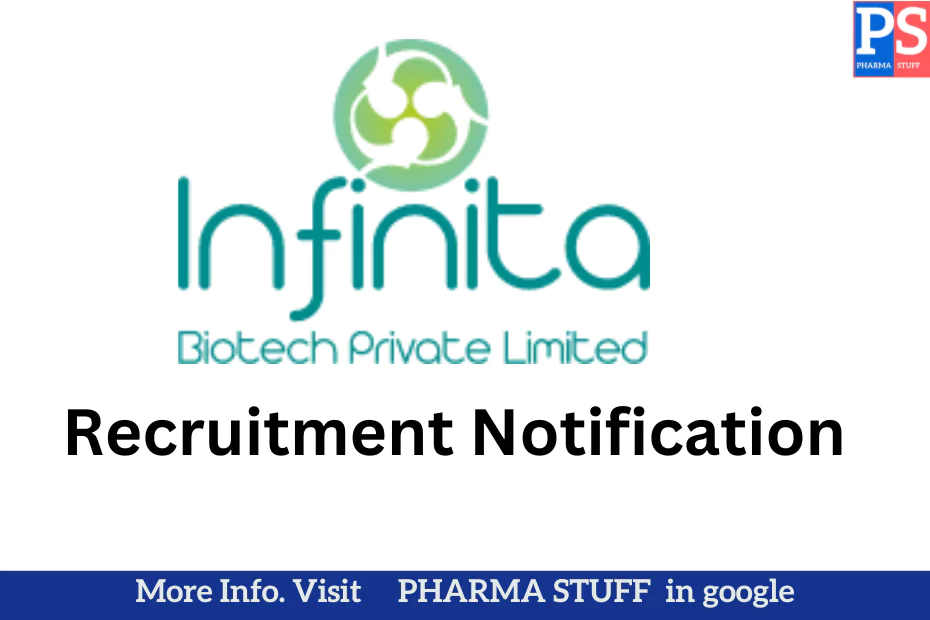 Infinita Biotech Private Limited, a leading company in the biotechnology sector, is currently seeking qualified individuals for the position of QC Officer. This role plays a crucial part in ensuring the quality and compliance of the company's products. If you have a background in chemistry or a relevant field and possess at least one year of experience in the QC department, this could be an excellent opportunity for you to grow your career. In this article, we will provide you with all the necessary details about the position, including the qualifications required, job responsibilities, and application process.
Experience and Qualification Requirements
To be considered for the position of QC Officer at Infinita Biotech Private Limited, candidates should meet the following requirements:
Minimum of 1 year of experience in the QC department.
BSc/MSc degree in Chemistry or a relevant qualification.
Job Responsibilities
As a QC Officer at Infinita Biotech, you will be responsible for performing various tasks related to quality control. Here are the key responsibilities associated with this position:
Instrument Operation and Calibration
You will be expected to handle and operate various instruments used in the quality control process. This includes ensuring the proper calibration of instruments and maintaining their accuracy.
Volumetric Analysis and Testing
Performing volumetric analysis and testing is an essential part of the QC Officer's role. You will be involved in conducting tests to determine the quantity or concentration of substances in a given sample, following standard operating procedures (SOPs) and protocols.
RM & FP Analysis and Documentation
QC Officers are responsible for conducting raw material (RM) and finished product (FP) analysis. This involves analyzing the composition and quality of the materials and documenting the results accurately.
SOP Preparation and Documentation
Preparing and maintaining standard operating procedures (SOPs) is crucial for ensuring consistent and standardized processes within the QC department. As a QC Officer, you will contribute to the development and documentation of these procedures.
Enzyme Application Trials
Infinita Biotech is involved in enzyme applications for various purposes. As a QC Officer, you may be involved in conducting trials related to enzyme applications and assisting in the evaluation of their effectiveness.
Application Process
If you are interested in applying for the position of QC Officer at Infinita Biotech Private Limited, you can follow these steps:
Prepare your updated resume, highlighting your relevant experience and qualifications.
Send your resume to hr@infinitabiotech.com.
Alternatively, you can contact the HR department at 6353417429 to express your interest and inquire about the application process.