Fresher jobs Biobank Research Associate | Hyderabad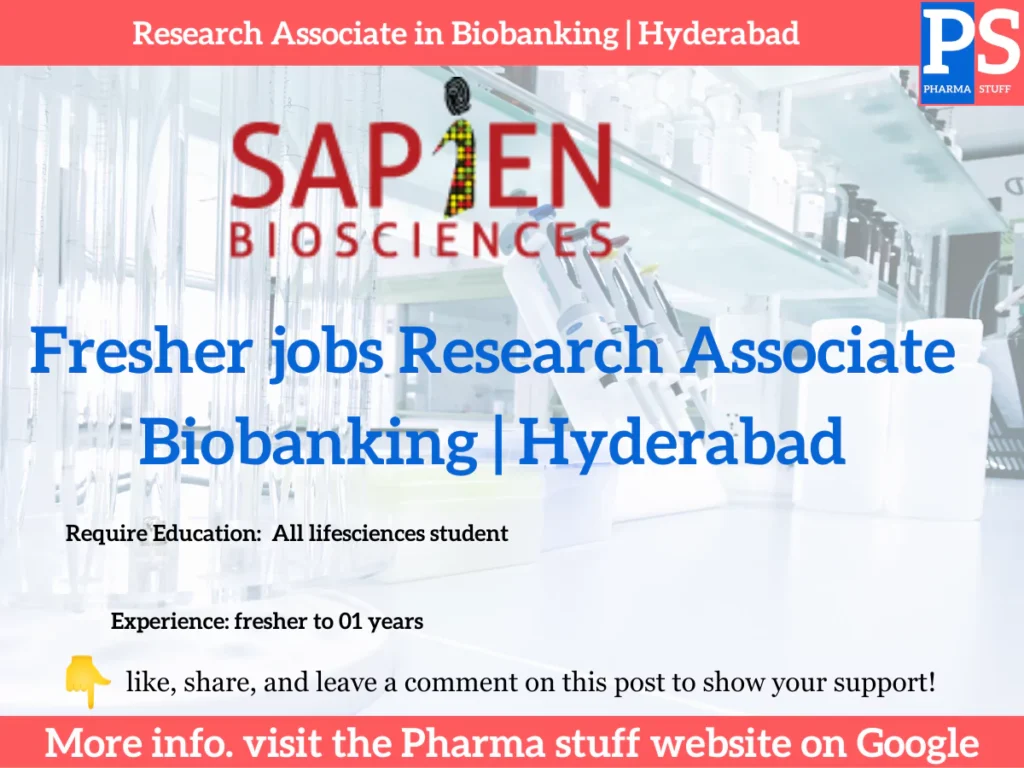 About the Company
Sapien Biosciences Private Limited is a leading organization in the field of biobanking and healthcare research. Situated at 1st Floor, AHERF Building, Apollo Health City, Jubilee Hills, Hyderabad 500 096, we are dedicated to advancing medical knowledge and improving patient care. Our mission is to build a robust biobank database and execute impactful projects in the field of healthcare.
Company Vacancies List
Position Title: Research Associate
Company Name: Sapien Biosciences
Salary: Competitive
Company Address: 1st Floor, AHERF Building, Apollo Health City, Jubilee Hills, Hyderabad 500 096
Job Description
Role: Research Associate
Industry Type: Biobank, Healthcare
Department: Biobank
Employment Type: Full-Time
Role Category: Research and Development
Job Purpose: Biobanking Database Development and Project Execution
Role & Responsibilities:
Role: A Biobank position is available in the Sapien Biosciences Private Limited at Navi Mumbai. This position involves:
Collecting samples from surgery and operation theaters.
Entering patient data in the database.
Integrating information and samples derived from various sources within the biobank and other relevant areas within the department and wider cancer community.
Working closely with the OT team in sample acquisition and counseling patients to donate blood and take consent.
Providing support to research scientists and being part of the Biobanking team.
Responsibilities: Include but are not limited to:
Coordinating the collection and processing schedule for samples from patients at hospital sites.
Liaising with the nursing team to identify appropriate patients and carry out the informed consent process.
Receiving and processing tissue samples in conjunction with surgical and pathology teams.
Maintaining comprehensive and accurate records for sample and patient data on a real-time basis.
Reporting sample processing, storage, and quality issues to the Line Manager.
Assisting in the overall curation of the laboratory database.
Collecting and assisting in the maintenance of a bank of clinical samples.
Writing and reviewing SOPs for laboratory management and other studies.
Responding to queries and requests from different end users.
Liaising with clinical staff for obtaining accurate and updated information about patient diagnosis and surgeries.
Completing audits and reporting quality issues.
Developing and adhering to standard operating procedures for consent, storage, and ethical aspects.
Experience, Qualifications & Special Skills:
Master's degree in life sciences or allied discipline.
Knowledge of EMR databases and careful entry of data/reports into proprietary medical databases.
Excellent verbal and written communication skills in English, Hindi, and Marathi.
Meticulous record-keeping and attention to detail.
Ability to manage multiple projects simultaneously.
Motivated, flexible, and collaborative personality willing and able to learn in a multi-disciplinary environment.
How to Apply
Research Associate
Job Location : Navi Mumbai
please send resumes to hr@sapienbio.com