Felixvet hiring Regulatory Affairs (R&D) professionals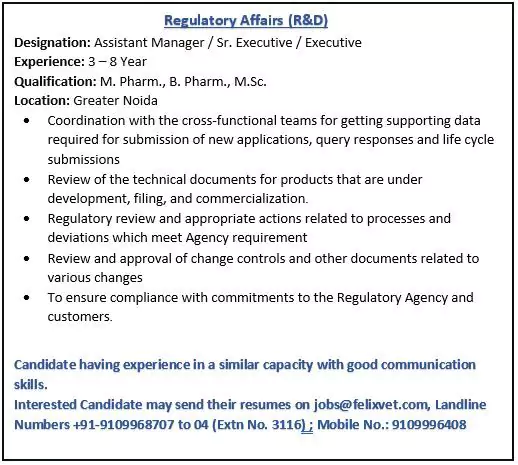 FelixVet is a prominent player in the pharmaceutical industry, known for its unwavering commitment to excellence. We are seeking talented Regulatory Affairs professionals to join our dynamic team. With a deep-rooted passion for innovation and a strong track record of success, FelixVet is dedicated to shaping the future of the pharmaceutical landscape.
Company Vacancies List
Position Title: Regulatory Affairs (R&D) Professionals
Company Name: FelixVet
Salary: Competitive, Commensurate with Experience
Company Address: Greater Noida
Job Description
As a Regulatory Affairs Professional in our Research and Development department, you will be responsible for:
Role: Assistant Manager/Sr. Executive/Executive
Industry Type: Pharmaceutical
Department: Regulatory Affairs
Experience: 3-8 Years
Qualification: M. Pharm., B. Pharm., M.Sc.
Location: Greater Noida
Key Responsibilities:
Coordinating with cross-functional teams to gather essential data for new applications, query responses, and life cycle submissions.
Reviewing technical documents for products under development, during filing, and for commercialization.
Conducting regulatory reviews and taking appropriate actions in response to processes and deviations that align with Agency requirements.
Reviewing and approving change controls and other documents related to various changes.
Ensuring compliance with commitments to Regulatory Agencies and customers.
Desired Qualifications and Skills:
Proven experience in a similar capacity.
Strong communication skills.
If you are ready to make an impact in a dynamic and innovative environment, we invite you to join our team. Interested candidates may send their resumes to jobs@felixvet.com or contact us at +91-9109968707 to 04 (Extension No. 3116) or Mobile No.: 9109996408.
How to Apply
Applying for this exciting opportunity is easy. Simply send your resume to jobs@felixvet.com or get in touch with us at +91-9109968707 to 04 (Extension No. 3116) or Mobile No.: 9109996408.