Amneal Pharmaceuticals Apprenticeships: Join the QA, QC, and Micro Departments Today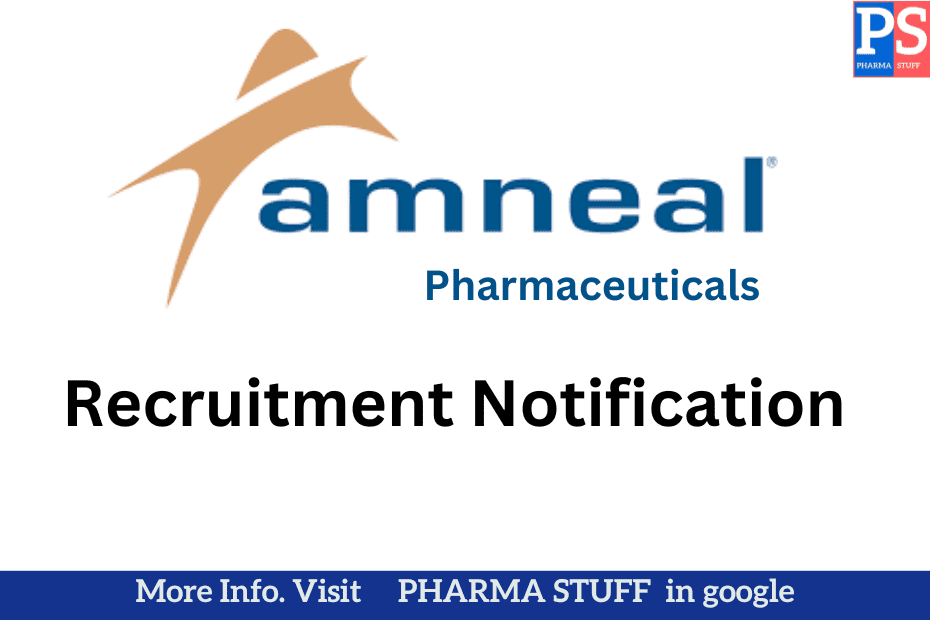 Amneal Pharmaceuticals Vacancies for Apprentices in QA, QC, and Micro Department on Urgent Basis
Amneal Pharmaceuticals is a leading global pharmaceutical company based in Ahmedabad, India. With a strong focus on quality and innovation, Amneal is dedicated to developing and manufacturing high-quality generic and specialty pharmaceutical products. As part of their ongoing growth, Amneal Pharmaceuticals is currently seeking enthusiastic and talented individuals to join their team as apprentices in the Quality Assurance (QA), Quality Control (QC), and Microbiology departments.
Introduction
The pharmaceutical industry plays a vital role in improving healthcare outcomes worldwide. To ensure the safety and efficacy of pharmaceutical products, stringent quality standards must be upheld throughout the manufacturing process. Amneal Pharmaceuticals recognizes the significance of QA, QC, and Microbiology in maintaining these standards and is actively seeking fresh graduates to contribute to their mission.
Overview of Amneal Pharmaceuticals
Amneal Pharmaceuticals is a globally recognized pharmaceutical company with a strong presence in the market. Established in 2002, the company has grown rapidly, focusing on developing and manufacturing high-quality generic and specialty pharmaceuticals. Amneal Pharmaceuticals operates state-of-the-art manufacturing facilities and adheres to strict quality control measures to deliver safe and effective medications to patients worldwide.
Importance of Quality Assurance (QA) in the Pharmaceutical Industry
Ensuring Product Safety and Efficacy

QA professionals play a critical role in maintaining the safety and efficacy of pharmaceutical products. They implement and oversee quality systems to minimize the risk of defects or errors.
By conducting thorough inspections and audits, QA personnel ensure that all manufacturing processes and procedures comply with regulatory standards.

Compliance with Regulatory Standards

Regulatory agencies, such as the Food and Drug Administration (FDA), impose strict guidelines to ensure the quality and safety of pharmaceutical products. QA professionals ensure that Amneal Pharmaceuticals meets these regulatory requirements and guidelines.
Role of Quality Control (QC) in Pharmaceutical Manufacturing
Testing and Analyzing Raw Materials and Finished Products

QC technicians are responsible for conducting rigorous testing and analysis of raw materials and finished pharmaceutical products.
This includes physical, chemical, and microbiological testing to verify the quality, purity, and potency of the medications produced.

Ensuring Product Consistency and Quality

QC professionals closely monitor the manufacturing processes to ensure consistency and adherence to quality standards.
By conducting routine quality checks and inspections, they identify any deviations or non-compliance and take corrective actions.
The Significance of Microbiology in the Pharmaceutical Field
Detecting and Preventing Contamination

Microbiologists play a vital role in detecting and preventing microbial contamination in the manufacturing environment.
They implement strict protocols to monitor the presence of microorganisms and maintain a sterile and controlled environment.

Monitoring Sterility and Microbial Control

Microbiologists at Amneal Pharmaceuticals are responsible for validating the sterilization processes and monitoring microbial control.
They conduct regular environmental monitoring and testing to ensure compliance with regulatory standards.
Apprenticeships at Amneal Pharmaceuticals
Job Description and Qualification Requirements

The apprenticeship positions at Amneal Pharmaceuticals are open to fresh graduates with a B.Sc degree in relevant fields.
As an apprentice, you will have the opportunity to gain practical experience and develop essential skills in QA, QC, or Microbiology.

Benefits of Apprenticeship Programs

Apprenticeships provide a valuable learning experience and a pathway to a successful career in the pharmaceutical industry.
You will receive guidance from experienced professionals, engage in hands-on training, and develop a strong foundation in your chosen field.
Applying for Apprenticeships at Amneal Pharmaceuticals
Contact Information and Application Process

If you are interested in joining Amneal Pharmaceuticals as an apprentice, kindly share your resume with Anjali Harvani at anjali.harvani@amneal.com.
Alternatively, you can call on 02764-350187 to inquire about the application process and any additional details.