ZYDUS hospital urgent walk in interview at Vadodara 2022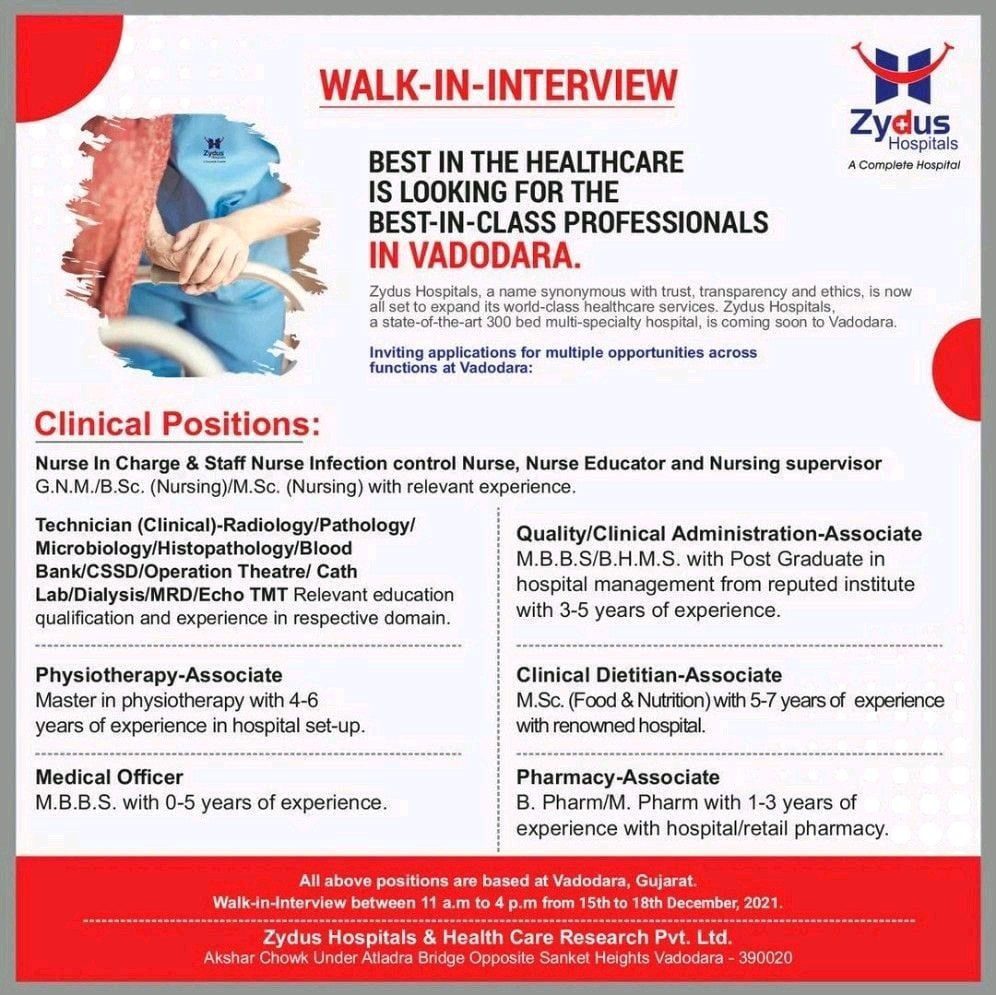 Zydus Hospitals WALK IN INTERVIEW for Clinical Pharmacy Positions.
BEST IN THE HEALTHCARE IS LOOKING FOR THE BEST-IN-CLASS PROFESSIONALS IN VADODARA.
Zydus Hospitals, a name synonymous with trust, transparency and ethics, is now all set to expand its world-class healthcare services. Zydus Hospitals, a state-of-the-art 300 bed multi-specialty hospital, is coming soon to Vadodara.
Inviting applications for multiple opportunities across functions at Vadodara:
Pharmacy – Associate
Educational Qualification : B Pharmacy /M Pharmacy.
Experience : 1-3 years of experience with hospital/retail pharmacy.
Nurse In Charge & Staff Nurse Infection control Nurse, Nurse Educator and Nursing supervisor G.N.M./B.Sc. (Nursing)/M.Sc. (Nursing) with relevant experience.
Technician (Clinical)-Radiology / Pathology / Microbiology / Histopathology / Blood Bank /CSSD / Operation Theatre / Cath Lab/Dialysis /MRD / Echo TMT Relevant education qualification and experience in respective domain.
Physiotherapy-Associate
Master in physiotherapy with 4-6 years of experience in hospital set-up.
Clinical Dietitian-Associate
MSc (Food & Nutrition) with 5-7 years of experience with renowned hospital.
All above positions are based at Vadodara, Gujarat. Walk-in-Interview between 11 a.m to 4 p.m from 15th to 18th December, 2021.
Zydus Hospitals & Health Care Research Pvt. Ltd. Akshar Chowk Under Atladra Bridge Opposite Sanket Heights Vadodara – 390020