Stelis Biopharma Walk-In Drive for Quality Control and Manufacturing Roles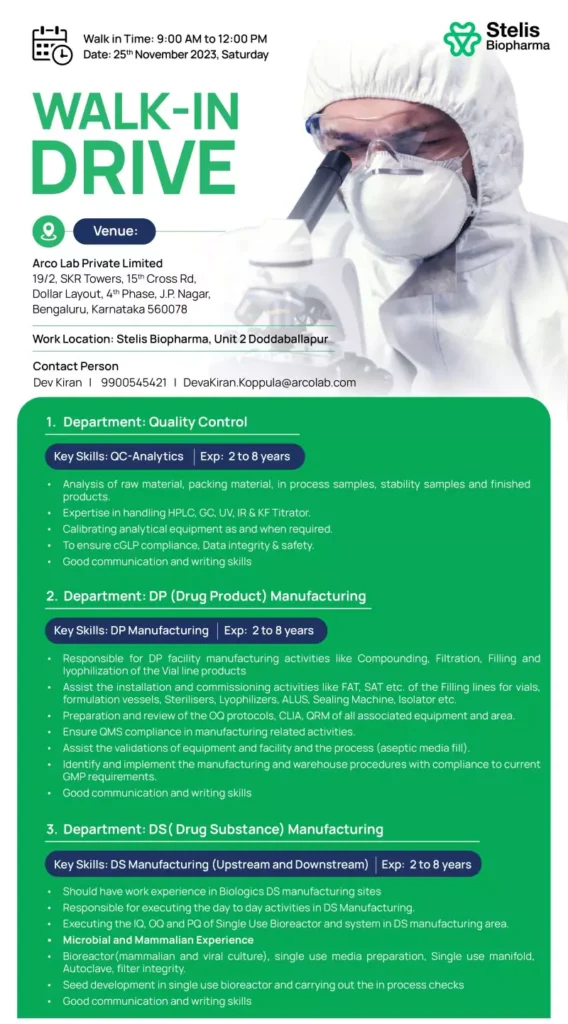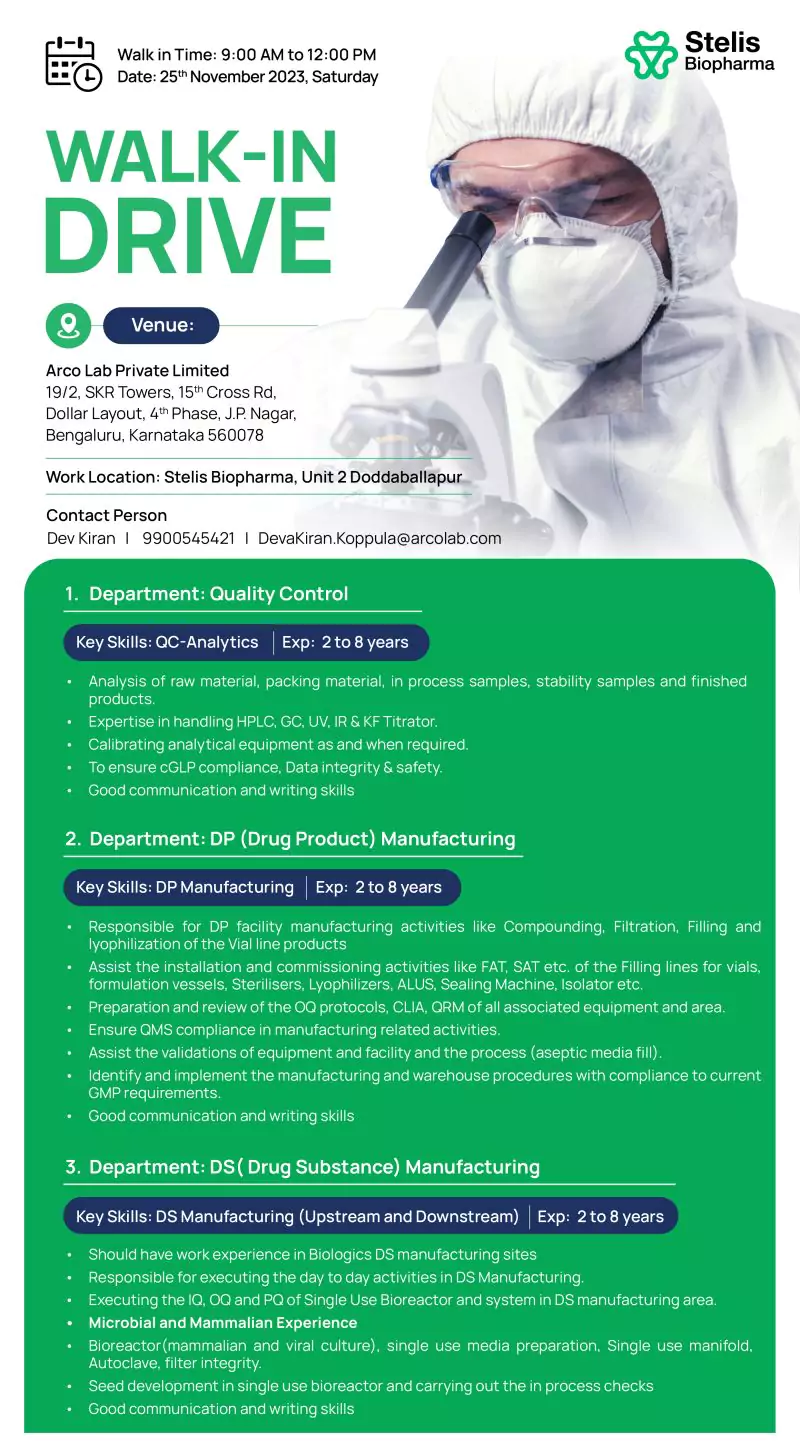 Stelis Biopharma Walk-In Drive: Unleashing Opportunities in Biopharmaceutical Excellence
About the Company
Stelis Biopharma, a leader in biopharmaceutical innovation, is at the forefront of creating groundbreaking solutions to improve global healthcare. Renowned for its commitment to quality and cutting-edge research, Stelis Biopharma is dedicated to transforming lives through its biologics manufacturing expertise. With a focus on quality control, drug product manufacturing, and drug substance manufacturing, Stelis Biopharma is inviting talented professionals to join its journey of innovation and excellence.
Company Vacancies List
Position Titles and Departments:
Quality Control (QC)

Key Skills: OC-Analytics Exp: 2 to 8 years
Responsibilities:

Analysis of raw material, packing material, in-process samples, stability samples, and finished products.
Expertise in handling HPLC, GC, UV, IR & KF Titration.
Calibrating analytical equipment as required.
Ensure CGLP compliance, data integrity, and safety.
Good communication and writing skills.

Drug Product (DP) Manufacturing

Key Skills: DP Manufacturing Exp: 2 to 8 years
Responsibilities:

Responsible for DP facility manufacturing activities like compounding, filtration, filling, and lyophilization of the vial line products.
Assist in the installation and commissioning activities of the filling lines for vials, formulation vessels, sterilizers, lyophilizers, ALUS sealing machines, isolators, etc.
Preparation and review of OQ protocols, CLIA, ORM of all associated equipment and area.
Ensure OMS compliance in manufacturing-related activities.
Assist in the validations of equipment, facility, and process (aseptic media fill).
Identify and implement manufacturing and warehouse procedures with compliance to current GMP requirements.
Good communication and writing skills.

Drug Substance (DS) Manufacturing

Key Skills: DS Manufacturing (Upstream and Downstream) Exp: 2 to 8 years
Responsibilities:

Work experience in biologics DS manufacturing sites.
Responsible for executing day-to-day activities in DS Manufacturing.
Microbial and mammalian experience.
Executing the IQ, OQ, and PQ of Single Use Bioreactor and system in DS manufacturing area.
Bioreactor (mammalian and viral culture), single-use media preparation, single-use manifold, autoclave, filter integrity.
Seed development in a single-use bioreactor and carrying out in-process checks.
Good communication and writing skills.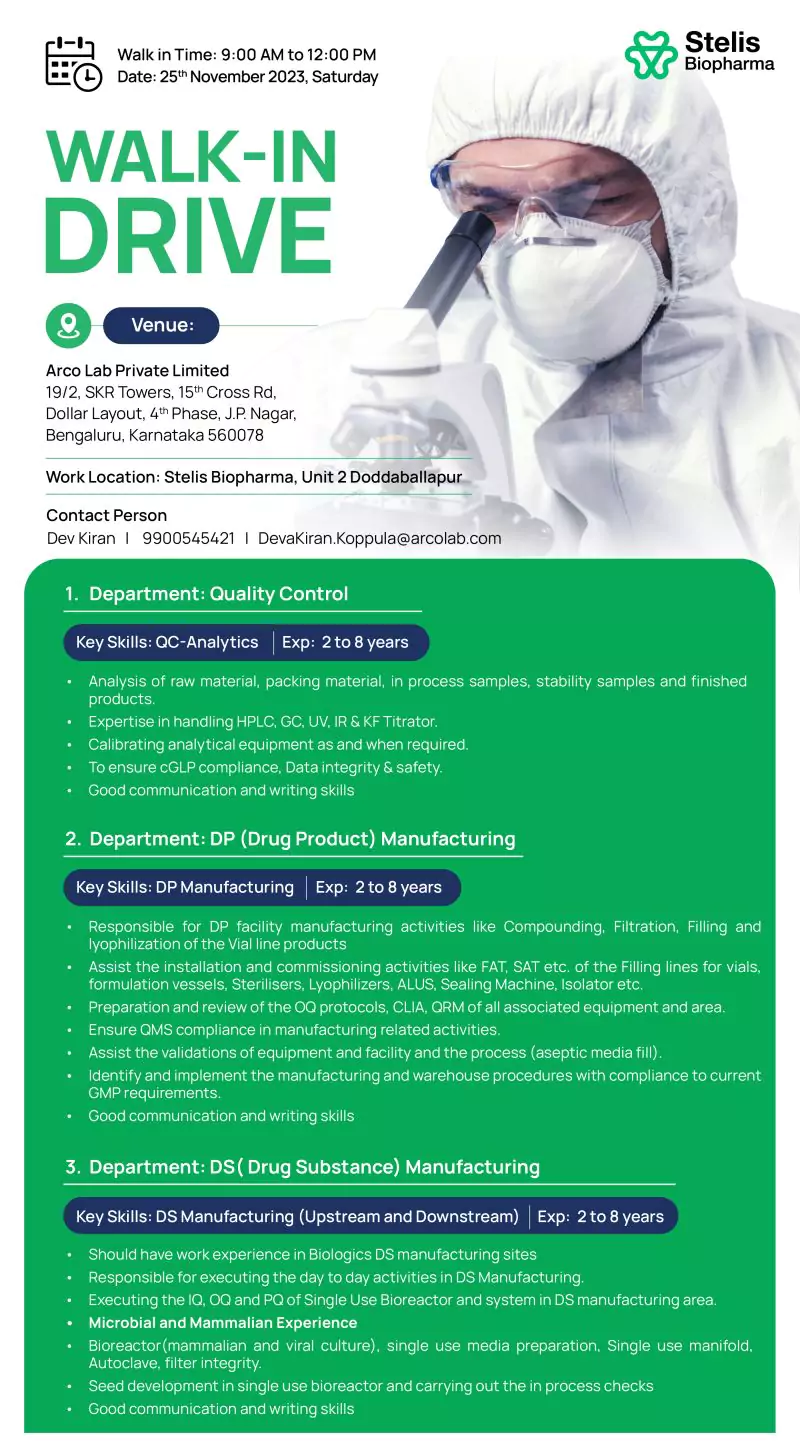 How to Apply
Interested candidates are invited to the Stelis Biopharma Walk-In Drive. The event details are as follows:
Walk-In Time: 9:00 AM to 12:00 PM
Date: 25th November 2023, Saturday
Venue: Arco Lab Private Limited, 19/2, SKR Towers, 15th Cross Rd, Dollar Layout, 4th Phase, J.P. Nagar, Bengaluru, Karnataka 560078
Work Location: Stelis Biopharma, Unit 2 Doddaballapur
Contact Person: Dev Kiran
Phone: 9900545421
Email: Devakiran.Koppula@arcolab.com  (Stelis biopharma HR mail id)