Shodhana Labs Fresh and Experienced Job Opportunities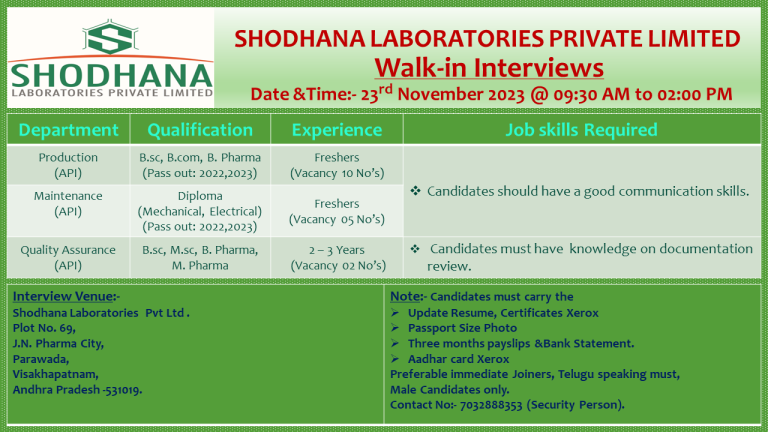 Shodhana Laboratories Job Vacancies: Paving the Way for Your Career in Pharma
About the Company
Welcome to Shodhana Laboratories Private Limited – a leading pharmaceutical company committed to excellence and innovation. With a focus on API production, maintenance, and quality assurance, Shodhana Laboratories is a dynamic workplace where talent meets opportunity. Our commitment to growth is reflected in the job vacancies we are excited to share with aspiring candidates.
Company Vacancies List
Job Titles and Departments
Production (API)

Qualification: B.Sc, B.Com, B.Pharma (Pass out: 2022, 2023)
Vacancy: 10 Freshers

Maintenance (API)

Qualification: Diploma (Mechanical, Electrical) (Pass out: 2022, 2023)
Vacancy: 5 Freshers

Quality Assurance (API)

Qualification: B.Sc, M.Sc, B.Pharma, M.Pharma
Experience: 2-3 Years
Vacancy: 2 Experienced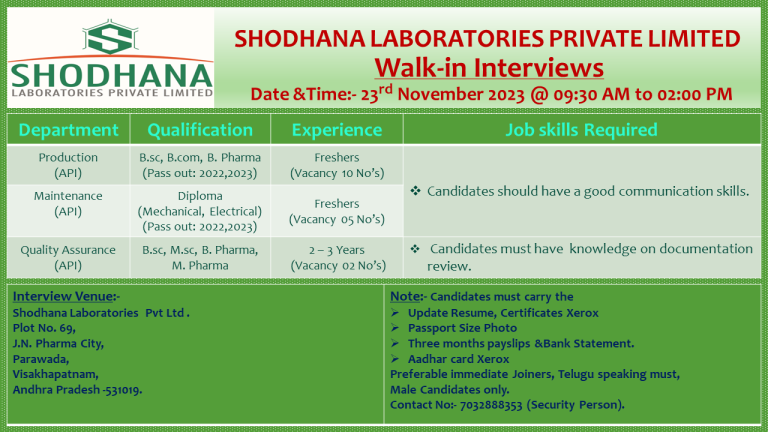 Job Description
Job Skills Required
Candidates with good communication skills.
Knowledge of documentation review.
Walk-in Interviews Details
Interview Venue: Plot No. 69, J.N. Pharma City, Parawada, Visakhapatnam, Andhra Pradesh-531019.
Date & Time: 23rd November 2023 @ 09:30 AM to 02:00 PM
Note for Candidates
Candidates must carry the following:
Updated Resume
Certificates Xerox
Passport Size Photo
Three months payslips & Bank Statement
Aadhar card Xerox
Preferable Immediate Joiners, Telugu-speaking must, Male Candidates only.
Contact No: 7032888353 (Security Person)
How to Apply
Interested candidates can seize this opportunity by attending the walk-in interviews with the required documents at the specified venue on the mentioned date and time.