QA, QC – Microbiology & Production Vacancies – Mepro Pharmaceuticals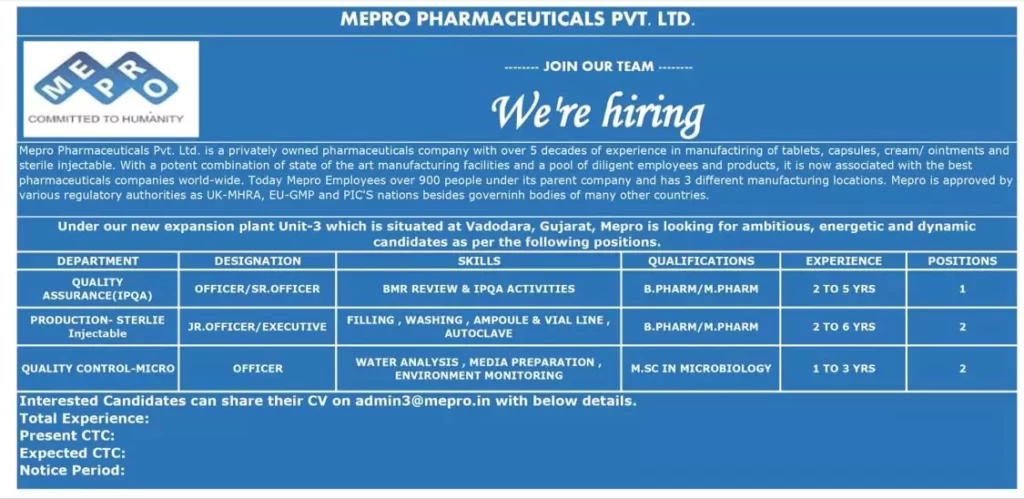 Full Time
Anywhere
₹300000 - 500000 INR / Year
Salary: ₹300000 - 500000
Mepro Pharmaceuticals pvt ltd
MEPRO PHARMACEUTICALS PVT. LTD Hiring Notification for Quality Assurance , PRODUCTION-STERLIE Injectable & QUALITY CONTROL-MICRO Departments
Mepro Pharmaceuticals Pvt. Ltd. is a privately owned pharmaceuticals company with over 5 decades of experience in manufactiring of tablets, capsules, cream/ ointments and sterile injectable. With a potent combination of state of the art manufacturing facilities and a pool of diligent employees and products, it is now associated with the best pharmaceuticals companies world-wide. Today Mepro Employees over 900 people under its parent company and has 3 different manufacturing locations. Mepro is approved by various regulatory authorities as UK-MHRA, EU-GMP and PIC'S nations besides governinh bodies of many other countries.
Under our new expansion plant Unit-3 which is situated at Vadodara, Gujarat, Mepro is looking for ambitious, energetic and dynamic candidates as per the following positions.
Vacancies Informationion : 
QUALITY ASSURANCE(IPQA)
Designation : Officer / Sr Officer
Skills : BMR REVIEW & IPQA ACTIVITIES
Education : B Pharmacy / M Pharmacy
Experience : 2 to 5 yrs
Production – Sterile Injectable
Designation : jr. Officer / Executive
Skills : FILLING, WASHING, AMPOULE & VIAL LINE, AUTOCLAVE
Education : B Pharmacy / M Pharmacy
Experience : 2 to 5 yrs
QUALITY CONTROL – MICROBIOLOGY
Designation : Officer
Skills : WATER ANALYSIS, MEDIA PREPARATION, ENVIRONMENT MONITORING
Education : Msc Microbiology
Experience : 1 to 3 yrs
Interested Candidates can share their CV on admin3@mepro.in with below details.