Pharmacovigilance Vacancies – Syneos Health – Safety & PV Operations Specialist I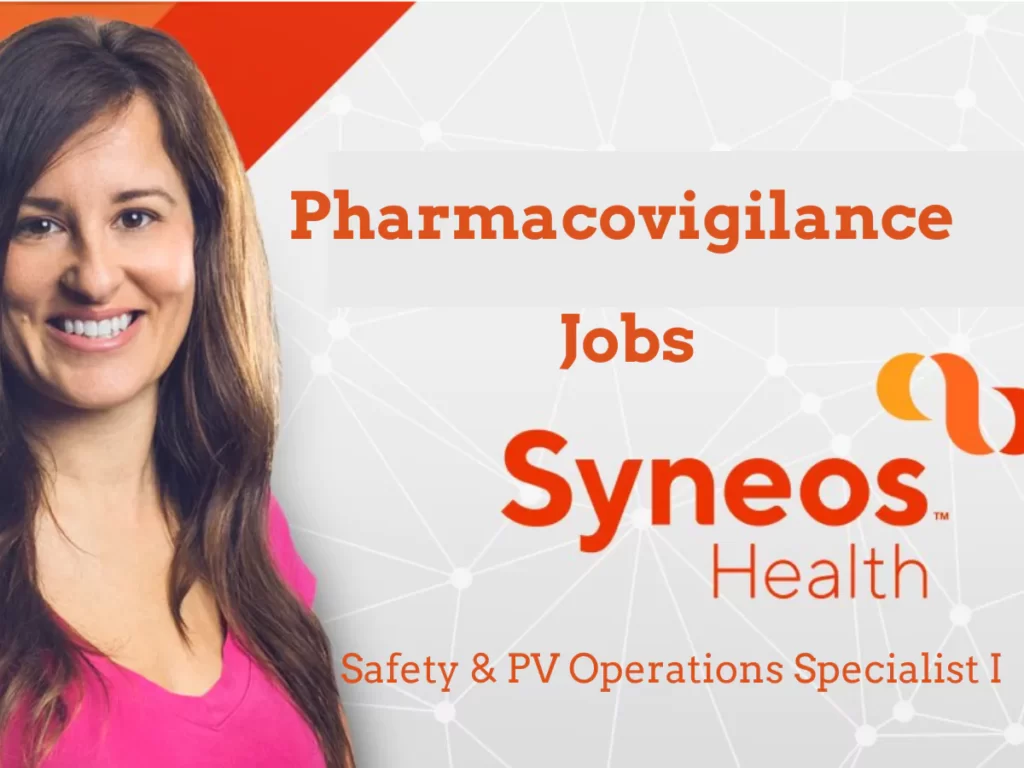 Full Time
Anywhere
₹300000 - 500000 INR / Year
Salary: ₹300000 - 500000
Syneos Health Hiring Notification for Safety & PV Operations Specialist I position .
JOB TITLE: Safety & PV Operations Specialist I
SELECT ONE: Clinical Development Services
Job Summary:
Assists in providing operational support in multiple areas within the Safety & Pharmacovigilance Business Unit (BU).
Assists in the preparation of information for training materials, proposal development, training certifications, quality & compliance.
Assist in the preparation of the departmental metrics to support KPI's and dashboards.
Assists in providing systems support related to the safety database and other technological applications utilised by SPVG.
JOB RESPONSIBILITIES
Assists in providing operational support to the relevant departments within the Business Unit.
Maintains repository of all relevant documents (e.g. Training, Project Finance, Proposals tracking [awards and losses], RFI Library, departmental metrics, list of audits/inspections).
Develops and maintains job aids and process documents and maintains supporting documentation for these documents as needed.
Ensures compliance to Standard Operating Procedures (SOP), Policies and SMP documents
Plays an active role in helping to strengthen PV operations.
Maintains knowledge of all applicable FDA/EU/ICH guidelines and regulations relating to safety and PV reporting.
Supports Annual Gross Profit percentage (GP%) targets by working with the operational team members to ensure an appropriate understanding of the factors that drive GP% for the units in RBB.
Assists in the preparation of information for the Executive Project Reviews and the monthly Safety & Pharmacovigilance finance meeting
Performs other work-related duties as assigned
Minimal travel may be required (up to 5%).
Quality & Compliance
Facilitates the activities of Quality Planning by providing controlled document support per development, revision, or review; provides support for development of department or client-specific documents; track and communicate quality metrics to assess, evaluate, and facilitate team/individual achievement to the expected level of quality.
Facilitates the activities of Quality Compliance verification of performance of quality control activities.
Facilitates the activities of Quality Assurance by identifying and communicating areas of risk through risk-based process assessments;
Facilitates the activities of Quality Improvement by developing and promoting improvement initiatives; identifies and communicates deficiencies and/or deviations from company, department, or client processes; manages, tracks and/or assists with corrective and preventive action development and completion; participates in root cause analysis process.
Participates in evaluation, escalation, and resolution of SPVG potential quality issues. May collaborate with management and internal Corporate Quality Assurance to monitor and ultimately bring to resolution any open quality issues and ensure appropriate implementation of CAPAs
Assists the safety project teams in maintaining audit and inspection readiness. Participates in internal audits, client audits, or inspections.
Assists in the tracking and analysis of quality metrics for the Safety & Pharmacovigilance BU
Training
Assists in the creation, tracking and presentation of the training materials (planned or ad hoc) within the Safety and Pharmacovilance BU.
Collaborates with Safety and Pharmacovigilance personnel (Directors and above) to identify appropriate content for inclusion of new or updated training materials (e.g., Safety Specialist/Safety Coordinator training, revenue recognition and forecasting training).
Qualifications
What we're looking for
Bachelor's degree in life science, registered nurse, pharmacist, computer science or other technology related field (technical role) ,or equivalent combination of education and experience.
Safety Database systems and moderate medical terminology required
Excellent knowledge of ICH guidelines and regulations relating to safety and pharmacovigilance.
Proficiency in Microsoft Office Suite (Word, Excel, Visio, and PowerPoint), email (Outlook), and internet.
Ability to work independently and in a team environment
Ability to successfully prioritize and work on multiple tasks
Excellent communication, presentation, interpersonal skills, both written and spoken
Strong organizational and documentation skills
Detail oriented with a high degree of accuracy and ability to meet deadlines
Able to make effective decisions
Manage multiple priorities
Minimal travel may be required