Palamur Biosciences Hyderabad Hiring QA/QC Personals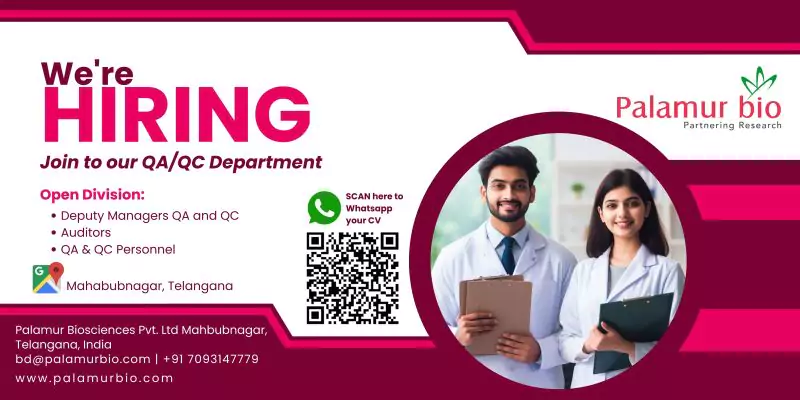 Palamur Biosciences Job Vacancies: Elevate Your Career Journey!
About Palamur Biosciences Pvt Ltd
Discover unparalleled opportunities at Palamur Biosciences Pvt Ltd, a pioneering force in the pharmaceutical domain, dedicated to pushing boundaries and fostering innovation. Located in the heart of Mahabubnagar, Telangana, Palamur Biosciences is expanding its team in the QA/QC department. As we embark on this exciting journey, we invite dynamic professionals to join us in our relentless pursuit of excellence.
Current Openings
Job Titles: Deputy Managers QA and QC, Auditors QA & QC Personnel
Company: Palamur Biosciences Pvt Ltd
Salary: Competitive, commensurate with experience
Address: Mahbubnagar, Telangana, India
Website: www.palamurbio.com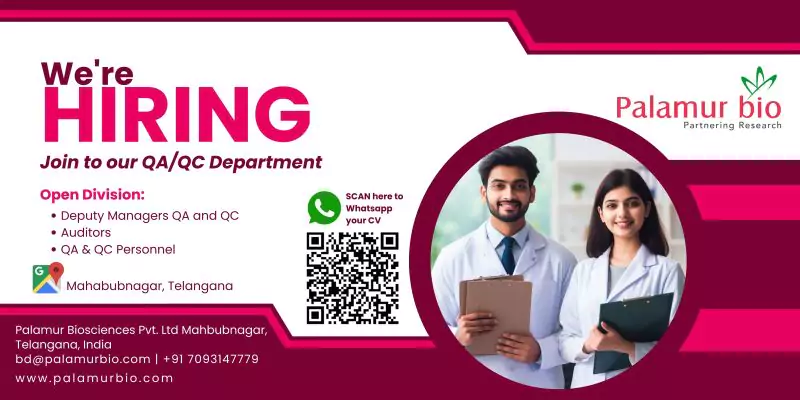 Job Description
Role: Positions are available in the QA/QC Department.
Industry Type: Pharmaceutical
Department: QA/QC
Employment Type: Full-time
Role Category: Deputy Managers, Auditors, QA & QC Personnel
Key Skills:
[List relevant skills, e.g., Auditing, Quality Assurance, Quality Control, etc.]
How to Apply
To apply, simply send your CV via WhatsApp to +91 7093147779 or email us at bd@palamurbio.com. Please specify the position in the subject line.
To apply for this job please visit wa.me.