Medical Coding Fresher Jobs at Vellore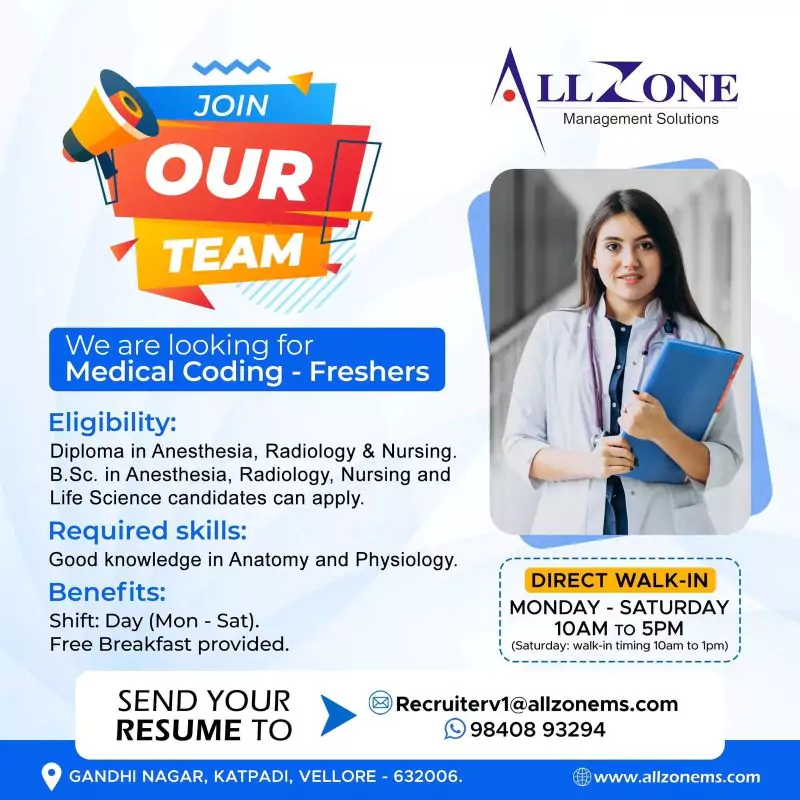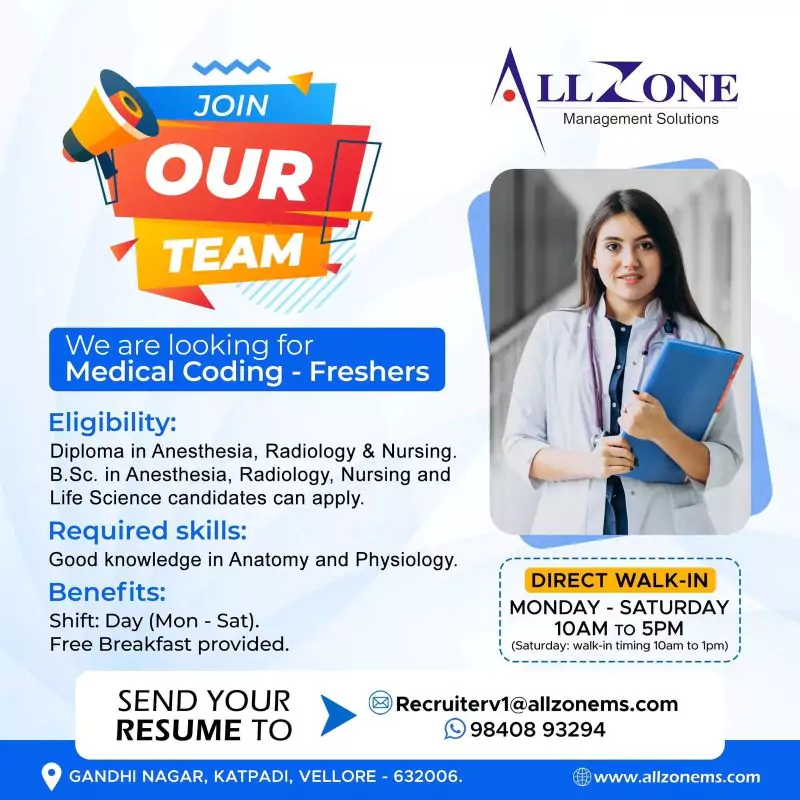 Allzone Management Solutions
Medical Coding Fresher Opportunities at Allzone Management Solutions
Medical Coding Fresher Job Vacancies at Allzone Management Solutions
About the Company
Welcome to Allzone Management Solutions, an industry leader in offshore medical billing. Since our establishment in 2005, we have been providing top-notch medical billing, coding, and revenue cycle management (RCM) services to clients nationwide. Headquartered in Glendale, California, Allzone operates with two cutting-edge delivery centers in India, boasting a dedicated team of over 500 employees.
AllZone Management Services Inc.
Our approach is rooted in a deep understanding of today's dynamic markets, empowering us to develop a long-term macroeconomic perspective. At Allzone, we implement a hybrid model of ISO and Six Sigma-driven methodologies, ensuring best practices in Quality Management. Our commitment to consistent quality, innovative delivery methods, and competitive pricing sets us apart. We pride ourselves on creating customized solutions that cater to the unique requirements of each customer.
Today's business landscape is ever-changing, and we address this challenge with our proven workflow process. Quality methodology and integrity are the cornerstones we use to create opportunities for tomorrow. Exceeding customer expectations and delivering exceptional value is our highest priority.
Company Vacancies List
Position Title: Medical Coding – Fresher
Company Name: Allzone Management Solutions
Salary: Competitive
Company Address: Gandhi Nagar, Katpadi, Vellore – 632006
Employment Type: Full Time
Role Category: Medical Coding
Education:
UG: Diploma in Anesthesia, Radiology & Nursing. B.Sc. in Anesthesia, Radiology, Nursing, and Life Science candidates can apply.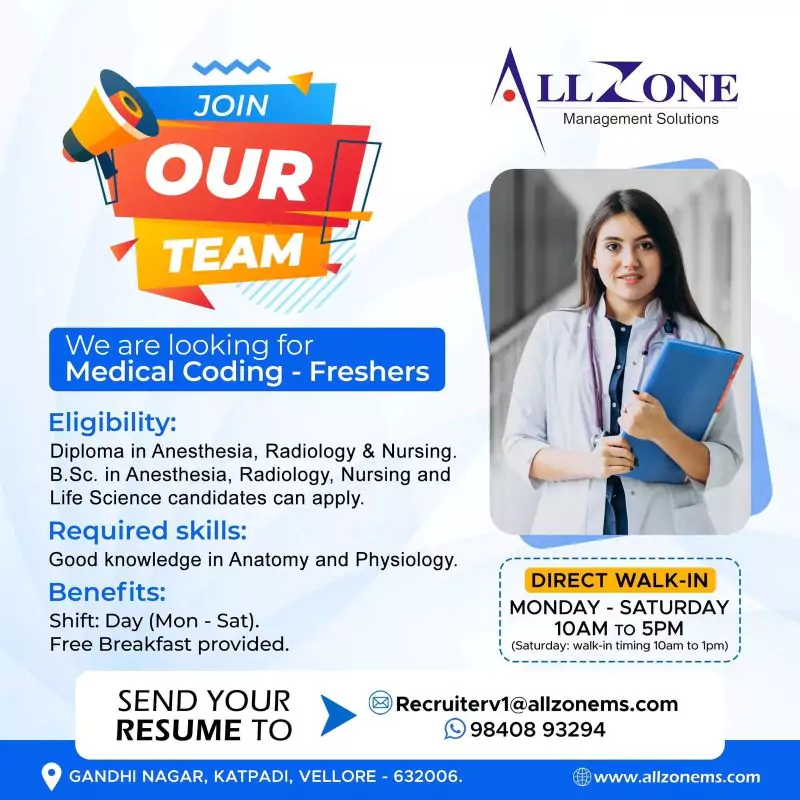 Key Skills
Good knowledge of Anatomy and Physiology
Job Description
As a Medical Coding Fresher at Allzone Management Solutions, you will be part of a dynamic team dedicated to providing high-quality medical billing services. Key responsibilities include:
Applying knowledge of anatomy and physiology to code medical procedures accurately.
Ensuring compliance with coding guidelines and regulations.
Collaborating with the medical billing team to streamline revenue cycle management processes.
About the Department & Responsibilities
Join our Medical Coding department and play a crucial role in maintaining accurate and efficient coding practices. Responsibilities include:
Utilizing anatomy and physiology knowledge to assign appropriate codes.
Collaborating with healthcare professionals to ensure accurate coding.
Ensuring compliance with industry standards and regulations.
How to Apply
If you are ready to kickstart your career in medical coding, follow these steps:
Direct Walk-In: Monday to Saturday, 10 am to 5 pm (Saturday: walk-in timing 10 am to 1 pm)
Send Your Resume: Recruiterv1@allzonems.com
Location: Gandhi Nagar, Katpadi, Vellore – 632006