Kusum Careers: Research Associate Opportunity in Bhiwadi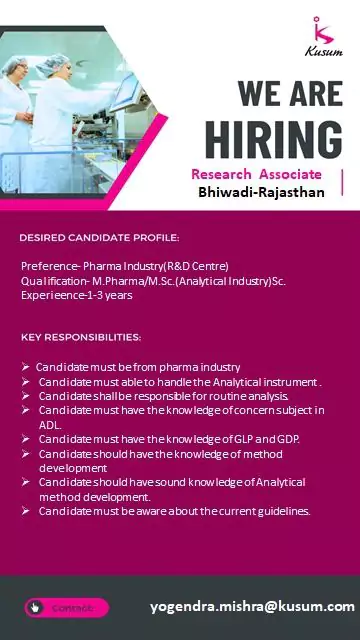 Company Name: Kusum Healthcare
Website: www.kusum.com
Welcome to Kusum, a dynamic and innovative pharmaceutical company committed to shaping the future of healthcare. With a strong focus on research and development, Kusum has been a trailblazer in the industry, delivering high-quality solutions that make a difference in people's lives.
---
Company Vacancies List
Position Title:
Research Associate
---
Detailed Job Description
Role: Research Associate
Industry Type: Pharma (R&D Centre)
Location: Bhiwadi, Rajasthan
Employment Type: Full Time
Role Category: R&D
---
Key Responsibilities
Pharma Industry Focus:

Preference for candidates with experience in the Pharma Industry (R&D Centre).
Qualification: M.Pharma/M.Sc. (Analytical Science)
Experience: 1-3 years

Analytical Skills:

Handle analytical instruments.
Responsible for routine analysis.
Knowledge of Analytical Development Laboratory (ADL).

Compliance and Method Development:

Knowledge of GLP (Good Laboratory Practices) and GDP (Good Documentation Practices).
Sound knowledge of method development.
Awareness of current guidelines.
---
Education
UG: M.Pharma/M.Sc. (Analytical Science)
How to Apply
Send your resume to yogendra.mishra@kusum.com.