Icon plc medical writer 1 job: Imaging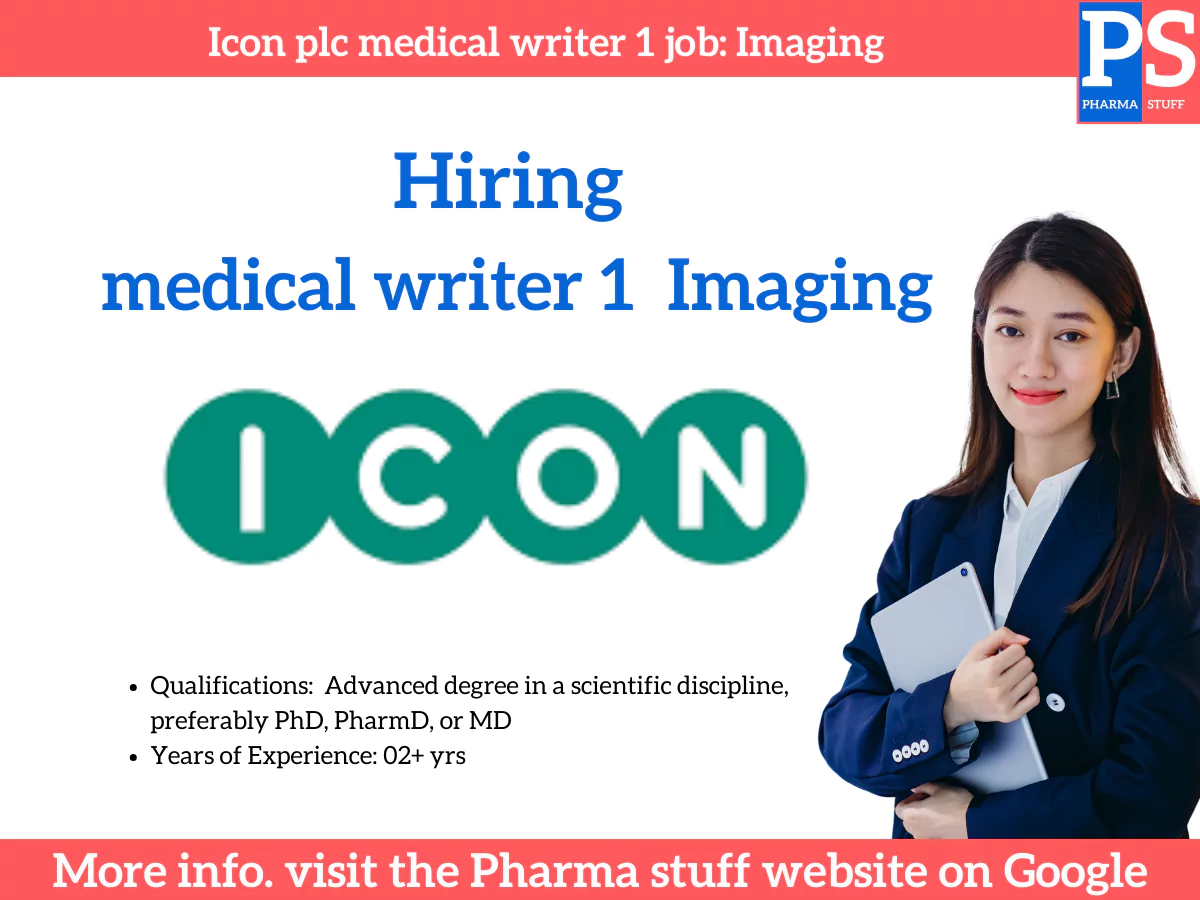 Company Name: Icon plc
Location: Chennai
Job Title: Medical Writer I – Imaging
Reference Code: JR112117
Employment Type: Full-time, Office-Based
Industry: Clinical Research Services
Icon plc stands as a global leader in clinical research, committed to advancing and improving patients' lives. Our 'Own It' culture, rooted in values like Accountability & Delivery, Collaboration, Partnership, and Integrity, sets us apart in the pharmaceutical sector. We aspire to be the preferred Clinical Research Organization, delivering excellence at every stage of drug development.
Company Vacancies List
Position Title: Medical Writer I – Imaging
Location: Chennai
Reference Code: JR112117
Employment Type: Full-time, Office-Based
Job Description
About the Department & Responsibilities
Join our esteemed Medical Writing team, an integral part of ICON's Clinical Research Services group, dedicated to producing high-quality documents supporting clinical studies and regulatory submissions.
Key Department Values:
Passionate about partnership
Quality without compromise
Flexibility in a dynamic environment
Primary Responsibilities:
Prepare documentation for Blinded Independent Central Review (BICR) implementation for clinical trials
Understand the imaging aspects of sponsor clinical protocols
Independently write and finalize Medical Imaging documents, including Site Imaging Manual (SIM), Independent Review Charter (IRC), Independent Review Training Manual (IRTM), etc.
Liaise with internal groups, such as Medical and Scientific Affairs, Imaging Operations, and Clinical Operations
Independently interact with sponsors to obtain necessary information and address queries
Inform the Manager-Medical Writing/designee of document status relative to quality and timelines
Provide additional writing and editing services as required
Requirements:
Advanced degree in a scientific discipline, preferably PhD, PharmD, or MD
2+ years of professional experience in Medical Writing at a pharmaceutical, biotechnology, CRO, or other healthcare setting
Knowledge of imaging guidelines for clinical trials, such as the FDA "Clinical Trial Imaging Endpoint Process Standards Guidance for Industry"
Strong written and verbal interpersonal skills
Good computer literacy
Ability to work effectively and cooperatively with cross-functional teams