Fresher Pharmacovigilance Job Vacancies in Hyderabad for Pharmacy students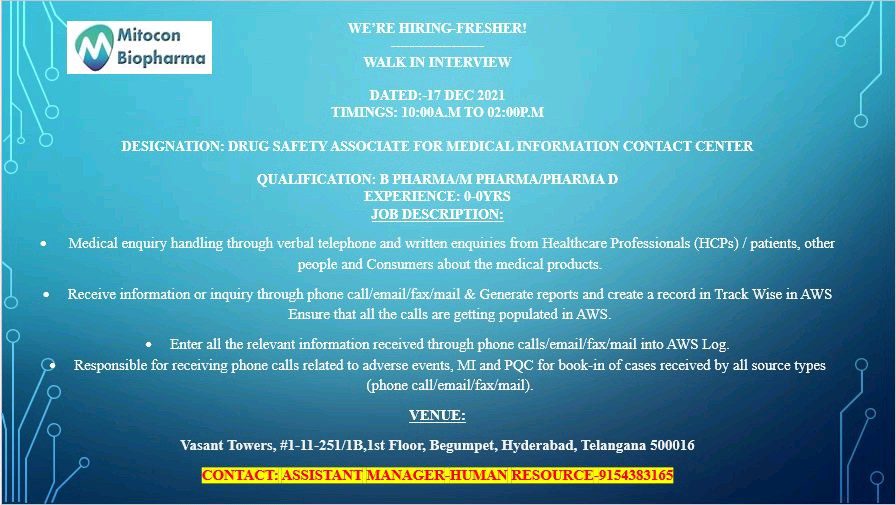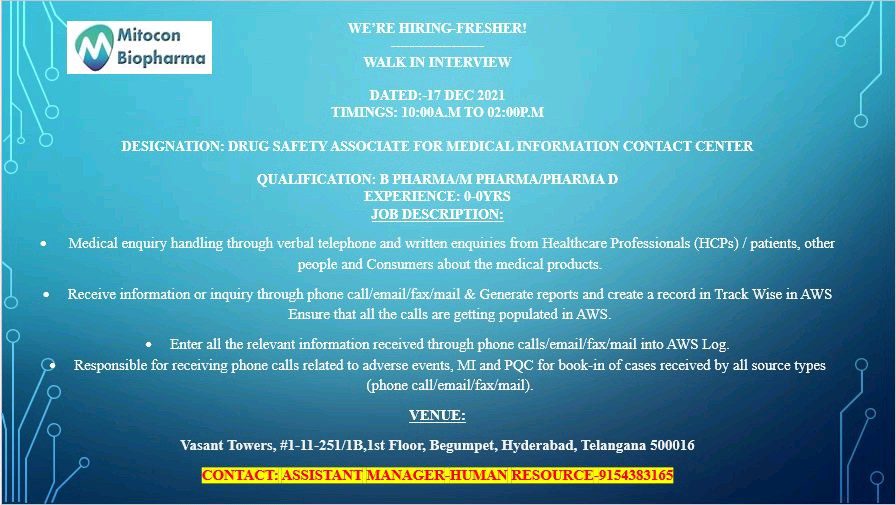 Pharmacovigilance Job Vacancies for Freshers in Hyderabad location.
Mitocon Biopharma HIRING-FRESHER In Pharmacovigilance Domain
WALK IN INTERVIEW DATED:-17 DEC 2021 TIMINGS: 10:00AM TO 02:00PM
DESIGNATION: DRUG-SAFETY ASSOCIATE FOR MEDICAL INFORMATION CONTACT CENTER
QUALIFICATION: B PHARMA/M PHARMA/PHARMA D 
EXPERIENCE: 0-0YRS
DESCRIPTION:
Medical enquiry handling through verbal telephone and written enquiries from Healthcare Professionals (HCPs) / patients, other people and Consumers about the medical products.
Receive information or inquiry through phone call/email/fax/mail & Generate reports and create a record in Track Wise in AWS Ensure that all the calls are getting populated in AWS.
Enter all the relevant information received through phone calls/email/fax/mail into AWS Log.
Responsible for receiving phone calls related to adverse events, MI and PQC for book-in of cases received by all source types (phone call/email/fax/mail).
VENUE: Vasant Towers, #1-11-251/1B,1st Floor, Begumpet, Hyderabad, Telangana 500016
CONTACT: ASSISTANT MANAGER-HUMAN RESOURCE-9154383165